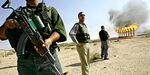 By all rights, Iraq should be a world-class oil power in the same league as Saudi Arabia in OPEC. That Iraq isn't owes much to political division and security risks that have kept foreign experts and investment out of the nation's critical oil sector. Now, there may be reason for some optimism. A top Iraqi Oil Ministry official, Natiq al-Bayati, head of contracts and licensing, has been meeting executives from foreign oil majors in the Jordanian capital of Amman in recent weeks. He hopes to hammer out so-called technical support agreements that could improve Iraqi oil output over time.
Differences over payments need to be ironed out. Still, the hope is that by summer's end foreign companies will help renovate rickety oil fields in perhaps the most important development for the nation's oil industry since the 2003 overthrow of Saddam Hussein. "This shows Iraq has turned a corner," says Vera de Ladoucette, Paris-based senior vice-president of Cambridge Energy Research Associates.
True, only now is Iraqi oil production coming back to prewar levels of 2.5 million barrels per day. And Iraqi Prime Minister Nouri al-Maliki's government still hasn't created a legal framework for exploiting the huge oil reserves that would attract and protect the investments of international oil concerns. So Oil Minister Hussain Al Shahristani has designed the new technical support contracts as an interim step until Iraq is safer and laws governing foreign oil contracts get fully sorted out.
Iraq isn't a hard sell, given its 115 billion barrels of oil reserves. Oil executives say Iraq could pump 6 million barrels per day, which today would make it the No. 2 OPEC player, though well behind Russia. That would require billions in investment. Baghdad's more modest goal of 3 million barrels per day by 2009 would put annual oil revenues at some $110 billion at today's prices. "We find it hard to see a future in which production of these [Iraqi] reserves does not play an important role" globally, says Ian Bromilow, Shell's country chairman for Iraq.
Until recently, oil majors such as BP (BP), Shell, and ExxonMobil (XOM) have kept a low profile. To establish good will with Baghdad, they have flown Iraqi engineers to Amman and elsewhere for training. Now the government wants to go a step further with two-year technical support agreements that will likely concentrate on boosting output at existing wells rather than kick off a massive new drilling program. Monitoring equipment, now mostly lacking, to track production will be installed at the wells—as will improved water injection systems to boost efficiency.
WORKING REMOTELY
Contracts valued at about $2.5 billion are expected to be awarded. BP is working on Rumailah, a ramshackle field that runs beneath date palm plantations near Basra. ExxonMobil has focused on Zubair, also in the South. Shell is taking on Kirkuk in the North and another field called Missan in partnership with BHP Billiton (BHP). Until security improves substantially, international technicians outside the country will work with Iraqi employees via computer and by phone.
The majors hope that these modest contracts will turn into much larger ones later. Granted, in Iraq things can quickly change for the worse. Now, though, Iraq seems ready to get back into the great global oil game.
Before it's here, it's on the Bloomberg Terminal.
LEARN MORE