Why iPhone Wannabes Don't Cut It
Handset giants are playing catch-up to Apple's design, but their software still lags badly
By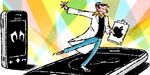 Apple's influence on high-tech markets has long exceeded the company's relatively small market share, and nowhere is that more obvious than in the wireless phone market. Barely a year after it introduced the original iPhone, Apple (AAPL) has redefined the wireless handset.
And with the impending shipment of a new version that should put the iPhone in the mainstream of consumer and business markets worldwide, Apple is extending its sway over much larger players such as Nokia (NOK) and Samsung.
The most immediate impact of the iPhone has been on hardware design, encouraging a rash of imitators with big touchscreens. That includes the new Samsung Instinct, which Sprint Nextel (S) has been billing as an iPhone killer. Even Research In Motion (RIMM), whose executives have ridiculed the iPhone's lack of a physical keyboard, is rumored to be developing a touch-based BlackBerry. (The company declined to comment on future product plans.)
Such efforts largely miss the point. Certainly, the beautiful hardware design adds tremendously to the emotional appeal of Apple products. But it's the software that makes the iPhone, the Mac, and the iPod stand out from the pack of wannabes.
Problems Magnified
Consider how you explore the Net on an iPhone compared with on the Instinct ($130 after rebate with a two-year contract). The iPhone's Mobile Safari browser is in a class by itself: It is the only handheld browser I have used that makes it pleasant to view Web pages designed for big computer displays. The Instinct browser benefits from a big screen, but it is otherwise typical of the lame software found on other non-Apple handhelds. It offers a choice of displaying a page at magnifications labeled 1/2x, 1x, or 2x, a dramatically inferior option compared with the iPhone's ability to smoothly enlarge and shrink the page with a gesture. As a result, full-size Web pages that the iPhone handles easily are very difficult to read or navigate around on the Instinct.
The problems go deeper. Sprint­­—and just about everyone else­—lacks the vigorous third-party software development effort that Apple is building around the iPhone. If you develop a program and want to make it available to Instinct users, you have to persuade Sprint to offer it through its online store. That's fine for, say, game maker Electronic Arts (ERTS) but leaves independent developers without a chance.
When the iPhone launched a year ago, I was critical of Apple's decision not to let outsiders build applications for it. So were many others, and Apple fixed the problem by offering software creation tools that have won near-universal praise from developers and by providing a simple way to get their products to consumers. It was a dramatic change that will make a very attractive product even more appealing. By the time the $199 iPhone hits stores on July 11, there will be dozens of applications ready for download from Apple's new App Store, some free, some to be purchased the same way you buy music or videos on iTunes. One of the most important apps will let companies give workers BlackBerry-like access to corporate mail, contacts, and calendar data from Microsoft Exchange. TomTom (TOM2.AS) has announced a program that will turn an iPhone into a full-featured GPS navigation unit. And based on demos Apple has shown, there will be games with graphics quality never before seen on handsets. Some will use the iPhone's motion sensors so players can control the game just by tilting the device. There's even a music program that turns the touchscreen into a piano keyboard.
Gut Reaction: The Instinct's Good, But…
The Instinct shows that Samsung and Sprint have learned a lot, too. It's a handsome product—maybe Samsung's best ever. Its no-­button face, with a display just a bit smaller than the iPhone's, makes it look like the Apple handset's brother, and it even comes packed in an iPhone-like box.
Sprint offers the Instinct only with its $99-a-month Simply Everything plan, which includes unlimited voice and high-speed data plus unlimited streaming music and video, navigation service, and more. For some users, this may be a better deal than AT&T's (T) cheapest unlimited 3G iPhone data plan at $70 a month plus à la carte iTunes music and videos.
Yet despite its strong multimedia capabilities, the Instinct offers little more than the typical cell phone, and nothing near the iPhone's computerlike capabilities. Yes, good hardware design is critical. But in the end, it's the software that really makes the difference.
Before it's here, it's on the Bloomberg Terminal.
LEARN MORE