In Vietnam, eBay Finds a Partner
The Internet powerhouse is teaming with Vietnam's ChoDienTu to develop a co-branded online auction site
By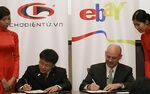 Unless you speak Vietnamese, chances are you've never heard of ChoDienTu, the Hanoi online auctioneer. Even inside Vietnam, ChoDienTu (the name means "electronic market" in Vietnamese) is not a household name. The startup may run the largest online marketplace in Vietnam. But in a country of 85 million people, of whom 18 million are Internet users, it only has 120,000 registered users and just 60,000 daily visitors.
Dan Neary is determined to change that. The eBay EBAY vice-president for emerging markets is counting on ChoDienTu to pave the way for the U.S. Internet powerhouse to enter Vietnam. On June 17, the San Jose (Calif.)-based company unveiled a partnership with ChoDienTu.vn to develop a co-branded online auction site that the two companies expect to go live within three months.
ChoDienTu was launched in August, 2005, by Peacesoft Solutions, which counts IDG and Softbank among its investors. The site has roughly 64,000 listings, ranging from mobile phones and cosmetics, to celebrity paraphernalia. One of its more bizarre offerings was a stone that resembled boiled meat on a bone that got snapped up for $9.
Not Expecting a Fast Payoff
As part of the deal, eBay will merge its year-old Vietnamese language site eBay.vn, a Singapore-based site that focuses on overseas transactions for buyers in Vietnam, with ChoDienTu, thereby giving users of the local site access to international buyers and sellers. Eventually, the two will share revenue. "They are clearly experts in this early-stage market with an exciting potential," Neary says. "A huge portion of e-commerce will be the ability to plug into the global system."
Clearly, eBay isn't expecting a big short-term payoff from its new Vietnam partnership. "Revenues in near term are not the focus of the deal," says Neary, "but building and tapping the potential of the Vietnamese marketplace." Given the immaturity of the Vietnamese market, ChoDienTu does not charge listing fees to sellers. It doesn't collect any transaction fees, either. Indeed, most buyers and sellers don't do their deals in cyberspace at all. Rather, they meet in person and exchange the cash for goods. "We need time to build up the market," says Nguyen Hoa Binh, chief executive officer of Peacesoft.
He's hopeful that online payments are slowly starting to take root in Vietnam, and ChoDienTu offers a service that accepts internationally issued credit and debit cards. However, there are only about 800,000 international cards in Vietnam, compared with 6 million local cards. PayPal, the eBay-owned online-payment system, is available to Vietnamese who purchase abroad, but there is no system by which Vietnamese sellers can collect on the system, a thorny problem for potential exporters.
Using the Local Brand Instead of Its Own
By teaming up with a local partner, eBay seems to have learned from missteps in other emerging countries, where it had difficulty making inroads against local incumbents. In China, for example, the company promoted the eBay brand and announced plans to invest $100 million. But in December, 2006, after falling far behind local rival Taobao, eBay beat a retreat (BusinessWeek, 12/19/06), shutting down its operation and instead teaming up with local partner Tom Online, controlled by Hong Kong billionaire Li Ka-shing.
In Vietnam, eBay is not taking any stake in its partner and is using the local brand rather than its own. "Markets like this aren't big enough for eBay to make direct investments so for them the critical resources are management resources," says Henry Nguyen, managing general partner at IDG Ventures Vietnam, "so a tie-up with local partners makes sense. We think e-commerce or retailing are still quite immature in Vietnam and for us these businesses won't take off until there are tailored platforms that work."
One of the biggest challenges facing the new venture is how to deal with fraud and counterfeiting. Binh says ChoDienTu has experienced some problems with Vietnamese hackers who stole U.S. and European credit-card information, though he says the largest fraudulent transaction was just $1,200.
For his part, Neary says eBay takes trust and safety seriously, and will work to ensure that its international policies to prevent transactional fraud will be integrated into the local Vietnamese site.