Crop Insurers Brace for Pain
Losses from Midwest flooding are still being tallied, but payouts could set records, and prices will jump for ethanol and meat
Avi Salzman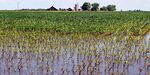 Most cattle were able to find high ground or shelter in the immediate aftermath of the storms that hit the Midwest over the past few weeks. But the livestock industry is set to take a soaking in the coming months, and crop insurers could face record payouts.
The flooding has already drowned 16% of Iowa's farmland and inundated sections of Illinois, Indiana, Wisconsin, and Minnesota, killing at least 11 people. Farmers and insurance experts are still tallying up the losses, though, and expect outlays to reach or exceed record levels. They liken this month's storms and flooding to similar deluges in 1993 that caused $15 billion worth of damage and killed 50 people, according to the National Weather Service. Water levels on some rivers, including parts of the Mississippi, have exceeded the '93 levels.
Insurers are bracing for huge payouts. The loss ratio for crop insurance was 2.19 in 1993, meaning insurers paid out $2.19 for every $1 in premiums that year. Last year premiums totaled $6.6 billion, and this year they are expected to reach $8 billion, according to Bob Parkerson, president of National Crop Insurance Services in Overland Park, Kan., which represents crop insurers. If the loss ratio is similar to 1993's, it would mean an $18 billion payout. About 23% of the liability on those insurance claims is held by the government, and the rest is privately held.
Many Were Unprepared
Home and business owners can also collect flood reimbursement through a federal program. But few Midwesterners have taken advantage of it. (Floridians, on the other hand, are heavy participants—they account for about 53% of all flood policies.) While at least 3,300 homes and 400 businesses in Cedar Rapids, Iowa, were under water in the recent flooding, only 829 homes and businesses in Linn County (which includes Cedar Rapids) carry flood insurance, said Butch Kinerney, spokesman for the National Flood Insurance Program. "A lot of people were lulled into a false sense of security," Kinerney says.
The costs of the flooding will spread far beyond just those farms and businesses in the immediate area. The damage to crops promises to add yet more volatility to an already bizarre year for commodities markets. Corn futures have nearly doubled since late last year—hitting a record of nearly $8 a bushel on June 16—while soybean futures have jumped about 33%.
For farmers who have escaped damage, including those in Iowa and Illinois not hit by the heaviest rains, these kinds of prices foretell a windfall. "It will be a bonanza for them," says Craig Lang, a dairy farmer who is president of the Iowa Farm Bureau.
Others, however, could be devastated. Yields in major corn-producing states hit by floods could drop by 20% or 30% this year, says John Hawkins, a spokesman for the Illinois Farm Bureau. Production of ethanol, which is made from corn in the U.S., has also been hit. Ethanol plants in Iowa have shut down, taking 300 million gallons of ethanol out of production.
Livestock Industry Will Be Squeezed
The most dramatic impact could be on the beef and pork markets. Because most corn grown in the Midwest is used to feed livestock, farmers raising cattle will see their costs skyrocket, says Corinne Alexander, an assistant professor of agricultural economics at Purdue University: "The really big price impact—we haven't seen it yet—is coming in the livestock industry."
Consumers could start feeling the impact in the next year or two. The price of beef has been relatively flat through April, while pork prices have risen about 2%, according to the most recent Agriculture Dept. figures. "[Producers] may not even be able to purchase corn," says Lang. "The livestock industry will not be able to afford it unless the price of meat goes up."