Greenberg, Broad on AIG's Latest Upheaval
Hank Greenberg, the man who built the insurance behemoth, and billionaire investor Eli Broad talk about the company's change of command
By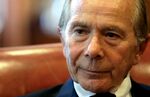 A little more than three years ago, Hank Greenberg, the architect of insurance giant (AIG), stepped down as chairman and CEO amid investigations by the feds and then-New York Attorney General Eliot Spitzer into alleged accounting irregularities. Greenberg was replaced as CEO by Martin Sullivan, a longtime lieutenant, and former Nasdaq chief Frank Zarb became interim chairman. In January, 2006, Robert Willumstad, who left his job as COO of Citigroup (C) after Chuck Prince succeeded Sandy Weill as CEO, replaced Zarb as chairman. If that wasn't enough shuffling in a short time, on June 8, with AIG stock having lost more than half its value since October, Sullivan was ousted, and Willumstad became CEO, too. AIG Director Stephen Bollenbach, backed by billionaire investor Eli Broad, was named lead director. For an inside perspective on this dramatic turn of events, I talked separately with Greenberg and Broad. What follows is a compilation of those two interviews.
Is Bob Willumstad up to the job?
Hank Greenberg: I don't know Bob that well. I knew him briefly at Citigroup, when he managed the consumer finance business, so clearly he has management experience. I hope he's up to the job. I just don't know. The jury is out until you have a chance to see what he can do. The fact is he's been chairman of AIG now for about 20 months, so he should have some knowledge of the company. The company needs strong leadership desperately. It cannot be in a vacuum for very long.
Eli Broad: It's clearly a step forward. Look, Bob Willumstad is an experienced, successful financial-services executive. He's 62 years of age. He's had a lot of experience, and it's an improvement over what was there.
According to press reports, Willumstad is hinting at a sale or a radical overhaul of AIG's financial products division. Would that be worthwhile?
Greenberg: I think no company the size of AIG should remain intact with all units because events and times change. You have to change the mix of assets that you own. I have some thoughts on that, and I expect to meet with him. But he shouldn't just do a wholesale distribution of the assets of the company. The financial-services division serves AIG very well. It's not that many of the units, or even some of the units, should be sold because of poor results. Poor results are a result of management failure—not the result of the business.
Broad: I would not be at all surprised if financial products was wound down and disappeared. Then you've got ILFC [the airline leasing outfit International Lease Finance Corp.], which is a great company run by Steve Udvar-Hazy, who, as we've read about, would like his freedom. If they can work something out that made sense for AIG and ILFC, that could happen also. I'm going to meet with Willum­stad, and based upon my experience and…having been on the board until four or five years ago, I'll give him whatever advice I can. But he's the CEO.
Why couldn't Martin Sullivan get the job done?
Greenberg: Well, there are several reasons. First of all, his experience was principally in the property/casualty area, dealing with brokers. He was promoted, but there was always access to somebody more senior, and so it was difficult, in hindsight, to see how he would perform on his own. Actually, the plan was that if he was going to be elevated to CEO, I would remain as chairman to determine whether or not he had the skill sets to run the company. But Frank Zarb, who I think wanted to be chairman for a very long time, could hardly add anything to the company. He was as knowledgeable about the company as somebody off the street. And so you had a chairman who couldn't oversee what was going on, and a disaster was brewing. You have to ask yourself, where was the board all this time? AIG financial products had a separate board of directors, a number of them outside members. Were they just sitting and listening and not asking penetrating questions? The board elevated their fees by three times, literally, for all the, quote, "hard work they were doing," unquote. So it was a perfect storm.
Broad: Look, Hank Greenberg built a great international financial service and insurance company—one without peer. But when Spitzer got after him and he left, he didn't leave a deep bench behind, and that was a problem. The only person there was Marty Sullivan, who had great competency in commercial insurance but certainly did not have the background to lead a multinational financial-services company. [The board] should have probably had a worldwide search to find someone to replace Hank, which never happened.
What do you think about Stephen Bollenbach? Is he up to the task?
Greenberg: I don't know him personally, but he has a good reputation. He's friendly with Eli Broad, and I have high regard for Eli's judgment. And a number of other people that I know speak very highly of him. So I think that's very positive.
Broad: I have a lot of confidence in Steve Bollenbach, who's done great at everything he's ever done in life, most recently at Hilton (BX), as you know, and before that Disney (DIS). Having said all of that, it's clear that Bob, hopefully with the help of Steve, will have to recruit a great chief financial officer.
Hank, are you encouraged that Willumstad is sort of making a public outreach to you?
Greenberg: Well, yes. I think that's a positive sign. We'll see. You know, I'm very open-minded.
Broad: If I were Willumstad, I would seek Hank's advice. But he's still the CEO, and he's got to make the decisions—not Hank Greenberg or anyone else.
Hank, you built this company that operates in more than 100 countries.
Greenberg: One hundred and thirty.
One hundred and thirty countries. Some people say there are not a lot of people who can really control this behemoth other than you, given your intimate knowledge of the company. And they say: "Look, does it make sense to put someone who helped build an unmanageable giant called Citigroup in charge of another enormous management challenge?" Can anyone really control this behemoth in its current form?
Greenberg: I've heard people say that, and I think it's a silly question. There's more than one person in the world who can run a company. You've got to have an individual who has a vision, energy, is willing to pay the price—which means 24/7—and you don't do it because you have to, you do it because you love to. And you have the intellectual capacity to do it. I can't believe that the model is broken when one person leaves, whether it's Citigroup or AIG or GE (GE) or any other company like that. Yes, you have to be discerning about whom you choose, and you have to have a board of directors that understands the vision. But no, I don't think it's impossible [to find someone who can run AIG].
Let me switch gears and ask you a little about your travels, Hank. You've been to Russia, China, and elsewhere recently. Based on supply-and-demand fundamentals around the world, should oil be where it is?
Greenberg: No. I think there is some distortion in the energy pricing, and there has been some speculation in the futures market. But having said that, the demand for oil and energy has increased dramatically. Countries that were not very big users of imported oil now are searching the world for oil, China being one. But look, we have tremendous sources of oil in our own country, both onshore and offshore, that we're not exploiting. It's going to take time to do so, and it's going to take some changes in legislation both at the state level and the federal level. I don't know why we continue to spend $600 billion a year sending that money to other countries, principally the Middle East, when we have the opportunity to drill onshore and offshore and meet the environmental standards that are required.
Before it's here, it's on the Bloomberg Terminal.
LEARN MORE