Middelhoff: Why He Gets No Respect
After being bounced from Bertelsmann, he struggles to prove himself at a German retail conglomerate
Jack Ewing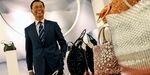 It's a sunny day in October, 2000, and I'm sitting across from Thomas Middelhoff as his Gulfstream jet banks over the south of France on his return from meetings in Cannes. Life is sweet for Middelhoff, CEO of German media giant Bertelsmann. He enjoys a reputation as one of the first media executives to embrace the commercial potential of the Web, and he hangs out with stars of the bubble era such as AOL (TWX) founder Stephen Case and Vivendi CEO Jean-Marie Messier. An ultraconfident Middelhoff will soon take the revolutionary step of forming a partnership with Napster (NAPS), the pioneering—but outlaw—file-sharing service loathed by the recording industry.
In April of this year, I travel to see Middelhoff again. This time we meet at a low-rise office building bordered by a middle-class residential neighborhood on the outskirts of Essen, in German steelmaking country. He's now CEO of travel operator and retailer Arcandor, a job that seems to offer less prestige and far more risk. Middelhoff's days as a media visionary ended in July, 2002, when Bertelsmann's family shareholders ousted him in a dispute over his plans to take the company public. The conservative Mohn family resented Middelhoff's flamboyance, his embrace of the Internet, and costly failures such as the Napster deal, which provoked record-company lawsuits that Bertelsmann later settled for $380 million.
When Middelhoff took over Arcandor, then named KarstadtQuelle, in 2004, the company was weeks away from bankruptcy. Middelhoff averted the crisis, but the outfit's department-store and catalog operations—both mature businesses—still face big challenges amid wavering European growth. Moreover, Middelhoff, now 55, has gotten little credit for saving Arcandor. Instead, he has become a lightning rod for resentment of what Germans call "Anglo-Saxon capitalism." His tenure at Arcandor coincides with a surge in antibusiness sentiment, fed by politicians who call private equity investors "locusts" and back measures such as punitive taxes on manager pay.
Middelhoff is a prime target. Since his days at Bertelsmann, when he famously described himself as an American with a German passport, Middelhoff has flaunted his affinity for U.S. business practices. After leaving Bertelsmann, he joined private equity firm Investcorp International in London, which only reinforced his image as a member of the locust club. "There is no doubt about the diagnosis," Germany's Manager Magazin said in a biting cover story last September. "Middelhoff has succumbed to the English disease."
So why take another post in the heart of Germany Inc., especially if Germany Inc. doesn't much care for you? It wasn't like Middelhoff needed a job. Investcorp provided stimulating, lucrative work comfortably outside the limelight. In fact, his colleagues there urged him to steer clear of the failing German company. Says one longtime observer of German business who was once close to Middelhoff: "It's the worst job you could take to restore your reputation."
He ignored the pessimists. In part, Middelhoff says, he felt a sense of duty. Somebody needed to save Karstadt, Germany's biggest department-store chain, as iconic as Macy's (M) in the U.S. "I thought, You are obliged to be responsible. You can't walk away,'" he says. Although he denies it, Middelhoff may have also missed being in the middle of the action. Other European business celebrities of his day, such as Vivendi's Messier, have faded from view. That's not Middelhoff's style.
"MISSION IMPOSSIBLE"
There was another reason for taking the job, Middelhoff concedes: After his painful departure from Bertelsmann, Arcandor offered a chance to show he is a manager of substance, not a dot-com has-been. "Deep, deep in my heart, I thought, O.K., I'll show that I can accomplish mission impossible.'" In a country other than Germany, Middelhoff might have found vindication.
In a country other than Germany, Middelhoff might have found vindication. During one intense week in September, 2004, with TV news trucks parked outside the Essen headquarters, he shuttled from meeting to meeting with banks, employee representatives, and Karstadt shareholders, ultimately pulling the retailer back from the brink of bankruptcy. "He rescued the company," says Hans-Peter Kuhlmann, an analyst at Landesbank Baden-Württemberg in Stuttgart.
Since then, using his network of contacts and his dealmaking skills, Middelhoff has sold off much of the company's grab bag of assets, including a TV sports channel, a stake in Starbucks' (SBUX) German venture, and a chain of fitness centers. He used the proceeds to acquire full control of British travel agency Thomas Cook Group, which now accounts for more than half of sales and all of profits. He pushed the catalog business into fast-expanding new markets such as Russia and Central Europe to offset slow German growth. Today the parent company is out of debt. For fiscal 2007 it reported operating profit of $820 million on sales of $22.3 billion, though Arcandor barely broke even on a net basis because of restructuring charges.
Middelhoff claims he can handle the public abuse he seems to inspire. "I'm a big boy," he says. But the criticism clearly wounds. In a speech to shareholders in Düsseldorf on Apr. 23, he made several references to his bad press. "We're making progress, but some people don't want to see it," he griped.
In truth, Middelhoff sometimes helps fuel the negative sentiments. He has stood by Klaus Zumwinkel, former CEO of Deutsche Post, the German postal service and owner of package delivery company DHL. Zumwinkel became a symbol of managerial greed in February when photographers and film crews captured his arrest on suspicion of hiding assets in a secret bank account in Liechtenstein. (Zumwinkel denies the accusations.) Middelhoff has resisted shareholder calls for Zumwinkel to give up his seat on Arcandor's supervisory board, saying the former postal chief provides invaluable expertise. "If we don't have the civil courage to stand against public opinion, we aren't worthy to be business leaders," he adds.
OVEROPTIMISTIC?
Though Middelhoff often seems to be in the middle of controversy, it would be wrong to portray him as a bitter former highflier ruminating in provincial exile. Tanned and fit, with not a gray hair, he's as ebullient as ever, laughing loudly as he reminisces about a Bertelsmann dinner years ago when he entertained reporters with a gag plastic fish that, on cue, came to life and sang "Take Me to the River." And he seems genuinely enthusiastic about retailing. "I like it here very much," Middelhoff says one afternoon while striding at top speed through KaDeWe, the company's flagship store in Berlin. "We know you!" exclaim two middle-aged saleswomen working a display of Salvatore Ferragamo handbags. "I know you, too!" Middelhoff replies cheerfully. A minute later he urges a visitor to check out the gourmet food section. "It's world-class!" he enthuses.
In fact, his relentless optimism may be partly why he rubs notoriously pessimistic Germans the wrong way. "He's always in a good mood," says Marc Sommer, a former Bertelsmann executive Middelhoff recruited to run Arcandor's catalog business. "Like a lot of strong personalities, he polarizes."
Within the company, Middelhoff's can-do attitude inspires loyalty. Matthias Bellmann, the Arcandor board member responsible for personnel, says Middelhoff's leadership has helped lower-level managers get through dark times. Considering everything that Arcandor has endured, Bellmann says, employees need "a clear signal every day that top management believes in the future." Middelhoff has even won over some skeptical labor representatives. Margret Mönig-Raane, who sits on Arcandor's supervisory board as a union representative, says she had a negative image of Middelhoff before meeting him. "I had to change my opinion," she says. "I find him fair, open, and constructive."
To the public, though, Middelhoff's optimism inspires skepticism. Among analysts and investors, he has developed a reputation for making promises he can't deliver. A year ago, Middelhoff asserted that Arcandor shares had the potential to hit 40 euros; they're now trading near 10, down from 28 euros a year ago as analysts continue to doubt the company's growth potential. Investors wonder whether Middelhoff can deliver on a promise to generate operating profits of $2 billion next fiscal year.
At Bertelsmann, Middelhoff always wanted public shareholders. Now he's got droves of very loud ones. Although controlled by reclusive heiress Madeleine Schickedanz and her family, Arcandor is publicly traded in Frankfurt, while Thomas Cook has a separate listing in London. The Arcandor shareholder meeting at a Düsseldorf convention center was a raucous public affair, where anyone with at least one share had the right to speak. A man with a long, gray beard groused that he didn't like the way the company name appears on store receipts, then nominated himself for the supervisory board. Ingo Speich, a fund manager at Union Investment in Frankfurt, warned Middelhoff that doubling down on Thomas Cook makes Arcandor too dependent on the travel business. "That's a dangerous tightrope walk," Speich said. Many of the thousands of attendees paid scant attention to the proceedings, instead crowding around buffet tables laden with free food—an obligatory feature of German shareholder meetings known as the "wurst dividend."
Middelhoff rejects suggestions that this new environment represents any kind of demotion from the media business. "A tourism concern is very much like a TV company," he says. "Tourism companies are dealing with the dreams of consumers. It's very emotional." Though Middelhoff clearly feels vindicated that television broadcaster and producer RTL Group—an acquisition he engineered—is the biggest moneymaker for Bertelsmann, he declines to dwell on his days there. "It's far, far away," he insists.
Before it's here, it's on the Bloomberg Terminal.
LEARN MORE