Bob Nardelli on Chrysler's Rough Ride
In a chat with Maria Bartiromo, the CEO discusses the carmaker's struggles and its challenge in creating "a whole new identity"
By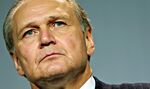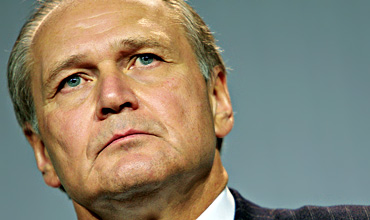 The U.S. auto industry was banged up worse than the last car in a demolition derby even before the housing debacle, credit crunch, and oil spike left consumers struggling just to survive. Bob Nardelli, who took the helm at Chrysler less than a year ago, knew the business was in for challenging times. What he couldn't know was how bad things would get. Nardelli is not a car guy, and he's been on the most corporate of corporate tracks for the bulk of his career: He was a disciple of Jack Welch at GE (GE) for three decades and then spent a half-dozen years as CEO of Home Depot (HD) —a troubled tenure that ended with a golden handshake. Now Nardelli is leading one of the biggest names in the car business as the boss handpicked by private equity powerhouse Cerberus, which bought Chrysler from Daimler Benz. So why isn't this man screaming?
MARIA BARTIROMO
Is it fair to say this is the toughest business environment you've ever seen?
ROBERT L. NARDELLI
It certainly is. I've relocated 14 times. I've been in a variety of different businesses. But I don't think I've ever been in one that has been struck by the perfect storm. You've got all of the economy kind of downward spiraling—housing, food, and now the consumer.
Chrysler has great vehicles, but you don't have what the market wants. What's your strategy?
We're going at warp speed to talk to other manufacturers that we can form partnerships with, [like] the one we recently announced with Nissan (NSANY).
You could do partnerships, certainly, but that's small potatoes when you look at the big picture. Don't you have to do an out-and-out combination with Nissan?
I don't think so. Being private has been a huge advantage, and we have flexibility. It's new and challenging when you uncouple. Chrysler was a pretty feisty company, had a good reputation, became a division of a larger company, and became functionalized, as you would expect, to drive synergies. When you unplug, you're unplugging functions that were connected to Stuttgart [home of Daimler (DAI)] and creating a whole new culture, a whole new identity, a whole new set of metrics.
When did you first notice a real change in consumer attitudes and buying patterns?
I think May is when we really saw a dramatic—you know, over 30%—downward trend in large trucks, light-duty trucks, and certainly the SUV. Those consumers who love the idea of driving a truck for pleasure but really didn't need one for work started trading down.
How much cash do you have right now?
We closed last year at about $9 billion, and we're still in very good shape.
Nine billion dollars in cash is a substantial number, but your business is burning cash quickly. GM (GM) is burning a billion dollars a month. How much do you burn in a month?
We don't report cash.
I want to ask about the $2.99-a-gallon gas deals you're offering. Recently, Tom Friedman of The New York Times wrote: "Reckless initiatives like the Chrysler-Dodge-Jeep offer to subsidize gasoline for three years for people who buy its gas guzzlers are the moral equivalent of tobacco companies offering discounted cigarettes to teenagers." Your reaction?
He certainly is welcome to his opinion. One of the things that we have done is we've formed a customer advisory group online. And they were asking: "Is there anything you can do to give us some comfort relative to gas prices?" So by us going out and guaranteeing $2.99 for three years, it's not a gimmick, it's not a wink and blink, it's…a great response to what is top of mind for customers—fuel prices. It's one of many incentives that are out there. I don't think it comes close to [Friedman's] analogy.
We've got a real slowdown in the U.S., but things are booming in Russia, China, and the Middle East. How are you going to get a piece of that action?
As part of the divorce, it's like they got the fork, we got the spoon. Our international strategy rested with Mercedes. So what are we doing? We're working very aggressively to get into China and Russia. One of the vehicle makers we have an agreement with will get us into South America. We've had discussions in India. We're No. 2 already in Canada. So we're creating centers of excellence that allow us to design, engineer, and ultimately manufacture [overseas]…but we bring all of the brand integrity.
But everybody knows this stuff takes time. Isn't it a much faster route to merge with another car company that has exposure overseas?
If the opportunity was to present itself, we certainly would look at it, but we can't rely upon that happening. You know, we just got out of one of those relationships.
When you first came into the Chrysler job, you came with really no emotional attachments. So what about selling the Jeep brand?
No, no. Absolutely not. Jeep is a crown jewel in our company. Your point is a good one, but there are two sides to it. As a CEO, the toughest thing to change is what you may have put in place. So from one standpoint, I come with no emotional attachment. As a very caring person, I come with a lot of emotion for our employees. They're not numbers. They're human beings. And there are a million people dependent on Chrysler's success—employees, dealers, suppliers. So this is a huge emotional challenge for us. This has to work.
GM and Ford (F) have announced production cutbacks and closings of plants. Are you poised to announce more?
Remember, we took out a million units of capacity last November. But it depends on how much further deterioration we see in the truck business. We'll do what we have to do to make sure Chrysler returns to profitability.
Before it's here, it's on the Bloomberg Terminal.
LEARN MORE