AMD Wins Another Round Against Intel
The FTC has subpoenaed the chipmakers to seek information about their customers, including Dell, HP, and Apple. At issue: Intel's pricing
by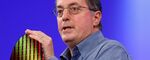 Score another victory for Advanced Micro Devices (AMD) in its crusade to sick regulators on bigger rival Intel (INTC). The U.S. Federal Trade Commission has opened an investigation into chipmaker Intel and how its conduct affects AMD.
Intel and AMD said on June 6 that they had received subpoenas that give the FTC the leeway to seek information from the chipmakers' customers, including computer makers Dell (DELL), Hewlett-Packard (HPQ), Toshiba, and Apple (AAPL).
The investigation is focused on Intel's dominance of the market for microprocessors, which make up the heart of a PC. In particular, the FTC wants more information on Intel's practice of offering favorable pricing on chips to certain customers.
The move follows a 2005 lawsuit filed by AMD (BusinessWeek.com, 6/28/05) that accuses Intel of engaging in an aggressive and global campaign to shut AMD out of the marketplace. AMD says Intel's main weapon of choice is the regular use of volume discounts that it claims Intel has sometimes rescinded when PC makers begin adding AMD chips to their product lineup.
That case is expected to come to trial in a Delaware court in early 2010.
Intel Cites Fierce Competition
Intel was already the subject of an informal FTC inquiry in September, 2007, and said it would cooperate with the commission's more formal investigation. In a statement, Intel described its business practices as "well within U.S. law," and said the microprocessor business is so "fiercely competitive" that prices on chips have fallen by more than 42% from 2000 to 2007.
Intel says AMD's problems in the marketplace have more to do with its ability to ship price-competitive products. "There are only two ways to look at this," says Intel Chief Counsel Bruce Sewell. "There is nothing in the record to suggest that Intel is pricing its products below cost. So if Intel is pricing above cost, then either AMD can meet those prices because it is equally efficient or it can't because it is less efficient."
That argument drew a sharp rebuke from Tom McCoy, AMD's executive vice-president for legal affairs. "This case isn't about discounts or even about pricing," McCoy says. "It's about market foreclosure. If it were only about pricing and discounts then Intel would be winning with the regulators around the world."
Korea Imposes $25 Million Fine on Intel
Indeed, some regulators haven't been too sympathetic to Intel. The Korea Fair Trade Commission ruled on June 5 that Intel had violated that country's antitrust laws by offering rebates to Korean PC makers Samsung and Trigem between 2002 and 2005 in exchange for their agreement not to use AMD chips. The commission imposed a $25 million fine and ordered Intel to stop offering the rebates. Intel has said it will likely appeal the decision. Antitrust regulators in Japan and the European Union also have come out against Intel, saying the company violated laws by paying PC makers not to use AMD chips.
Intel's defense may not hold much water with the FTC either, says David Balto, a former policy director for the FTC who's now an attorney in Washington. "These discounts are handcuffs dressed up as benefits, and they have prevented retailers and others from making choices they would have otherwise made in a free market," Balto says.
During 2005 and 2006, AMD won a good portion of business away from Intel in the server chip market (BusinessWeek.com, 3/6/06). It also landed its chips in computers from both Dell and Toshiba, both of which for many years had used only Intel chips (BusinessWeek.com, 5/30/07).
PC Vendors Not So Fearful of Intel
McCoy says at least some of those successes came in the wake of regulatory action. PC vendors are proving more willing to use AMD chips because they're less afraid of retaliation from Intel, he says. "There is an emerging consensus around the world that Intel is coercing customers to avoid doing business with us and that this is hurting consumer choice," McCoy says. More recently, AMD has floundered (BusinessWeek.com, 4/8/08).
This is not the first time Intel has tangled with the FTC. In the late 1990s, the FTC accused Intel of withholding key technical information about its chips from Digital Equipment Corp. and Compaq, (both now units of Hewlett-Packard) as well as Intergraph. The three all had key patents related to microprocessors for which Intel had sought licenses. When the companies tried to enforce their patents, Intel held back information the companies would need to build new computers as a means of coercing them to license the patents in question.
Intel settled in 1999 with only a day before trial was scheduled to begin. Settlement talks began after a tennis game between Intel attorney Michael Sohn and then FTC antitrust chief William Baer.
Since then, especially in the wake of the Justice Dept.'s case against Microsoft (MSFT), antitrust case law has been altered in such a way that the FTC is more likely to play hardball with Intel: "This time I think they're going to take a cold hard look at Intel's conduct," Balto says. "The first time antitrust law didn't recognize the potential anticompetitive harm from this kind of conduct and how it might be illegal."
Before it's here, it's on the Bloomberg Terminal.
LEARN MORE