Indie Filmmakers Hit Their Target
Taking cues from musicians' Internet business models, filmmakers are transforming the movie biz by handling marketing, distribution, and DVD sales
by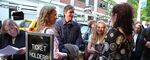 As they waited in line outside Cinema Village, the art house theater in downtown Manhattan, Carol Frohlinger and Lindsey Pollak didn't know they were part of the transformation of the film industry. They just thought they were going to see a movie.
But the pair, both authors and bloggers on women's issues, had encountered no advertising, no reviews, and no film festival buzz about What's Your Point, Honey?. Instead, they came out after Pollak got an e-mail about the film, which documents an effort to get young women involved in politics. "It was the topic, the subject matter that got me excited about it," she says. After the sold-out screening, Pollak and Frohlinger endorsed the film on their blogs and encouraged readers to buy the DVD.
Documentary filmmakers once needed luck as much as talent and business sense to succeed. Breaking into festivals, getting picked up by distributors, and doing well at the box office depended heavily on chance. Most independent films never get distributed, and many that do languish in obscurity after brief appearances in theaters. Nearly 1,000 documentaries competed for 16 slots in the 2008 Sundance Film Festival (BusinessWeek.com, 1/24/08), and of the 105 documentaries released in U.S. theaters in 2007, the median box-office gross was about $25,000 for the year, according to the movie industry tracking site The Numbers.
Opting Out of the Festival Circuit
But like musicians who shun record labels (BusinessWeek.com, 10/10/07) to sell their music themselves, anecdotal evidence suggests documentary filmmakers—already an entrepreneurial bunch—are foregoing the conventional path of shopping their films to a distributor. They're skipping such deals and using the Internet to get their stories in front of people who want to hear them.
"Indie filmmakers are getting a little bit less afraid to say no to somebody with all that power, because other new channels are opening up," says Amy Sewell, co-director of What's Your Point, Honey? Sewell, who wrote the popular 2005 documentary Mad Hot Ballroom, has opted out of the festival circuit for her latest film. She and co-director Susan Toffler walked away from a "low six-figure" offer from a distributor so they could hold on to the rights, organize their own screenings, and sell DVDs directly through their Web site.
Few people get rich making documentaries, and that's unlikely to change. But filmmakers who take control of their marketing and distribution can expand their audience and increase their chances of turning a profit, says Peter Broderick, a Sanata Monica (Calif.) consultant to independent filmmakers. "Filmmakers need to be as creative about their distribution as they are about their production," he says.
Closer to the Core Audience
The do-it-yourself approach depends on the filmmaker finding viewers passionate about the subject. The model works well for documentaries, which often have clear target audiences, rather than features made for broad appeal. The producers of King Corn, which examines the role of corn in the U.S., reached out to food activists and organic farmers while they were filming to build an e-mail list of people who care about the topic. "I think we felt in some way that we were better able to communicate with our core audience than a distributor who's used to dealing with mass audiences," says co-producer Curt Ellis.
They booked King Corn for single-night screenings rather than wide theatrical release to keep the film from getting lost among the scores of movies that open each weekend. They also sold DVDs directly at screenings. "I think if we'd done traditional distribution, far fewer people would have actually heard of the film," Ellis says. They've since signed a deal with distributor Docurama to release the DVD in stores and on Netflix ( 2 Next Page
Before it's here, it's on the Bloomberg Terminal.
LEARN MORE