How Meetup Tore Up the Rule Book
The popular Web site company's radical experiment is putting employees in charge
Heather Green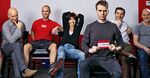 The management revolt at Meetup Inc. broke into the open last February. Douglas Atkin, a senior manager, yanked CEO Scott Heiferman into a conference room and showed him a list scrawled on a whiteboard. In bright red letters were all the things Atkin felt were wrong at the New York startup, including "We Aren't a Creative Company" and "I Hate the Org Chart." Atkin pressed his boss to change course. "We need to blow this up and start all over again," he said.
Meetup is a company built on organization. Through its Web site, people can set up local groups for everything from sharing organic gardening tips online to marshaling volunteers for political campaigns. But as the company grew to 52 employees and 5 million members, Meetup's own organization buckled. It was failing at the very thing that was supposed to be its expertise.
What followed Atkin's confrontation was a management experiment that shook the company. Heiferman replaced the old org chart with a highly unusual management strategy in which workers set priorities and pick their own projects. Inspired by the people who use its service, Meetup loosened the reins and dispersed power. For some workers, it felt like chaos, and they fled. Others thrived.
The process is still under way, but the results so far are largely positive. Morale is up, and the company is cranking out products. On June 10, Meetup plans to unveil a slew of features, including a site redesign, a new payment system, and a method for translating Meetup into other languages. "We got more done in six weeks than in six months last year," says Heiferman, who expects the projects to boost revenues tenfold, to $100 million, by 2010.
Meetup's approach isn't for everyone. But for managers, especially those responsible for younger workers with attitudes and expectations so different from those of earlier generations, the experiment holds lessons: Giving up control can lead to better results. Your workers may have better ideas than you. Gary Hamel, who wrote The Future of Management, predicts more companies will adopt flexible organizations to accommodate Internet Age workers and profit from their skills. "With information so broadly shared now, the sources of influence and power are eroding," he says. Companies already using such approaches include Whole Foods Market (WFMI), and W.L. Gore & Associates, the $2 billion maker of Gore-Tex.
At Meetup, the recent changes were designed to break through layers of bureaucracy that had piled up. Last year, for example, the company established a controversial review board that, along with managers, oversaw what workers could do. Employees talked about being "metrified," or so focused on metrics there was no room for new ideas.
A few months after the review board was established, Atkin cracked. Heiferman listened, sensing he had a problem. For a week in February, Meetup's execs brainstormed alternatives. They considered modest tweaks. But Greg Whalin, head of technology, kept pushing to give workers more control.
WORKING HARDER
On Feb. 21, Heiferman gathered the staff to sketch out the new ground rules. Employees will decide which projects get tackled first. They'll organize themselves into teams to tackle projects. All existing work will be put on hold. One by one, people stood up and volunteered things they wanted to change. The crowd got rowdy, clapping and shouting out their ideas. The execs left and employees spent five hours deciding who would work on what.
Work patterns changed immediately. With more control, many worked harder than ever. Heiferman is shocked at how fast projects have come together. Still, uncertainty remains. Managers worry employees will pick frivolous projects. Some workers are uncomfortable without specific jobs or authority. "People question what their professional growth will be," says product manager Maya Voskoboynikov.
Many companies couldn't operate with workers calling so many of the shots. Consulting and advertising firms have to answer to clients. Size matters, too. As companies grow, experts say most need hierarchy to keep people moving in the same direction. "As someone who has spent his entire life saying 'Liberate people,' I believe you need systems," says Tom Peters, the prominent management consultant.
Heiferman isn't throwing out systems entirely. A strategy group tracks how changes affect revenue and customer growth. And the CEO reserves the right to pull what he calls the "red cord" on projects headed in the wrong direction. He hasn't had to use it. At least not yet.
Before it's here, it's on the Bloomberg Terminal.
LEARN MORE