Coach Builds Its Brand in China
The leather goods maker has opened a new Hong Kong flagship and plans to acquire all of its retail outlets in China, Hong Kong, and Macao managed by local distributors
By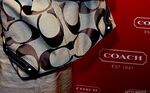 You'd be hard pressed to find a more label-conscious society than Hong Kong, where you can instantly identify a woman's place in the social pecking order by the bag on her arm. Leather bags by Louis Vuitton, Ferragamo, Gucci, and Hermès have long been a staple for Hong Kong's "tai tais" (ladies of leisure) and Canto starlets, and more recently mainland Chinese tourists have been making a bee-line for these luxury houses during shopping sprees to the city.
If Ian Bickley, president of Coach (COH) International, has his way, the company's newly opened flagship store will find a place on shoppers' itineraries too. "For a lot of classic luxury consumers Coach is an alternative brand to the European luxury goods," says Bickley, who was in Hong Kong for the May 29 debut of the new shop. "Coach is aspirational for an emerging class of consumers, particularly in this part of the world. Therein we see a big opportunity in China," he says.
Coach bags typically cost between $200 and $400 (BusinessWeek, 5/29/08), putting it at the top of the premium segment or the bottom of the luxury segment. By keeping prices within this range, New York-based Coach figures it can attract a loyal following of shoppers who will make repeat purchases. While the company does sell limited-edition python bags costing thousands of dollars and will be coming out with an $1,100 model in the fall available in all of its U.S. outlets, Coach's focus is still mainly on aspirational buyers.
Late to the Party
Coach is relatively late to the Chinese party, only opening its first outlet in China in 2003. The launch of the 9,400-square-foot Hong Kong flagship store, which the company celebrated with a party featuring singer John Mayer at a local nightclub, coincides with the announcement that the company is acquiring all of its retail outlets in China, Hong Kong, and Macao currently managed by local distributors. The company declined to say how much it is paying.
Bickley reckons the market for woman's leather goods (excluding shoes) in the Greater China region will more than double in the next five years, from $1.2 billion to $2.5 billion. His target is to increase sales from the current $30 million, with a 3% market share, to 10%, with $250 million in sales.
Key to boosting growth is the decision to manage its own stores. Bickley says the China market will evolve much as Japan did, albeit at an accelerated rate. Coach took direct control of its retail operations there in 2001, "the right time to control the destiny of the brand," says Bickley. Similarly, "the time has come for us now in China to establish an in-store experience and build a brand," he says. The company plans to have 50 new stores open in China, Hong Kong, and Macao within the next five years. It currently has 24 locations. He hopes to open Coach's first flagship store in Shanghai within the next 12 to 14 months.
Retail Distribution Still Immature
Bickley says that for now, China and the rest of Southeast Asia will keep the company busy, and Coach has no immediate plans to enter India, where retail distribution is still immature. "In India, distribution networks and local partners are still learning a lot about about the industry. There are no proven partners locally," he says.