Wachovia: Golden West Wasn't Golden
The bank's acquisition of the thrift has claimed a big chunk of its profits and cost the deal's architect his job
Dean Foust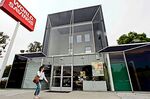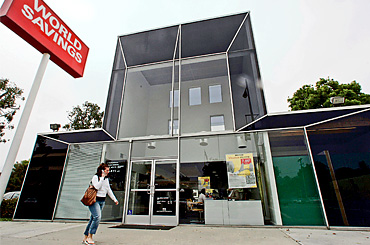 When Wachovia (WB) Chief Executive Officer Ken Thompson sealed a $24 billion deal to buy Golden West Financial in May, 2006, he bragged that he had bagged "a crown jewel" of the mortgage business. Two years later it's painfully clear that Thompson bought the nation's second-largest S&L at the peak of the housing bubble, a misstep that led to his ouster on June 2.
Whoever Wachovia directors pick to succeed Thompson may spend a great deal of time mopping up the mess at Golden West. The thrift's vaunted underwriting proved inadequate when housing prices began to plummet in California and Florida, where the lender has heavy exposure. Analysts figure Wachovia could end up incurring losses of as much as $11 billion on Golden's West $122 billion mortgage portfolio. "You'd be hard-pressed to find anything good out of this acquisition," says Terry Maltese, president of Sandler O'Neill Asset Management.
"Pick-a-Payment"
From the outset, investors had expressed concern that Thompson was buying at the top. But Wachovia's boss had utter confidence in Golden West's underwriting skill: The thrift weathered the 1991 housing bust in California with a minuscule 0.18% in loan losses. Golden West executives boasted that its World Savings Bank mortgage unit required relatively large down payments and relied on housing valuations made by staff appraisers who were rewarded based on the long-term accuracy of their estimates—and not how many deals they rubber-stamped.
In most mergers, it's the acquirers that exert their will. But right after Wachovia bought Golden West, executives from the S&L took control of all mortgage lending. And according to former brokers, they began pushing Wachovia's sales force to steer applicants into its signature "Pick-A-Payment" loans. These give borrowers four choices of how much to pay each month, and cost as much as a full percentage point more than a 30-year, fixed-rate mortgage. "[Management] believed Pick-A-Payment loans were the answer for every customer," says one ex-broker.
Former brokers say they were given sales targets for the Pick-A-Payment loans and were told to downplay the fact that making the minimum payment would cause the loan balance to rise—a phenomenon known as "negative amortization." In one training video reviewed by BusinessWeek, brokers were instructed to avoid using terms like "negative amortization" in favor of euphemisms like "deferred interest." (Wachovia has said it does not set sales quotas by mortgage type.)
Despite Thompson's tireless defense of the deal, it was evident by earlier this year that Golden West's approach worked best in rising markets. Analysts note that Golden West focused too much on appraisals and too little on verifying the income and assets of applicants. While this tactic helped ensure that Golden West could recover the full value of homes that went into foreclosure during up cycles, it didn't anticipate that borrowers would simply walk away if a plunge in home prices left them underwater.
Thompson in January eased out Golden West's top executive and soon after required Golden West's mortgage officers to start using credit scores and better verify employment and assets from applicants. But those moves were too late to salvage his job.
Before it's here, it's on the Bloomberg Terminal.
LEARN MORE