Aid Groups Cope with High Food Prices
Teaching self-sufficiency and sustainable agriculture, and injecting money instead of just food into local economies are some ways NGOs are adapting
Mark Scott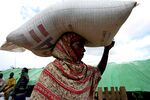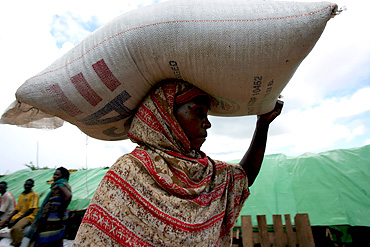 People from Kansas to Kenya are feeling the pinch of rising food prices. No wonder heads of state came to Rome for a three-day summit starting June 3 to figure out how to combat soaring costs for everything from wheat to dairy products.
At the top of the agenda is finding ways to help developing countries feed their citizens at a time when the cost of commodities has skyrocketed. That goal is shared by the food-aid community—a mixture of nongovernmental organizations (NGOs) and international aid agencies that are being forced to change how they operate in response to the food-price crisis.
The impact on aid groups already has been enormous. The U.N. World Food Program (WFP) says global food prices rose by 40% in 2007, while the cost of wheat, a dietary staple in emerging economies, has soared 180% since 2006, according to the World Bank.
Other expenses have jumped, too. Thanks to spiraling fuel prices and capacity shortages, freight costs to ship food to the developing world have almost doubled in the past two years, the World Bank says. All told, that has left organizations like the U.N. WFP scrambling to meet their goals as overall expenses have soared by more than 50%.
Moving from Charity to Self-Sufficiency
In the short term, the squeeze has put agencies and NGOs in an impossible position. Unable to raise their funding as fast as their costs, they've been forced to cut back on the number of people they serve or spread aid more thinly, potentially putting whole communities at risk of malnutrition.
Longer term, aid groups are looking to wean themselves from the unpredictability of budgets and politics, profoundly reevaluating their business models to better serve the world's poorest countries. This transition, which was under way before the current food crisis kicked in but has gained renewed urgency, looks to shift the emphasis of development assistance from charity to self-sufficiency.
Rather than importing costly commodities from the developed world—often grown with farm-support subsidies—agencies now try to source food from domestic or regional producers. There's also a move to teach local communities sustainable agricultural techniques so they are less susceptible to the volatility of the global food markets.
"The rise in food prices has accelerated the push by organizations to alter their strategies," says John Hoddinott, senior research fellow at the International Food Policy Research Institute in Washington. "Sourcing food from developing countries is a welcome step."
Resistance from Farming and Shipping Lobbies
This fundamental change in the decades-old approach to food aid isn't occurring without some resistance. Critics worry certain developing countries, such as conflict-ridden Sudan and Somalia, don't have the resources to produce their own crops. Other interests, especially farming and shipping lobbies in the U.S., continue to push for the status quo. They argue importing food from Western economies is the most stable way for the poorest communities to get food aid.
As the current food crisis heats up, that point of view is losing ground among the most prominent players in the humanitarian community. The U.N. WFP—the world's largest provider of food aid—has embraced the movement to reduce overhead and now sources almost 80% of its supplies from developing countries. The Canadian and European governments have shifted to a "buy local" strategy to offset rising food costs. And even the U.S. government—which has long defended the old model and gives $2 billion annually to food-aid programs—now wants to spend 25% of its budget within emerging economies.
This change in public policy has benefited NGOs that want to squeeze every dollar out of their aid budgets. Leading the way is Ireland's Concern, a humanitarian organization with a $195.4 million annual budget and projects in 28 countries.
According to Concern's chief executive, Tom Arnold, the recent spike in food prices has hastened an existing trend to source commodities from local farmers. "It just makes economic sense," he says. "The explosion of food prices has given more reasons why this is the right thing to do."
Cash for Local Communities
In two pilot projects in the African state of Malawi, Concern, working in conjunction with the U.N. WFP, gave local communities cash grants—not sacks of wheat and rice—which could be used to buy local produce. That not only eliminated shipping costs usually associated with food grants, but also injected hard currency into the domestic economy that previously would have been spent overseas to buy and import food.
Concern's Arnold says this led to a "multiplier effect" within communities because farmers invested in better tools and hired more laborers to meet the newly created demand for local produce. Now, the NGO is bringing the same model to Haiti, where the doubling of food prices in less than a year led to nationwide riots in April, 2007.
Under the local scheme, Concern will pay farmers to hire the increased number of laborers needed to meet the demand for homegrown commodities. That, in turn, is expected to boost the economy as more people gain access to disposable income. "There is more than enough food in the market, just not enough money in people's pockets to buy it," says Carine Roenen, Concern's country director for Haiti.
Other NGOs are following suit. Atlanta-based humanitarian group CARE plans to stop importing food aid to the developing world by 2009 and has turned down $45 million in federal funding linked to buying crops from U.S. farmers. British Oxfam also has switched to purchasing local food, as well as providing cash grants so communities can buy from domestic farmers. "It's often better to buy food locally or to give people cash," says Oxfam's chief executive, Barbara Stocking. "The current crisis could force reforms that are long overdue."
Donor Countries Have Own Motives
To be sure, analysts caution this "buy local" strategy may not be practical in some developing countries. Natural disasters, such as the recent floods in Myanmar, can destroy domestic farming industries, while armed conflict can make it too dangerous to produce food. "Sourcing locally works with some places, but not in others," says Benjamin Homan, president of Arizona organization Food for the Hungry. "It's not a silver bullet."
Experts say food aid also can be at the whim of donor countries that often have their own motives for providing assistance. In the U.S., for example, Oxfam reckons farmers earn an 11% premium above market prices for food directed to programs associated with the U.S. Agency for International Development (USAID). The U.S. Government Accountability Office (GAO) also estimates that 65% of USAID's total budget goes to transportation costs. These figures explain why big players in the existing food-aid system are reluctant to see big changes in how food aid is allocated.
Yet while some still fight the changes, the global rise in commodity prices is already fast-tracking the management revolution currently enveloping the humanitarian community. Faced with stretched budgets and double-digit food-price inflation, NGOs and international agencies have little choice but to change how they go about their business.
Before it's here, it's on the Bloomberg Terminal.
LEARN MORE