Yves and Mitch's Excellent Venture
Mitch Pergola, the business strategist behind Fuseproject, talks about how design firms can take a page from the venture capital playbook
Georgia Biondo Flight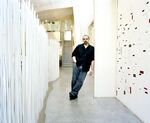 Design-scene followers have no trouble putting a face to the San Francisco-based industrial design studio Fuseproject. Fair-haired founder Yves Béhar has appeared on conference stages, magazine covers, and national-TV ad campaigns. Less visible is Mitch Pergola, 41, the firm's managing partner since 2004. Yet Pergola exemplifies the way in which more and more design studios are doing business. By taking a page out of the venture capitalist's playbook, he's helped turn an award-winning creative shop into a "machine for investment."
What's your precise role at Fuseproject?As managing partner, I'm responsible for everything that happens at the company that isn't creative content: client relations, new business development, finance...
You've done everything from run a restaurant to supervise West Coast operations for Frog Design. What prior experience would you say best prepared you for this job?For almost my entire career—15 years—I've been the business guy in the creative shop. I was an animator at a video-game business right out of college. My friend was the art director. Pretty soon we both realized we were terrible at our jobs. Our boss was some 19-year-old guy who said, "Go ahead and switch roles, I don't care." So I became the art director, then the executive producer, and finally general manager. What I proved to be good at was finding ways to bring business rigor to creative environments. I realized you have to do two things: make money and build an environment where creative folks can excel. Both are difficult.
What do you consider your most important contributions to Fuseproject so far?The biggest is building our somewhat unique business model. The main focus of Fuseproject is to do important game-changing design work, and everything else is there to support that effort. We like to reinvent things, including the way we do business. We wanted to escape the head-count agency model.
Head-count model?The notion that the only way to make more money is to add more heads. We're 30 people, and we've got a desire to stay small and close to our clients because that's where we add value. So Yves and I have built a machine for investment that allows us to diversify revenue. We've developed a three-pillared approach: One is what I'd call strategic engagement, which is long-term contracts with corporate clients like Coca-Cola or Johnson & Johnson. Another is civic projects, such as One Laptop Per Child, which we designed and branded because we feel the need to do good work. The third, slightly unusual pillar is true partnerships with the companies we work for.
Tell me more about that.In some cases, we partner with earlier-stage companies that might not be able to afford our fees but that share our goal to disrupt the marketplace. We're in a position to make an investment in a company and actually build its business rather than just getting customers to buy its product. We'll do the design for the product, the naming, branding, placement, everything.
Doesn't that involve a lot of risk for your company?It can. The knobs we turn for each individual partnership are fee, royalties, and equity. There's a lot of due diligence required. It's very similar to a venture fund. Some clients will come to us with an idea and say there's an opportunity now, and so we'll load that in terms of royalties, for short-term ROI. But another project might require a lot of R&D, in which case we'd focus more on equity, for long-term ROI.
That model offers more control than a traditional designer-client relationship. What does it do for the client?Double-digit improvement in sales. Some clients have seen a 10, 20, or 30 percent sales increase because of our involvement. I wouldn't say we're in control, but we're a unified influencer, someone at the leadership table who's responsible. That is very important, especially for smaller companies.
What's been the bottom-line impact of your strategies?Revenues have increased dramatically. It's a small, privately held company, and that's all I'm willing to go on record saying.
Is there a connection between the way you do business and the 2005 minority acquisition of Fuseproject by the Miami ad shop Crispin Porter Bogusky? No, that deal is no longer in effect; we bought the shares back. The truth is they were interested in us because of this model, and we're still friends with them. Economically we weren't a good match. I came to Fuseproject to do the venture pillar; that was the plan.
Doesn't partnering with several different companies become overwhelming for such a small firm?We don't do that many—maybe six a year. Really big projects, we only do one or two. We're very selective; we've planted 15 or 16 seeds so far. Two or three have grown quite nicely in 2007 and early 2008.
Such as?Aliph Jawbone is doing great, that's the big one to date.
When you partner with a client, are you committed to these companies for life?We look at it differently. With our model for commercial engagement, we're not thinking about how many hours you can commit to a client or when the project is going to end. After all, if the project never ends, why should the royalties end? Of course, sometimes there's a dollar or time cap on royalties, but our deals are multiyear deals. I wouldn't say that our idea of chasing royalties is a genius stroke. Other design businesses do that, but not many companies do it with the well-developed persona of Fuseproject.
Can you give me a case study, such as the Y Water bottle?In that case, the entrepreneur walked into our studio off the street unannounced. Literally just walked in. He wanted to develop a healthy drink for his kids, an alternative to soda. That was the entire brief. We listened to him, and it turned out he's a 15-year industry veteran formerly with Red Bull. It's very organic, the way we work; it could be the name that comes up first, the bottle, the concept. Being the beverage guy, the entrepreneur came up with the stuff in the bottle. We then came up with the name, which stemmed from the idea that the most important question kids ask is "why?" We then developed the bottle and its unique shape. We knew we wanted to make it recyclable, but why not also reusable? So we turned it into an interlocking toy, like Legos.
Designers often worry that too much business sense will take the edge off their creativity. Do you agree?No, I don't. I think design companies should be business savvy, because otherwise they are style companies, which is fine if that's all you want to be. In a design company you have to build a stratum of staff that is solely responsible for creative aspects, and another that is responsible for business prospects. Not a giant army, but just enough people to take budget and schedule stuff off the table and let designers be free to create. That's not to say our designers are floating around in some creative bubble. Designers should be knowledgeable about the business needs of their clients but not worried about logistics within the company they're working for.
Yves is seen by many as the public face of Fuseproject. Is the behind-the-scenes role one you prefer?I do what I'm good at and that's cool with me. Our model is emerging as a big differentiator for our company—we're launching a 501(c)(3) to enable the funding of the civic programs, for example, and we're building relationships in the venture community. As this happens, I wouldn't mind going out to promote it. But I'm comfortable behind the curtain. It's where I've always been.
Do you think staying small will be your biggest challenge?If we're actually able to maximize this model, I don't think it'll be a challenge. We're not a country club that only certain people can work with. We do apparel, footwear, electronics. Look at the crazy guy who walked in with Y Water—it was two hours before I knew he was an industry vet. We're the opposite of elitist assholes; we'll work with anyone who has a good idea and the ability to execute.
How do you see the evolution in the relationship between business and design? As the value of design goes up in the business place—and in the last five years it's gone up astronomically—the model we're pushing could or should change the way people view it. The notion of focusing from day one on when the project will end in order to make money is arcane, and people will see it's arcane. The advertising model is a deep, entrenched relationship with a client, and I think design clients going forward will demand it and people on our side of the table should find a way.
Before it's here, it's on the Bloomberg Terminal.
LEARN MORE