Younger Fleets Boost Non-U.S. Airlines
The aging planes of Northwest, American, United, and Delta guzzle more gas, making the U.S. carriers more vulnerable to soaring oil pricesand to global competitors
by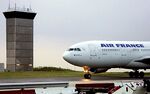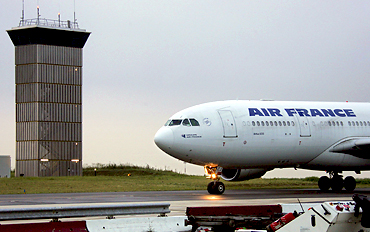 For a look at one of the biggest headaches facing U.S. airlines, head out to Paris' Charles de Gaulle airport any day and watch the big jets taking off for the U.S. There goes United Airlines to Chicago, American Airlines to Boston, Delta Air Lines to Atlanta, and Air France to New York's John F. Kennedy airport.
What's the big deal? Many of the U.S. carriers' planes are Boeing 767s, a model that dates from the mid-1980s. Most Air France-KLM (AIRF.PA) planes are at least a decade younger—and a lot more fuel-efficient. According to U.S. Transportation Dept. data, the Airbus A330 model that Air France flies between Paris and JFK burns an average 12% less fuel per passenger than the 767 does on a similar flight.
With oil prices above $130 a barrel, that adds up fast. Indeed, if prices remain at current levels, U.S. airlines are forecast to lose a record $7.2 billion this year, triggering what could be a brutal industry shakeout (BusinessWeek.com, 5/28/08). "We're at the precipice of a disaster," says Scott Hamilton, an aviation consultant with Leeham in Issaquah, Wash.
Older Planes, Higher Costs
While the oil spike is clobbering airlines worldwide, the U.S. carriers' aging fleets make them more vulnerable than most. American Airlines (AMR) underscored that fact last month when it announced plans to retire as many as 50 planes, mainly gas-guzzling MD-80s dating from the early 1980s.
In fact, U.S. airlines' fleets are some of the oldest in the world—an average of 18.5 years old at Northwest Airlines (NWA), about 15 years at American, almost 14 years at United (UAUA) and Delta (DAL), and about 10 at Continental (CAL). By contrast, Air France's planes are only 8.8 years old on average—and some others, such as Singapore Airlines (SIAL.SI), whose fleet averages 7 years, and Emirates, whose fleet averages 6.2 years, are younger still. Even carriers such as Russia's Aeroflot (AFLT.RTS) and THY Turkish Airlines (THYAO.IS) have fleets that are about half the average age of U.S. carriers'.
And the gap is only going to get worse. Financially strapped U.S. carriers have curtailed their orders for new planes in recent years, even as foreign carriers have placed hundreds of orders for new, more fuel-efficient models. Out of 840 orders for the new fuel-sipping Boeing (BA) 787 Dreamliner, only 43 are from U.S. carriers: Northwest and Continental.
Manufacturers Wary of Financing U.S. Carriers
Of the 386 booked orders for Airbus' new A350, which like the 787 promises to be more fuel-efficient thanks to use of lightweight composites and other innovations, only 18 are from the U.S. And not a single U.S. carrier has ordered the Airbus A380 double-decker jumbo, which the European maker says is more efficient per passenger mile than its closest rivals, the Boeing 747 and 777.
"Given the state of the U.S. airline industry, who is going to pay for these aircraft?" asks Chris Tarry, an independent British aviation analyst based in Tunbridge Wells, England. "The manufacturers won't want to provide financing."
How much fuel do those old planes guzzle? Airlines and aircraft makers rarely disclose figures, and comparing aircraft models is difficult because of variables such as flying time and cabin configuration. However, fuel-cost data reported by U.S. carriers to the Transportation Dept. gives a rough idea of the situation.
According to DOT figures, the Boeing 767 model used by many U.S. carriers on transatlantic routes uses an average $3,946 worth of fuel and oil per hour during a 3,000-mile flight—or $17.85 per passenger per hour, based on an average 221 seats. The Airbus A330 model used by Air France and other European carriers burns an average $15.72 per passenger per hour, about 12% less, under comparable conditions.
Domestic Routes May Be Threatened Next
Higher fuel costs aren't the only disadvantage to operating aging fleets: Older planes also require heavier maintenance. Big jets have to undergo a major checkup every six to eight years that costs an average $1.5 million and keeps the plane grounded for up to a month, says Adam Pilarski, senior vice-president of the Avitas aviation consulting firm in Chantilly, Va. To avoid that, some foreign airlines such as Emirates replace their planes after five or six years.
Of course, U.S. airlines aren't threatened by competition from foreign carriers' younger planes on domestic routes, since the foreigners aren't allowed to operate flights that begin and end in the country. But as the U.S. industry's finances worsen, Washington could face pressure to ease longstanding restrictions against foreign ownership of U.S. airlines, allowing cash-rich players such as Air France and Lufthansa (LHAG.DE) to make a move.
Lufthansa already owns 19% of discount carrier JetBlue (JBLU). And London's Virgin Atlantic, whose seven-year-old fleet (on average) is one of the youngest in the business, recently launched a U.S. low-cost carrier, Virgin America, in which it holds a minority stake. In this business, staying young pays big dividends.
See the BusinessWeek.com slide show for a look at how airlines are coping with high fuel costs.
Editor's note: This updated version of the story contains a revised estimate for the average age of Northwest's airline fleet.
Before it's here, it's on the Bloomberg Terminal.
LEARN MORE