Uganda's Stock Exchange Grows Up
The Uganda Securities Exchange moves at a leisurely pace, but it's far from the credit crunch and is faring better these days than the Dow
by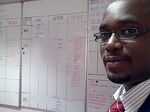 If you're looking for a place to invest that hasn't been affected by the global credit crunch, there's always the Uganda Securities Exchange. Sure, the East African country isn't without its risks, and the market has plenty of shortcomings. But whatever the forces that determine its ebb and flow, they're definitely different from those driving, say, New York, London, or Tokyo. Since its October peak, the Dow Jones industrial average has slumped by 11% while Ugandan shares have jumped by 16%. Better hang on to your hat, though. In between, the Kampala exchange has had two plunges, of 13% and 22%.
The USE isn't exactly easy to find. To get there, I take the two flights up to the second floor of the "Workers' House," a 14-story tower of blue-tinted glass in the heart of Kampala, Uganda's crowded, dusty capital. There, I find the trading floor—really just a largish conference room with white walls, pink carpeting, and harsh fluorescent lights. A table with instant coffee serves as the snack bar, and a bulletin board with a few photocopied sheets of newspaper articles offers "Company News."
Standing nearby, Joel Lutamaguzi, the USE's head of clearing and settlements, writes on a whiteboard with a red marker. "You're actually trading?" asks my chaperone, Judy Obitre Gama, the exchange's legal chief, as we enter the room. "That's great!" Lutamaguzi smiles and makes a few more notes on the board.
IPO Anticipation
That's how it goes in a market with just six domestic stocks that's open two hours a day, three days a week. On a recent Tuesday, the Kampala exchange saw 52 trades, all but 12 of them in only two stocks. Total shares that changed hands: 444,296, with a value of $89,600. So far this year, Kampala's brokers have done 6,812 deals worth $28 million—about what the New York Stock Exchange (NYX) does in five seconds.
To be fair, last year the USE saw about twice the daily volume it now does. But these days, many regional investors are awaiting the biggest initial public offering East Africa has ever seen, the $800 million listing of Kenyan cell-phone carrier Safaricom on the exchange in neighboring Kenya. Individuals wanting to buy into the IPO had to put their entire purchase into escrow, and then the funds sat for more than a month as allocations were made. That has put something of a freeze on the market in Kampala and its cousins in Nairobi, Kenya, and Dar es Salaam, Tanzania. "In the past couple of weeks, people have been selling down to free up cash," says Stephane Bwakira, portfolio manager for the Standard Africa Equity Fund, which invests in markets across the continent. After the June 9 offering, "everyone is going to take profits in Safaricom very quickly and reinvest into other equities."
The USE's trading system couldn't be simpler. A half-dozen brokers in red coats sit at one end of the room, waiting for orders to come in by phone. Lutamaguzi stands behind a velvet rope at the whiteboard on the other side of the room. When a trader gets a call with a buy or sell order, Lutamaguzi makes a note of it in blue next to the ticker symbol on the board.
Once the offer price and the bidding price come within 10 shillings (about 0.6¢) of each other, the two parties split the difference and a deal is made. Lutamaguzi erases the bid and offer notations and writes the price and number of shares traded in red in the deals column. "It can be a bit cumbersome," he says with a shrug.
An American in Uganda
But the market has its fans. William Augustus stands outside the velvet rope looking at the prices, jotting down a few notes in a small notebook. The former New Yorker says he put about $10,000 into the market in 2004, and today owns shares worth $70,000. A favorite stock is Uganda Clays, a maker of roof tiles and other ceramics. After a 10-for-1 split, his shares are now worth about eight times what he paid for them. "Effectively, it's been a straight rise since I got in," Augustus says. Other strong performers are New Vision, a government-controlled newspaper publisher, and Stanbic Bank, the local affiliate of South Africa's Standard Bank Group (SBKJ.F).
As an American, Augustus is a rarity at the exchange. Most of the 40,000 or so shareowners are Ugandans and Kenyans. Diana Angulo, who trades for Kampala-based brokerage MBEA, says she has about 2,000 clients, largely individuals, but also some insurance companies and other institutional investors from Uganda and a smattering of African countries. "It's a smart place to put your money," she says after taking an order on her cell phone. "This market is slow in reacting. If a company announces bad results, it takes a few days before it's reflected in the share price. It won't fall immediately."
That may change once the USE shifts to electronic trading. Nairobi and Dar es Salaam already use computerized systems, and Lutamaguzi says Kampala has the hardware it needs to create a digital registry of shares—the precursor to electronic trading. The problem is that Uganda's legal system doesn't recognize the validity of computerized records of share ownership. "We need to change our laws to enable electronic share trading," Lutamaguzi says. Uganda's Parliament is currently debating a measure that would allow an electronic share registry, but it's unclear when it might actually pass.
At about 11:45 a.m., things start to pick up a bit. Four brokers line up at the whiteboard to report trades to Lutamaguzi, who goes into overdrive erasing offers and bids and recording trades. Then at noon sharp, he picks up a six-inch-tall hand bell and shakes it vigorously, marking the end of the trading session. "It happens every day," he says. "The last five minutes everyone wants to come clean. They want to get their deals done."
Before it's here, it's on the Bloomberg Terminal.
LEARN MORE