Nissan's Design Future
The Japanese company's chief designer Shiro Nakamura is sending his studios in search of a new look for its' luxury division
Julian Rendell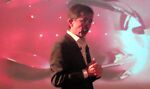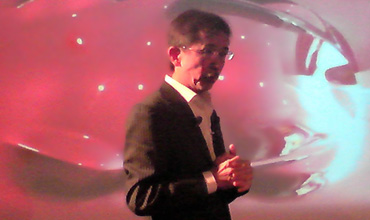 Nissan's Infiniti luxury brand is embarking on a new design language for its next-generation of models, according to Nissan design chief Shiro Nakamura.
The Japanese automaker's design studios around the globe have been charged with finding this new look and the company will show a concept at a International motor show early next year—possibly Detroit or Geneva—to give clues to the new theme.
Recently Nakamura briefed the world's press at a product seminar and displayed some teaser images of the new Infiniti concept. The design is a coupe with classical sporty proportions featuring a cabin set back over the rear-axle and a long, sporty hood. Nakamura says the concept will not directly represent a future production model, but give the flavor of the new design theme.
Nakamura says that theme will continue to have a tightly-controlled family look with coherent detailing. "Consistency of design is very important for Infiniti," he said, "the range is relatively small and the geographical spread is getting much wider, so we need to be consistent".
This strategy is in contrast to Nissan. Nakamura will give the group's volume brand freedom to produce cars with only a loose link to a common set of design values.
"I am often asked whether Nissan needs a more consistent design theme. But diversity is a strength of Nissan. We don't feel the need for a common set of design elements," he says.
That gives designers the opportunity to borrow successful design elements without having to be constrained by a tight set of design criteria. Nakamura says elements of the GTR supercar, for example, might appear on other models. "But we wouldn't want to just copy that onto another model," he says.
The GTR has unique proportions with a relatively level beltline and angular, sloping roofline.
Each of Nissan brands has three core design values. For Infiniti they are: Seductive LU.S.tre, Energetic Force and Spritual Precision. And for Nissan Provocative Modernity, Energetic Agility and Playful Function. (see table below).
The search for Infiniti's new look will mean Infiniti models being designed outside Japan for the first time. Even though the brand has so far been sold only in the U.S., Nakamura has concentrated all design activity in Japan to ensure design consistency.
"But now that we are looking at the next generation models to be sold all over the globe, I want new inspiration."
Nissan Design Europe, based at Paddington in London, is for example designing at least two new Infiniti models.
Infiniti Design Values
Seductive Lustre: Elegant charm wrapped in mystiqueEnergetic Force: Natural dynamism and vibrancySpiritual Precision: The warmth and precision created by human craftsmanship that goes beyond mechanical exactness
Nissan Design Values
Provocative Modernity: Modernity with a strong and fresh presence that may create controversy. Summed-up by the GTR supercar Energetic Agility: A design with the sentiment of agility, energy, and passion, like a cheetah at full speed.Playful Function : Not merely functional, but a design that is a joy to use. We aim to heighten these values and to inspire our customers through the power of design.
Before it's here, it's on the Bloomberg Terminal.
LEARN MORE