BT's New CEO Has Work to Do
British Telecom Chief Executive Ian Livingston faces outdated regulations and a system in need of upgrading. He says speed is top priority
Jennifer L. Schenker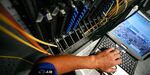 When Ben Verwaayen took over BT Group (BT) in 2002, Britain's former state-owned phone company and biggest fixed-line provider was a stuffy, bureaucratic mess. It was $20 billion in debt and had been forced to sell off its wireless unit—at the time its biggest potential growth engine—to avoid bankruptcy. The new chief executive officer got to work trimming debt, polishing the company's brand, and launching new programs. Chief among them was a campaign to persuade consumers to sign up for high-speed Internet connections, an area where Britain lagged badly behind other European countries.
The campaign was a huge hit. Although BT's broadband prices are generally the highest in Britain, it has the No. 1 market share, with 4.4 million customers. Thanks to the company's successful move into broadband and its growing information-technology (IT) services unit, Verwaayen's retirement on May 31 is happening on a high note. After a few disappointing quarters, the company announced on May 16 that earnings met targets and revenues beat expectations, rising 2%, to $10.67 billion.
But Ian Livingston, BT's new chief executive, faces major challenges. The 43-year-old Livingston is credited with helping achieve Verwaayen's "Broadband Britain" vision, and during the three years he headed up the company's retail division—which sells services to consumers—business boomed. Today the unit has roughly 12.6 million phone and Internet customers.
Market Waits for Clearer Future
The problem is, BT's overall growth has slowed to just 1% to 2% annually. To kick up the top line, the company must enter new businesses. "Livingston's mission is to make BT less reliant on telecoms," says John Delaney, a research director at market research firm IDC. "The current business mix is not going to take the company into the next decade."
Questions about the future are one reason BT's share price is down 21% since January. "The market is waiting to see where new growth and profits are going to come from," says John Davies, a telecom equity analyst in the London office of Dresdner Kleinwort (AZ).
One opportunity Livingston says he will focus on is home entertainment—that is, delivering broadcast TV and movies to customers' homes. But to succeed in that business, BT will have to boost the speed of its broadband services, potentially spending tens of billions of dollars to push fiber-optic cables into homes. The return on investment isn't entirely clear, because, as in the U.S., British regulation currently requires that if BT builds its new network, it must lease out capacity to rivals on equal terms. That could undercut the economic justification for the rollout.
Balking at Universal Service Rule
Livingston has asked British telecom regulator Ofcom to change certain rules before he will commit to investing in a new fiber network. For one thing, BT wants to be freed of the so-called "universal service" obligation that dates to its days as a monopoly and requires BT to offer fixed-line services at an affordable price to everybody in Britain.
The cost of doing that, Livingston argues, makes it harder for BT to invest in new technologies. For instance, the company could be required it to keep operating its old copper phone network alongside the new fiber infrastructure. In a competitive marketplace with a wide choice of telecom providers, he says, BT should no longer bear the entire universal obligation.
Livingston also has concerns about the economic structure of rules requiring BT to share its network with rivals. British regulators forced the company to split off part of its business—the network, or "wholesale" component—to ensure that rivals could rent access on the network on equal terms. At the time, BT was guaranteed certain rates of return by regulators to compensate it for having built the network and continuing to operate it. But BT's earnings from that business are less than what was promised, and so it is pushing Ofcom to come up with ways to fix the problem.
BT Vision Needs Customers
No matter what regulators decide, BT will have to upgrade its network if it aims to succeed in home entertainment against satellite, cable, and free over-the-air digital TV. It's already behind many European counterparts. While France Telecom (FTE.PA) and Telefónica (TEF) have offered TV services for years, BT began its own offering only 18 months ago. And while other telcos offer Internet TV, BT's service, called BT Vision, is a hybrid that uses a combination of DSL and digital terrestrial broadcasting.
The company is aiming to attract 2 million customers in three years but so far has signed up only about 250,000. Analysts characterize the customer response as lukewarm and say BT Vision risks being a niche service that will have to fight to secure appealing content. The biggest problem is fierce competition: Although cable TV is fairly weak in Britain, News Corp.'s BSkyB (BSY.L) satellite service is very strong, and the country also has one of the world's most successful rollouts of free over-the-air digital TV. Analysts say entertainment is a natural area for BT, but they're not sure the company can win that game.
Another area Livingston says he is counting on for growth is global IT services, but even that's not a sure bet. Almost $15.8 billion of the company's income comes from global services—essentially connectivity between offices for corporate customers such as Thomson Reuters (TRI), Unilever (UN), and the National Health Service. The division has had great success in winning business, "But we don't know how profitable it will be," says Dresdner Kleiner's Davies.
Strategy Needs Updating
Meanwhile, the revenues of BT's wholesale division, which sells raw telecom access to companies and other service providers, have been hit as well. Rival broadband providers are installing their own technology in exchanges instead of leasing wholesale lines from BT. And despite lots of fanfare about BT's snazzy new 21st century backbone network, known as 21CN, which replaces lots of its old infrastructure with a single core to cut cost and complexity, this development isn't generating revenue.
That is why industry analysts say they believe BT's strategy needs updating. "The strategy to defend traditional services, grow the new wave, and transform the business through 21CN and IT remains valid, but is now well-worn," says Mike Cansfield, an analyst at tech consultancy Ovum (INF.L), in a research note. "We would like to see its strategy expressed more in terms of customers, services (not products), and customer service."
Livingston says he intends to do just that. He regards improving customer service as his greatest challenge. "It is a hugely important differentiator and cost driver. If we can do this well, we can save hundreds of millions of pounds," he says.
Moving Fast Is Top Priority
Even so, Livingston bristles at the idea of being typecast as a chartered accountant. He trained as one and worked at Arthur Andersen in the early days of his career, but went on to do other things—working at venture capital firm 3i (III.L), Bank of America (BAC), and at the Dixons Group (DSGI.L) retail chain, where he was group finance director and later was recruited to launch an Internet company called Freeserve, which was floated a year later and is now part of France Telecom's Orange. He joined BT as group finance director six years ago but switched jobs three years later to head up its retail division. Under his leadership, the retail division went from double-digit declines in annual profits to double-digit growth, with annual earnings around £1.5 billion ($3 billion).
Livingston says he relishes the role of salesman and puts a great deal of emphasis on innovation. The company is tapping ideas from startups as far away as India and Israel. Working with external sources of innovation will help BT become more agile, he says. And that's one of his top priorities as the company's new chief executive. "I want to move more speedily," he says. "Making this a truly more agile organization is far more important to me than cost cutting."
Before it's here, it's on the Bloomberg Terminal.
LEARN MORE