Olympic Sponsors Cheer the Home Team
Western businesses are harnessing Olympic fervor in China and playing up national pride in their advertising campaigns
by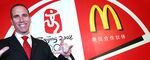 As a sponsor of the Beijing Olympics, McDonald's (MCD) has built most of its global marketing campaign around the idea of people from all over the world coming together in a festival of sport. The company's ads exhort people to "Celebrate Olympics with McDonald's." But within China, where pride in hosting the games is running high and feelings are sensitive because of the Tibetan protests and the Sichuan earthquake, this universalism gives way to something else. For its Chinese marketing, McDonald's dispenses with appeals to unity and friendship and instead focuses on cheering for the home team. Its slogan in Chinese is "wo jiu xihuan zhongguo ying." The translation: "I'm loving it when China wins."
The nationalist campaign demonstrates the company's "deep-seated commitment to the people of China, the Chinese government, and the Chinese Olympics," says Jeff Schwartz, McDonald's China's chief executive officer. "I think that's going to resonate very, very strongly with all the Chinese consumers."
For multinational corporations like McDonald's looking to profit from the games, the most favored marketing tactic is piggybacking on China's pride in hosting its first Olympics. The Beijing Organizing Committee for the Games of the XXIX Olympiad has broken sponsorship revenue records thanks to companies eager to build their brand awareness among China's 1.3 billion consumers. And companies have decided that as far as those consumers are concerned, the Games are about China.
Advertisers Stroke the National Ego
"These Olympic Games are going to be more of a national celebration than any other Games that we have witnessed by far," says Alexandria Oikonomidou, director of Ogilvy Sports, the Olympic and sports marketing practice of Ogilvy Public Relations Worldwide Beijing (WPP), who previously worked for ATHOC, the organizing committee for the Athens 2004 Olympic Games. National pride, adds Li Li Leung, managing director of Helios Partners China, an Atlanta-based sports marketing firm that counts Lenovo, BHP Billiton (BHP), and Snickers as clients, is "the most important value that the Olympic movement [has] for the Chinese people."
As a result, a number of multinational corporations have launched China-only campaigns to stroke Chinese egos. Hence the McDonald's campaign, which had 1,200 people do the "I'm loving it when China wins" cheer for five minutes at the National Olympic Sports Center on Apr. 23. Pepsi (PEP), which is not an official Olympic sponsor, has launched a viral online "Love China" campaign. TV ads and billboards from Adidas' (ADDDY) "Together in 2008, Impossible Is Nothing" campaign show images of the entire Chinese nation rising up to support Chinese athletes who will be competing in the Olympics. "We wanted to create a campaign that touched the mood of the Chinese people," says Erica Kerner, director of Adidas' Beijing 2008 Olympics Program. That nationalist theme emerged "based on what we were hearing from consumers and what we were hearing from the athletes."
What Will the West Think?
What about the possibility of a backlash in the rest of the world? Multinational executives hope there is little risk in playing the nationalism card in their Olympic marketing campaign. The campaigns are in Chinese and run only in China, minimizing the danger they'll be perceived in the West as "selling out" to the Chinese.
For multinationals, latching onto China's national pride is part of their localization strategy. "Chinese people like to make 'foreign friends.' This extends from a person to a nation. They are so proud of their country that they appreciate anybody or any nation that goes out of its way to be 'friends of China,'" Jing Wang, a professor at the Massachusetts Institute of Technology and author of Brand New China: Advertising, Media, and Commercial Culture, wrote in an e-mail interview.
However, unforeseen events in recent months—first the riots in Tibet and then the earthquake in Sichuan province—have sent Chinese nationalist sentiments (BusinessWeek.com, 4/24/08), both inside the country and among Chinese abroad, to unusually high levels and pulled Chinese people closer together. Multinational corporations say the loud protests from "free Tibet" and "save Darfur" groups in the West have not affected their marketing strategy for the Olympics.
Protests Lead to Bigger Donation
Nevertheless, some multinational corporations have caught flak from the raw nationalist fury in China arising from the crises. Weeks after the Mar. 14 riots in Tibet, Chinese consumers launched a boycott against Carrefour (BusinessWeek.com, 4/22/08) (CARR.PA) in response to the protests during the Paris leg of the Olympic torch relay and French President Nicolas Sarkozy's suggestion that he may boycott the opening ceremony. In an effort to appease Chinese nationalists, Carrefour outfitted its entire Beijing staff with new uniforms, including a red T-shirt with China's flag on it and red baseball caps with the Olympic logo. That tactic backfired when the Beijing Games organizing committee ordered Carrefour to stop wearing the caps because it was an illegal use of the Olympic logo.
And despite its China cheerleading, McDonald's hasn't been immune to confrontation with xenophobes. Following the May 12 earthquake, crowds of angry Chinese surrounded McDonald's restaurants in Nanchong, Sichuan province, and Nanjing, Jiangsu. They were furious after hearing rumors the U.S. company had not donated to the earthquake relief efforts. McDonald's originally donated $216,000 to earthquake relief efforts. Two days after the protests, on May 21, McDonald's announced it would donate an additional $1.4 million to rebuild schools in Sichuan.
Post-Olympic Strategies
Most multinational corporations began working on their Olympic strategies in late 2006 or early 2007, well before the riots in Tibet and the earthquake in Sichuan. Those that came up with marketing campaigns appealing to Chinese nationalism appear to have been lucky enough to hit on a way of countering any negative publicity arising from the crises. "With nationalism running high in the country, it's probably safer or 'less risky' for global brands to embrace and utilize nationalism than avoid it," Veronica Chen, senior market analyst with GfK Roper Consulting, a market research company, wrote in an e-mail. "If implemented well, marketing campaigns catering to nationalism will create strong bonds with local consumers."
After the Olympics are over, market research and advertising companies will perform a postmortem on how effective their clients' marketing campaigns were. If the results show a weakening of the connection between consumerism and nationalism by Chinese consumers, they may suggest their clients drop nationalism as a marketing strategy. But, if the nationalism gambit proves effective, sponsors may stay the course and try to build on their relationship with Chinese consumers. "In the short term, to show more support for the Olympics, that's kind of a no-brainer to me," says Binsheng Teng, a professor of strategic management at Cheung Kong Graduate School of Business. "In the long run, whether they want to play this card or play into this surging nationalism, this is a serious issue."
Before it's here, it's on the Bloomberg Terminal.
LEARN MORE