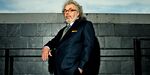 The late afternoon sun hits the lake outside Felix Dennis' Connecticut cottage in a particularly picturesque way, but the 60-year-old serial media entrepreneur and founder of Maxim is oblivious to it. He's swaying back and forth in his living room, eyes closed, fingering an air guitar to a CD that's replaying one of his performances at the Mustique Blues Festival. Loudly.
I'm collapsed in a chair by the fireplace. I think I'm supposed to join in, but I don't. I can't. We've had three and a half bottles of wine since I arrived here for a simple Sunday lunch. Then Dennis moved on to postprandial Scotch. I didn't. I couldn't. Standing upright could get complicated. Judging from the tapes, at this point, simple speech is pretty complicated.
I'd come to interview Dennis—an eccentric tycoon even by the standards of "eccentric tycoons"—about his career in media and the upcoming publication of How to Get Rich, a rather engaging and blunt self-help book. As defined in his text, "rich" starts at a total asset value of $30 million. Dennis puts his own wealth between $400million and $900 million; the London Times pegs it around $1.5 billion. His estimate would be higher were it not for his prodigious spending. In the book, he invents the statistic, Lifetime Spending Total, or, naturally, LST. His own, he says, is "eye-watering"—in the hundreds of millions of dollars.
Some background on the squat, bearded Dennis: He was briefly jailed in his native England in 1971 after losing an obscenity trial concerning his counterculture magazine, Oz. He grew up in a house, he writes, in which straitened circumstance sometimes required using torn newspapers as toilet paper. In his fifties, he became a published poet. He openly admits to having spent several years overindulging in crack cocaine. He has written what must be the only self-help business book that contains sentences such as: "If it flies, floats, or fornicates, rent it. It's cheaper." (Dennis is unmarried and proudly non-monogamous.)
And, oh yeah, he recently confessed to murder. In his last major interview, which appeared in The Times of London in early April, he shocked the reporter by saying he had once pushed a man off a cliff. When the journalist asked in a follow-up interview if he had done it, Dennis said, "It's a load of hogwash. I was drunk," and he withdrew the confession "unconditionally." Still, his remarks reverberated, and his sub- sequent statements didn't help. In a lecture delivered to students at Columbia University Graduate School of Journalism later that month, which I attended, Dennis said no one had bothered to check the date the Times published its piece—Apr.1, he said, (as in April Fools'). Actually, the story ran on Apr.2, and the interview itself took place in late 2007—a fact that I, and other reporters, noted the next day. In our interview, Dennis now says that the story was published online on Apr.1, although I can't find any evidence that it was. "The story speaks for itself. Mr. Dennis spoke for himself. The reporting provides the full context of his comments," said a Times spokesman.
I am perfectly happy to believe that Dennis concocted his tale for the sake of shock, or outrage, or something. All the same, I made sure that several people knew where I was lunching in Connecticut.
Dennis made his pile in an old-fashioned way, by starting and selling ink-on-paper businesses, generally in corners shunned or overlooked by more established publishing houses. (His first big success piggybacked on the kung fu craze that erupted after the death of movie star Bruce Lee, publishing Kung-Fu Monthly in multiple countries.) He's most famous in the U.S. for the lad magazine Maxim, which he sold last year, along with two other mags, for what was reported to be around $240 million. But more of his money likely has come from computer magazines, which he began publishing in Britain in 1978, and from his share in computer retailer MicroWarehouse.
Dennis still owns more than 50 titles in Britain and Australia, including the interesting electronic-only, downloadable magazine Monkey. The technology offers a much richer experience than digital translations of magazines—photos become videos, that sort of thing. But Monkey plows terrain immediately familiar to Maxim readers. (The man himself gleefully describes it as "an idiot magazine for young idiots to whom I am immensely grateful.") He also owns the news digest The Week, which is published in the U.S. and Britain. An edition for Australia, New Zealand, and Hong Kong comes this fall, and Dennis is mulling Indian and Canadian versions as well. In his New York offices, he brags, are 15 to 20 empty desks to be filled by employees of his next venture, about which he keeps mum as to both topic and time frame.
He's more expansive when not discussing expansion, and especially on the topic of how to amass staggering sums. Among his chief maxims: Prune overhead regularly; team spirit is for losers; pay yourself just enough to eat; and hire others to do the day-to-day. His most crucial point: "ownership isn't the important thing. It's the only thing." Dennis counsels readers to sell early, a guideline he admits he's often failed to follow. (It's widely believed he's passed on bigger offers for his American magazines. Dennis refuses to discuss any offers for those properties.) He's also pretty frank about the collateral costs of getting rich, in time and relationships with the people closest to those who seek serious fortune. His own pursuit, he writes, "led me into a lifestyle of narcotics, drink, and consolatory debauchery."
His is a get-rich-quick book, in fact, that warns off all but those who want monstrous wealth very, very badly, as Dennis did. He makes it amply clear, in the book and in conversation, that the sheer animal instincts and appetites that made him so fearsome a competitor, so smashing a success, extracted a heavy toll. Even at his age, they sometimes still do.
Before it's here, it's on the Bloomberg Terminal.
LEARN MORE