Fly the Shrinking Skies
Spiking oil prices will eliminate carriers and reduce nonstop flightsand that's just for starters
By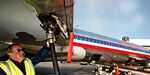 To fully appreciate the impact soaring oil prices have had on the beleaguered airline industry, consider that U.S. carriers will likely spend $60 billion on jet fuel this year—four times what they paid in 2000. Because of the fuel spike, airlines now lose an average of $60 per roundtrip passenger, a slow bleed that puts the industry on pace to hemorrhage a record $7.2 billion in 2008. "No airline that is unhedged [on fuel] is prepared for the current operating environment," says Gary Kelly, CEO of Southwest Airlines, which is profitable thanks to long-term fuel contracts.
Sure, this isn't the first time U.S. carriers have hit a rough patch. But unlike the crisis that followed the 2001 terrorist attacks, which pushed four of the six largest airlines into bankruptcy, this crunch has the potential to reshape the industry profoundly in coming years. Airline experts envision a future with far fewer carriers. And those that survive will have to rethink every facet of their business, from how they price tickets to where they fly. "I think the industry is going to look more like Europe: a couple of far-flung carriers and then a bunch of little guys," says Roger E. King, airline analyst for Credit-Sights, a New York research firm.
If oil prices remain lodged in the triple digits—well above the $80-$90 breakeven level for most airlines—that will speed the shakeout already under way. While many carriers have in the past exploited bankruptcy to cut costs, experts say any airline that falls into Chapter 11 this time will find investors unwilling to finance a turnaround. Then the only route is liquidation, a fate that has befallen three smaller carriers this year. "I think there's a real risk here that some airlines just go away," says a senior executive of one top-tier U.S. carrier.
Once the wrenching wave of failures and consolidation subsides, analysts envision an industry with two majors—most likely the combined Delta (DAL)-Northwest (NWA) and perhaps a merged American-Continental (CAL)—along with a few discount players like Southwest.
The oil shock could also prompt Washington to drop its long-standing resistance to foreign ownership of U.S. airlines. Such a change would usher in a new generation of truly global carriers. British Airways (BAB), for instance, has long had designs on American, while Luft-hansa Airlines (DLAKY) could seek a tie-up with JetBlue Airways (JBLU), in which it already owns a 19% stake. "The U.S. airlines badly need more capital to survive, and the only players with the resources to buy in are the [cash-rich] European carriers," says Robert W. Mann Jr., an industry consultant in Port Washington, N.Y.
Consolidation will come at a cost, though. Experts believe that for the U.S. industry to shrink to a size that would allow carriers to earn a profit, there will have to be capacity cuts on the order of 20% to 25%. The biggest losers would be smaller cities, like Cedar Rapids, Iowa, and Baton Rouge, La., that became accustomed to dozens of daily flights. But $130/bbl. oil has made the smaller jets carriers typically deploy on these routes uneconomical; airlines are likely to fly one larger plane each day. They may also cut back nonstop transcontinental flights, since these are more costly to operate.
The era of cheap flights, which has seen fares fall more than 50% in real terms since deregulation in 1978, will end, too. Airlines will have to find ways to wring more money out of each passenger. That could include premiums for choice window, aisle, and exit-row seats, or introducing new classes of service, each with its own menu of benefits.
Still, that would amount to chump change compared with what airlines could save if they could lower the costs of operating their fleets of fuel-guzzling jets. Boeing (BA) has seen torrid demand for its new, carbon-fiber 787 Dreamliner, which claims fuel savings of 20%-22%. But that jet is built for long-haul routes, and no similarly revolutionary designs are expected for the domestic market for at least 15 years.
Meanwhile, carriers are exploring other ways to reduce their reliance on jet fuel, a kerosene-like oil that currently costs $4.09/gal., up 98% in the past year. Developing an alternative hasn't been easy. One obstacle: Most biofuels freeze at high altitudes. Yet in a breakthrough, Virgin Atlantic Airways in February conducted a test flight of a Boeing 747 running on a blend of oils from coconut and Brazilian babassu trees. "Things have evolved very rapidly. Our guess is that in five years, we could have commercial biojet fuels on the market," says Billy Glover, Boeing's managing director for environmental strategy. Projected cost: about $2/gal. These days, that would be enough to make many an airline executive go out hunting for coconuts.
Before it's here, it's on the Bloomberg Terminal.
LEARN MORE