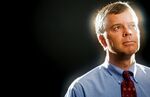 A lot of work goes into toxic waste. Every day, for instance, 1,500 tons of tainted New Jersey dirt arrives at a train depot in Grand View, Idaho, 60 miles southeast of Boise. There, it is "permanently isolated and constantly monitored" to avoid contamination, says Stephen Romano, chief executive of American Ecology (ECOL), which operates the Idaho site and three others.
For American Ecology, the labor is well worth it. Since Romano took over in 2001, American Ecology's sales and profits have quadrupled, to $166 million and $19.4 million, respectively. Its stock has shot up tenfold since 2001, to a recent $28 per share.
A former policy wonk at the Nuclear Regulatory Commission, Romano helped craft legislation spurring states to use regional facilities to dispose of low-level radioactive waste. The company now runs such a facility in Washington State. In 2007, American Ecology disposed of 1.1 million tons of hazardous waste, 36% more than the year before. "This business is pretty simple," Romano says. "Once you cover your fixed costs, the profit is substantial."
Back to the Hot Growth Table of Contents
Before it's here, it's on the Bloomberg Terminal.
LEARN MORE