Can Hyundai's Chung Stay Out of Jail?
The automaker's embattled CEO admits his offenses and asks for mercy, but even if he serves no prison time his woes are far from over
Moon Ihlwan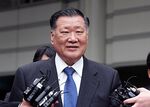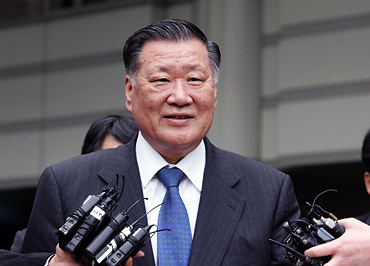 The legal woes of Hyundai Motor chairman Chung Mong Koo just aren't going away. Less than two weeks before the Seoul High Court is due to rule on state prosecutors' demand that the head of Korea's largest automaker be jailed for six years, shareholder activists on May 21 sued him, accusing him of causing damage totaling hundreds of millions of dollars to the company through irregular transactions he approved. "We hope this suit will help Hyundai Motor…establish a transparent and accountable governance system," says a statement by the Solidarity for Economic Reform (SER), a shareholder activist group that filed the suit.
Chung, 70, has already been found guilty of embezzlement and breach of fiduciary trust (BusinessWeek.com, 2/5/07). Yet the appeals court has been reviewing Chung's case after the Supreme Court of Korea last month threw out the suspended three-year jail sentence it handed down last September, saying its community service order was unlawful. The Supreme Court pointed out that a community service order should involve physical activities, while the appeals court merely required Chung to keep his promise to donate $805 million to unspecified goodwill organizations, write essays for local daily newspapers, and deliver public speeches about law-abiding management. The new High Court ruling is set for June 3.
Asking for Leniency
Chung and his lawyers know well that Korea's courts usually give convicted executives preferential treatment. Of the 149 executives indicted for embezzlement or breach of fiduciary trust between January, 2000, and June, 2007, 84% ended up with a suspended sentence and avoided serving time behind bars, according to SER.
Now Chung is pleading for a similar treatment. "I admit all the charges and I am repenting," he said in his final testimony at a May 20 hearing in the Seoul court. "If leniency is granted with a suspended sentence, I won't spare any effort to cement my company's standing as a strong global automaker." Chung also pledged to keep his donation promise.
Few Koreans expect Chung to serve jail time. Yet even if he returns to his corner office to micromanage his company (BusinessWeek.com, 3/6/08) as he has done since he took the helm in 1999, his legal woes are bound to continue. "Most probably Chung Mong Koo will walk free out of this trial," says Hansung University economist Kim Sang Jo, leader of SER, "but we'll continue to turn up the heat on Hyundai and other companies to clean up their acts."
Cleaning Up the Chaebol?
There's no question public pressure is building in Korea for ending abuses by the chaebol —family-controlled conglomerates that have dominated the country's economy since the 1970s. Last month Chairman Lee Kun Hee of Samsung Group, the country's largest chaebol, resigned days after being indicted by special prosecutors for tax evasion and breach of trust (BusinessWeek.com, 4/22/08). According to corporate governance expert Lim Youngjae at Korea Development Institute, a government-funded think tank, Korea has taken such essential steps as introducing stringent account standards, appointing independent members to the boards, and bringing class actions in the past decade. "In another five years, I'm optimistic that we'll see some tangible improvements," he says.
Even the country's conservative legal officers are taking heed. A day before SER initiated its legal action against Chung, state prosecutors made a new attempt to jail the Hyundai boss.
Prosecutor Yoon Dai Jin told the High Court that Chung should be given a "severe punishment in view of enormous harm he inflicted to the company." Last year a lower court convicted Chung of illegally raising some $75 million of slush funds for kickbacks and of costing Hyundai Motor more than $200 million by transacting deals among affiliates that largely benefited the family at the expense of other shareholders.
Few question Chung has been crucial in building Hyundai Motor—which includes Kia Motors—from an also-ran into the world's No.7 automaker. Under his leadership, Hyundai has soared in quality surveys to rival Toyota (TM) and Honda (HMC). As late as the late 1990s, it was the butt of jokes on late night TV shows. Chung also acquired Kia in 1999 in a bid to benefit from economies of scale. On May 21, Kia announced plans to boost overseas sales 75% by 2010, to 1.9 million vehicles.
Time to Let Managers Run the Show
But a growing number of investors believe what the company needs most now is not Chung's top-down, authoritarian management style, but an injection of new talent, including recruits from the U.S. and other foreign countries who have local marketing expertise.
"I think it will be a matter of time for Hyundai to let professional managers run the show," reckons Ahn Young Hoe, chief investment officer at Seoul-based fund manager KTB Asset Management, which allocates some $200 million in Hyundai Motor shares. "I hold Hyundai shares because of its cost-cutting efforts and benefits from a weaker won, not because of Chung's leadership," Ahn adds, referring to a 10% fall in the value of the Korean currency (BusinessWeek.com, 3/23/08) against the U.S. dollar so far this year.
In a sign that other investors are also not very concerned about Chung, his trial has had little impact on Hyundai shares. Despite his legal battle, the stock has risen 20.1% so far this year against a 3.6% fall in the benchmark Kospi index during the period. Thanks partly to the weaker Korean currency and the introduction of the Genesis premium sedan, Hyundai posted a 17% jump in vehicle sales and a 28% profit jump in the first quarter of this year, when overseas buyers accounted for 58% of its overall sales.
Before it's here, it's on the Bloomberg Terminal.
LEARN MORE