Honda's High Hopes for Hybrids
The Japanese automaker plans to sell 500,000 hybrids a year by the early 2010s, including a gas-electric version of the Fit subcompact
Ian Rowley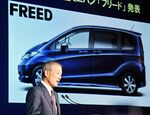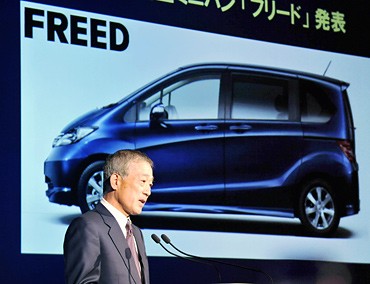 Which Japanese automaker embarrassed Detroit by launching the first hybrid in the U.S.? Not the one you probably think. Toyota (TM) may get all the attention now, but the hybrid pioneer honors originally went to Honda (HMC), which beat Toyota to the market with the first gas-electric car, the Honda Insight, in 1999. That's why Honda execs must be steamed by Toyota's May 15 announcement that it has sold more than 1 million Prius hybrids.
The all-conquering icon of the green movement accounted for 51% of U.S hybrid sales last year. Meanwhile, the Insight is now extinct, Honda having axed it two years ago. What's more, Honda hasn't enjoyed much success with its hybrid versions of the Civic and the Accord (BusinessWeek.com, 12/19/07).
Honda still hopes to reinvigorate its hybrid efforts, though. On May 21, Honda gave more details on how it plans to close the gap with its archrival by launching a host of new models, including a gas-electric version of the popular Fit subcompact. Speaking at a press conference at Honda's Tokyo headquarters, CEO Takeo Fukui said that by the early 2010s Honda aims to sell 500,000 hybrids a year. "Hybrids have drawn attention for their image, but the time has come to go to the next step," Fukui told reporters.
Dedicated Hybrid at "Affordable Price"
First up will be Honda's long-awaited dedicated hybrid car. Seating five, it will be a five-door model with an exterior design based on Honda's sleek FCX Clarity fuel-cell car, which it plans to begin leasing later this year in the U.S. and Japan.
The new car will go on sale in early 2009 and will use a traditional gasoline engine as its main power source, tapping an electric motor during startup and acceleration. It will be launched in Japan, North America, and Europe at an "affordable price," which Fukui says means customers will be thinking about more than just image when they make their buying decision. "This hybrid vehicle will be chosen rationally by customers based on its economic benefit," he says. Annual production is scheduled to be 200,000 vehicles a year, around half of which will be sold in the U.S.
That model will be followed by a sporty hybrid based on the CR-Z concept car first shown at the Tokyo Motor Show last fall (BusinessWeek.com, 10/10/07), and a new version of the Civic hybrid when the popular compact car's lineup is renewed around 2010.
But perhaps of most interest is confirmation by Fukui that Honda will add a hybrid version of its Fit hatchback in the early 2010s. The Fit is already the most fuel-efficient model in its class, according U.S. Environmental Protection Agency data, so until now the added cost and weight of a hybrid system would likely have outweighed the benefits. However, according to Fukui, with the cost of oil over $130 a barrel and probably heading upward, "a Fit hybrid now makes sense."
No Plans for Plug-Ins
To ensure that hybrids are indeed practical, Fukui aims to keep the premium for future hybrids under $2,000 more than the price of standard models. To achieve that goal, Honda will add a new production line for electric motors at its Suzuka factory in western Japan, and plans to introduce various weight- and cost-cutting measures.
Yet even with all its renewed efforts, Honda is unlikely to catch Toyota for quite a while. Japan's No. 1 automaker is expected to add a new version of the Prius next year and aims to sell 1 million hybrids a year by the early 2010s. However, given that Honda's total vehicle sales are about half of Toyota's, at 4.5 million cars, its ratio of hybrid sales will be roughly the same at around 10%.
There is one area, though, where Honda has no plans to compete with rivals: plug-in hybrids powered by lithium ion batteries that can be recharged by being plugging directly into the electricity grid. General Motors (GM) plans to launch its eagerly anticipated Chevrolet Volt in 2010 (BusinessWeek.com, 11/20/07), the same year Toyota will offer a plug-in version of the Prius.
However, Fukui reiterated Honda's doubts about the viability of plug-ins. The biggest problem: New battery technology, vital for plug-ins, is still some way off. "We don't necessarily think the plug-in hybrid is a very great idea," he says. "If the batteries ever go through a major advancement, then the plug-ins will also advance, [but] if you look at the current battery performance, the cars have a very limited range."
Before it's here, it's on the Bloomberg Terminal.
LEARN MORE