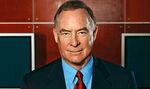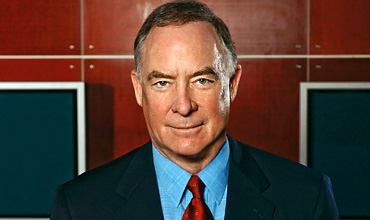 The following exchange was overheard at this year's upfronts, that bizarre bazaar in New York each spring wherein billions of dollars of TV ads are sold: I Top media buyer: Isn't TV still the locomotive pulling the train? I Top network executive: TV is the train. I Even as dusk deepens for traditional media, there is still no swagger quite like that of broadcast TV. Which is why it was poignant to see some signs of humility surfacing at the upfronts. NBC did away with the traditional star-studded event in which the networks' new schedules are unveiled. ABC (DIS) scotched its lavish after-party. Jon Nesvig, Fox's top ad sales guy, prefaced some bragging about Fox's sports ratings with the following phrase: "Much as it's been a challenging year on all fronts...." Fox, bear in mind, is the leading network.
The big broadcasters' prime-time ratings continue to fall among the youngish viewers most coveted by advertisers. Only Fox eked out a tiny gain among these viewers this season through mid-May, while everyone else suffered double-digit drops. The fifth-place CW network, reeling from ratings nosedives, sold the rights to program its Sunday nights to independent production company Media Rights Capital. Merrill Lynch (MER) analyst Jessica Reif Cohen sees the $9 billion committed at last year's upfronts slipping 1% to 14%, noting "a material decline is probable" this year. Yet one conversational thread during upfronts week was whether or not the networks would jack up CPMs, the measure of what they charge advertisers to reach a thousand consumers.
A digitized world has crushed the music industry and is now crushing just about every other medium, too. But at least when it comes to the hearts and dollars of advertisers, TV remains the tallest tree in the forest. Like a semi-bright child fixated on one idea, I wandered the mid-May upfronts week and buttonholed everyone I could with variations on a single question: When do falling ratings finally make advertisers flee? That is, at what point does all of this—insert a gesture toward a glitzy onstage spectacle or a crowded, hangar-sized party space—end?
The unanimous answer: Some day. Just not now.
The size of audiences and demand for TV ads "don't connect anymore," says Jim Helberg, an executive vice-president at media-buying firm PHD. He reckons the big agencies could dramatically shift dollars away from TV within 36 months. He was sporting enough, though, to admit thinking this would have happened by now, an assessment I heard more than once during upfronts week.
Part of it has to do with the peculiarities of supply and demand when it comes to prime-time ads: There is only so much inventory to go around, and networks can be adept at playing with their end of the equation. At its presentation, Fox announced that it would limit the ads shown on two new dramas, Fringe and Dollhouse. This was put forth as a way to keep viewers' fingers off their remotes, but it also tightens Fox's prime-time ad supply.
More important, there is still something about television, especially for the biggest players. I moderated a panel for a Detroit ad group a few weeks back at which a Ford Motor (F) executive conceded that local car dealers, who control significant advertising dollars, remain far behind the car companies in embracing a changed media landscape. This is America, and even today nothing announces status quite like being on TV. "When," asks one media-buying executive, "is the [local car] dealer going to think his ego is stroked by an amazing interactive campaign" to the degree it is stroked by being on TV? (I'll hazard a guess: not for a long time.)
VERY SLOW SHIFT
In reality, many top advertisers are moving dollars from TV very slowly, if at all. Advertising Age just analyzed the actual spending of big-name companies, among them Procter & Gamble (PG) and Unilever (UN), that supposedly had been planning or at least mulling serious cutbacks in TV and upfronts spending. In the end they often spent more on television spots, or at least they cut their spending by a lot less than press accounts suggested. Even with all hell breaking loose across the media landscape, waiting for ad dollars to shift decisively away from TV is like being a weatherman during a 30-year drought. You know the heavy rains have to come down at some point. It's just taking awfully long for those showers to arrive.
Before it's here, it's on the Bloomberg Terminal.
LEARN MORE