Corporate Europe's Fierce Leaders
This year's top companies have carved out profitable nichesand defend them with relentless innovation
By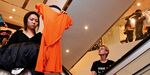 Chances are you haven't heard of the Dutch town of Veldhoven unless you're in the chip business. Veldhoven, population 43,000, is home to ASML Holding (ASML), the No.1 global maker of lithography equipment for semiconductor manufacturing. This Old World company not only is holding its own but also is expected to boost its market share, from 65% to 80%, within two years as it rolls out new technology to produce next-generation chips.
Look through this year's list of the Euro BW 50 and you'll find plenty of other companies that lead their industries and are likely to stay on top. There are big names such as Finnish mobile-phone company Nokia (NOK) and Swedish fashion retailer H&M. But many are relative unknowns, including ASML, Swiss dental implant maker Nobel Biocare, and French specialty steel company Vallourec. All defend their profitable market niches fiercely. The Euro BW50 rankings, compiled by Standard & Poor's (MHP) (which, like BusinessWeek, is a unit of The McGraw-Hill Companies (MHP)), are based on the companies' average return on capital and sales growth over the past three years. Return on capital for the 50 was 38%, while annualized sales growth hit almost 22%.
The outlook for 2008 is less rosy. European growth is forecast at 2%, down from 2.8% in 2007. Yet the region's high taxes, rigid labor rules, and ascendant euro have spurred companies to shed weak performers and boost investment in research. For more on how these companies shine, and for details of the BW50 methodology, see businessweek.com/go/bw50Europe.
Before it's here, it's on the Bloomberg Terminal.
LEARN MORE