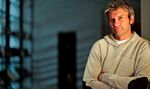 As our cover story in this week's BusinessWeek makes abundantly clear, the Web world of social media has exploded over the past four or five years, and nowhere has that explosion been louder than at the networking site MySpace. Started in 2003 by Internet marketing outfit eUniverse (later renamed Intermix Media), MySpace was the real object of News Corp.'s desire when it bought eUniverse for $580 million two years later. The site immediately became popular with musicians and other artists who used it to showcase their works. Lately it has gone much more mainstream. On May 19, I caught up with Chris DeWolfe, the 42-year-old chief executive of MySpace.
DeWolfe was at eUniverse when MySpace was created and, along with Tom Anderson, is credited as one of the founders. His profile page on MySpace lists his mood as "jolly," and why not—even in the face of some softness in social networking growth, MySpace counts 73 million users in the U.S. and 117 million globally.
MARIA BARTIROMO
On May 18, The New York Post—which is also owned by News Corp. (NWS)—said that eMarketer, a firm that tracks Web ad spending, was cutting its 2008 estimate for MySpace by 11%, to $775 million, from $850 million. And then last week, Fox Interactive Media, which controls MySpace, said it would miss its $1 billion revenue target for the year by 10%. Are you getting heat from News Corp.?
CHRIS DeWOLFE
No, I don't think we're getting any heat from News Corp. I just think it's important for everyone to take a step back and take a deep breath and realize that we're a four-year-old company and we're doing pretty darn well in terms of creating a big business and doing it very quickly. We're investing in our sales force, and those numbers are still big numbers, and we've been profitable since Day One.
How big can MySpace get?
The sky's the limit. Our international business is less than two years old. We have this whole new music business that we're really excited about…and we also see the mobile ad business beginning to grow in a big way.
MySpace still dominates social networking, but as the business matures, growth has to be slowing, right? Are you seeing a more precipitous slowdown than your competitor Facebook?
We are the No. 1 social network in the U.S. Nielsen says we're three times bigger than our nearest competitor. [According to] Media Metrix and comScore (SCOR) , we're twice as big as our nearest competitor. But we really look at it from an international perspective, and there are local competitors in every country we have to keep an eye on. So just by the law of big numbers, you could say our growth is slowing a little bit.
Recently, in an interview I had with Google (GOOG) CEO Eric Schmidt, and in a later earnings call, he said ads on MySpace weren't meeting expectations. Have you talked about those comments with him?
We're collaborating very closely with Google to ensure that all their search advertising and other advertising performs to its optimal level. We're extremely happy with our own advertising products. And we've seen click-throughs increase by 50%. [A click-through is a measure of user engagement with an ad.] We now have probably 250 or 300 people just in our technology monetization group who are working on algorithms that identify enthusiasts in different buckets. We have over 1,000 enthusiast categories that we can sell to our advertisers. For example, we could sell to soccer moms or horror-movie enthusiasts.
Last week, prosecutors in L.A. indicted a woman who used a phony MySpace persona allegedly to harass a 13-year-old who later committed suicide. What are you doing to protect against such incidents? How easy is it for people to get through the barriers, and how do you protect against sexual predators on the site?
That is something we've been hyper-focused on since Day One. We literally review every single image that gets uploaded to the site on a daily basis. That's 17 million images a day that get viewed by a human pair of eyes. So our customer support investment has just been massive. But there's always going to be a few bad actors everywhere.
Also last week, MySpace won a $230 million judgment against so-called spam king Sanford Wallace for allegedly creating phony MySpace accounts and hijacking existing accounts to send out hundreds of thousands of spam messages. A blog posting on sanfordwallace.com says the Wallace organization was once hired by MySpace to promote it through unsolicited mail. It also alleges that eUniverse, which started MySpace, was a major spammer. Your response?
I'm not going to talk about this on the record, but I'm telling you, everything is just completely fabricated and untrue.
How have things changed since Rupert Murdoch bought MySpace?
At the time that News Corp. bought us, we had somewhere around 22 million unique users. Now I think we're close to 120 million unique users worldwide. Our site has also become less of a niche site, where in the early days it was the creative trendsetters that were really driving the growth—from musicians to artists to actors to comedians. Now it's everybody. So the demographic has widened a great deal. Forty percent of all mothers in the U.S., believe it or not, are on MySpace. Twelve percent of all Internet minutes are spent on MySpace. Forty-five percent of all the users on MySpace are over the age of 35.
I guess the mothers want to see what their kids are doing.
For the most part, they're using the site for the same reason everyone else is: to socialize. If you look at the Internet generation, where it went mainstream was around 1995. So if you were 25 years old in 1995, you're now 38, which would be right in the sweet spot of where a mother would be.
How do you see all this developing from here?
Certainly we see more and more collaboration, and we see the Web becoming more mashed up, where MySpace could live on eBay (EBAY), MySpace could live on Yahoo! (YHOO). You know thousands of engineers are developing amazing features for MySpace to make it more rich and interesting.
Before it's here, it's on the Bloomberg Terminal.
LEARN MORE