River Cruiser's Novel Idea, a Budget
The Borgstrom family's Wendella Boats becomes a real business
Jeff Borden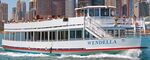 Wendella Boats has been chugging along for seven decades since Albert Borgstrom first weighed anchor on a 6-foot wooden yacht retrofitted to carry 100 passengers on half-hour cruises on the Chicago River. But while Wendella guides seem to know every jot and tittle about Chicago, it wasn't until 2006 that the family-owned company got a fix on its finances.
Like a captain without a compass, Wendella had no budget, no organizational structure, no pricing guidelines, no financial plan—nothing. Its officers did not know which operations made money because all income and expenses were lumped together. "I know boats. I didn't know anything about business," admits Wendella President Michael Borgstrom, 47, the grandson of the founder.
Today it's smoother sailing for the company, which employs 140 during the peak summer season and generates $3 million to $5 million in annual revenue. Spreadsheets track everything from the amount of fuel used per hour to the number of drinks poured by the company's crew of bartenders. Wendella has bumped up prices to guarantee no cruise operates unprofitably: A 90-minute lake/river tour costs $23 per adult. And the company is better positioned for a potential sale in the unlikely event that the fourth generation of Borgstroms—the eldest of Michael's four daughters, Christie, 23, is already is doing public relations in the Wendella office—opts out of the tour boat business.
Ticket Prices Too Low It was another local, family-owned firm, Park Ridge (Ill.) management consultancy George S. May International, that challenged Borgstrom to take a deeper look at his company's operation. "We came to Wendella Boats to talk to Michael about his largest competitor, Waste Inc.," jokes Paul J. Rauseo, managing director at May, which specializes in small and midsize companies.
Glen Boggs, a senior executive at May, broke the company into segments—tours (60% of sales), charters (30%), water taxi (10%)—and crunched numbers. He quickly determined Wendella's taxi business was unprofitable, largely because ticket prices were too low. Charters were hit-or-miss. For example, Wendella charged $5,000 to charter a boat to watch fireworks on Venetian Night, but needed to bill $8,000 to cover costs. Liquor control was so poor that bar services were barely breaking even.
Perhaps most important, Boggs showed how it made financial sense to spend $2.5 million for a larger tour boat to replace three smaller vessels. The 89-foot Wendella II seats 340 on two decks and carries a crew of six, including a bartender. "The new boat gives us a niche we did not have," Borgstrom says.
Wendella's water taxis, which charge $2 per ride, are now generating profits after a major marketing push that included a separate Web site and bright yellow paint jobs. Service between the West Loop train stations and Michigan Avenue has been increased, and over the summer, the taxis will shuttle riders to Ping Tom Memorial Park in Chinatown. Ridership is up 40% over last year. Meanwhile, Borgstrom has written a 20-page "playbook" (BusinessWeek.com, 1/7/08) to keep operations on track, even as fuel prices soar. "We see a lot of growth," he says. "And now we know how to handle it."
Before it's here, it's on the Bloomberg Terminal.
LEARN MORE