Why HP's Deal Is a Head-Scratcher
The tech giant's $14 billion purchase of EDS may not be enough to help it catch up with rival IBM
Steve Hamm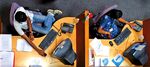 When Hewlett-Packard (HPQ) announced its $13.9 billion acquisition of tech services giant Electronic Data Systems (EDS) on May 13, pundits heralded it as a bold move by HP CEO Mark Hurd. In one stroke, it seemed, he had put HP on a stronger footing with market leader IBM (IBM) in the fiercely competitive tech services business. Together, HP and EDS will create a services giant with $38 billion in revenues, compared with IBM's $54 billion.
Yet a closer look at the deal raises questions about Hurd's strategy and choice of dance partner. EDS, which was founded by H. Ross Perot in 1962 and pioneered the practice of taking over corporations' computing operations, was slow to respond in the early 2000s to the threat of nimble Indian rivals offering services at sharply lower prices. Revenues stagnated, and EDS racked up huge losses. Eventually, the company increased its overseas hiring, and bought control of an Indian company, MphasiS. But even now MphasiS operates independently, with its own sales force and customer base.
So this deal may not change the game when it comes to one of the most important factors in tech services. The top-tier services companies need large, low-cost, global workforces, and their operations need to be tightly integrated so employees with diverse skills collaborate smoothly. IBM, Accenture (ACN), and Indian companies such as Tata Consultancy Services lead in this effort, while EDS and HP have lagged. "The services sector is going through a shift, and this merger doesn't address the global service-delivery challenges that HP faces," says N. Venkat Venkatraman, chairman of the Information Systems Dept. at Boston University's School of Management.
"THIS MADE SENSE"
During a conference call after the deal was announced, Sanford C. Bernstein (AB) analyst Toni Sacconaghi questioned Hurd's choice of EDS. "You could have bought a smaller, faster-growing company with the offshore characteristics." Later, in an interview, Hurd rejected suggestions that an Indian company such as Cognizant Technology Solutions (CTSH) or Satyam Computer Services (SAY) might have made a better match. "We thought this made sense," he said.
For Hurd, the logic is simple. He prizes EDS' giant outsourcing business because it has a large number of customers producing annuity-style revenues. There isn't much overlap between the companies. And he says there will be considerable cost savings. EDS CEO Ronald Rittenmeyer will run the services subsidiary.
EDS, late to the offshoring trend, had only a smattering of employees in low-cost locations when Rittenmeyer joined in 2005. The company now has 45,000 people working offshore, and plans to hire more. Rittenmeyer says MphasiS will continue to operate independently, but adds, "We'll look at integrating all of these things over time, and we'll do it efficiently and effectively."
Hurd, who excels at cost-cutting, had a choice between buying a big racehorse seemingly past its prime or a young colt with lots of potential. He bought the mature horse. Now we'll see if he can whip EDS back into shape.
Before it's here, it's on the Bloomberg Terminal.
LEARN MORE