Oil's Murky Outlook
With reliable data scarce, it's almost impossible to say where prices will go
By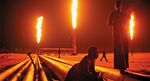 At about $124 a barrel, the price of crude oil has more than doubled since the start of 2007. The vast majority of government forecasters, stock analysts, economists, traders, and journalists who follow oil failed to see it coming. Even now their price estimates for the next several years are all over the place, ranging from $70 to as much as $500. How can that be?
It's hard to predict what prices are going to do in the next month, much less the next five years, if you don't have a handle on current supply and demand. The problem is that the analysis requires data on production, consumption, and inventories—and those numbers are largely unreliable. The situation is only getting worse: China, the world's fastest-growing oil consumer, is also one of the most opaque. Regrettably, the world oil market is no more transparent than a barrel of extra-heavy Orinoco crude.
SUPER SPIKE OR SUPER BUST?
All this makes it impossible to say whether prices are headed for a so-called super spike or a super bust. And in the absence of a comprehensive picture of supply and demand, analysts and investors lean heavily on the few statistics that are relatively solid and current, thereby triggering disproportionate price swings on small pieces of news. On May 14, for example, the price of crude oil fell more than $1 per barrel, to $124.22 on the New York Mercantile Exchange, after the U.S. Energy Information Administration reported a bigger-than-expected increase in U.S. inventories of refined products such as diesel and heating oil. That, of course, is a tiny slice of the world oil market.
If Econ 101 were a good guide to the oil market, you'd expect stockpiles to be rising fast. That's because at today's prices oil producers have an enormous incentive to ramp up output. Larry Chorn, chief economist of Platts, the energy information unit of The McGraw-Hill Companies (MHP) (which also owns BusinessWeek), says even the most expensive wells in the world today can produce oil for $70 to $80 a barrel, a figure that factors in the cost of finding and developing the oil fields and a healthy 12%-15% profit margin. But in reality, producers can't rev up aggressively. Outside of OPEC, they are already pumping out as much as they can from existing fields, and it takes up to a dozen years to bring new ones online. Meanwhile, refiners and speculators have bid oil roughly $50 above that production cost because they think it's in danger of running out.
So, will shortages develop in the next few years? That's certainly the view of oil bulls like Matthew R. Simmons, chairman and founder of Houston investment bank Simmons & Co. International. "We have lousy data, but what data we have is somewhat scary," says Simmons, who sees prices hitting $200 to $500 in six months to four years—partly, he thinks, because inventories are shrinking.
Other experts don't agree that supplies are tight. Pundits such as Edward Morse, chief energy analyst for Lehman Brothers (LEH), assert that "fundamental misperceptions" about inventories have helped fuel an unnecessary rise in oil prices. Morse thinks crude could fall to $83 by 2009.
Blame the unreliable data on a combination of gamesmanship and incompetence. Statistics are reasonably good in wealthy nations such as the U.S., France, Britain, and Japan. But those places don't matter much because their production and consumption are roughly flat. In China, India, and the Middle East, which account for a growing share of both output and consumption, the governments either don't want to divulge data for strategic reasons or haven't developed systems to collect and compile the numbers.
China, the world's second-biggest oil consumer after the U.S., stands out as a particular problem. Just ask Eduardo Lopez, who tries to suss out the Chinese market as senior demand analyst for the Paris-based International Energy Agency. He says China doesn't report consumption, leaving him and others to deduce it from production, trade, and inventory data.
What's more, he says, "there are thousands of so-called teapot refineries all over China" that are technically illegal and therefore left out of China's official production statistics.
Complicating matters further, Lopez says, China appears to be stockpiling oil—that is, buying and producing more than it consumes—though the country won't acknowledge this. So Lopez and others are forced to hazard a guess about how much China might be squirreling away. The numbers coming out of Russia, India, and Indonesia aren't much better.
PRICING IN THE UNKNOWN
On the supply side, the 13 nations in OPEC don't report output reliably, sometimes because the countries don't want to admit they're producing above their agreed-to quotas. OPEC members also fiercely guard data about when new fields will go online and how quickly existing fields are declining. By doing so, countries can jockey for bigger quotas from OPEC.
Because of the poor quality of official data, analysts must rely on information from a host of private sources. Among them: unofficial "tanker trackers" like Petro-Logistics, a tiny company that operates upstairs from a McDonald's restaurant in Geneva, Switzerland. Its numbers on OPEC exports come from a network of freelancers who examine bills of lading and other hard-to-obtain shipping documents.
In other words, there's a big slab of the unknown built into the price of oil. And because neither the supply of oil nor the demand adjusts quickly, small, unexpected shifts in the market could send prices zooming or plunging in the coming months. In the meantime, lots of people will confidently predict where prices are headed next. But most of them, including the bulls, have been wrong before. Truth is, the world is almost as thirsty for information as it is for oil.
Before it's here, it's on the Bloomberg Terminal.
LEARN MORE