McDonald's Specialty Coffee Kick
Jan Fields is the confident dynamo behind McDonald's push into specialty coffees. She says it's ready
Michael Arndt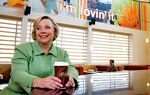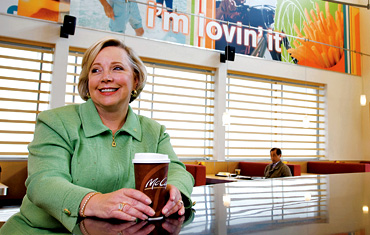 Thirty years ago, Janice L. Fields was a brand new McDonald's crew member in Dayton, Ohio, taking orders on the evening shift while her husband, an enlistee in the U.S. Air Force, took care of their three-year-old daughter. Today, Fields is chief operating officer of McDonald's USA. Working from the old office of founder Raymond A. Kroc, she is responsible for 13,800 restaurants, 700,000 employees, and $7.9 billion in annual revenue. But once a crew, always a crew. So here she is, in front of a TV camera for ABC's Nightline, back behind the counter and in an apron, grinning and serving coffee.
She's had plenty of reason to feel good. Right after Fields was promoted into upper management as president of McDonald's Central division in 2003—she moved up to national COO in mid-2006—Big Mac's domestic sales began rising and have been up every quarter since. Over that stretch, the fast-food chain introduced premium salads and Snack Wraps, began eliminating trans-fats from its menu, extended hours at more than 90% of its locations, rebuilt 6,500 restaurants, and pocketed record sums: U.S. operating income totaled $2.84 billion in 2007.
Fields, 52, is now being challenged as never before, however. To grab more of the breakfast market, McDonald's is adding specialty McCafé coffees, such as cappuccinos and lattes, to all its U.S. sites, a rollout that should be completed by next May. It is the most disruptive move since McDonald's began serving breakfast nationwide in 1977, requiring the installation of new machines in the already cramped space near the drive-through pickup window. Another risk: The complexity of preparing the upscale brews could slow down service.
Years of test-market trials have convinced Fields the company is ready. As with most chores inside a McDonald's kitchen, tasks have been broken down to the simplest level, with the equipment handling much of the work automatically. Crew members need only push a button, for instance, to dispense milk or sweetener in precise measures. Printed instructions even tell employees how many times to stir in chocolate syrup for a mocha (12 times). Her bosses think she's done her homework, too. "She's detail-oriented. This fits right into her strengths," notes McDonald's President Ralph Alvarez.
Though Fields takes her work seriously—she usually clocks in by 6:30 a.m. when she's not traveling—she is quick to joke about most everything else. In her Oak Brook office are a couple of bright red Ronald McDonald clown shoes, as company-anniversary mementos. And amid her business and family memorabilia is a snapshot of her with a half-dozen women franchisees during a break from a company meeting—lined up in front of a row of urinals. "Life is too short not to have fun," she says with a laugh.
Growing up in Vincennes, Ind., the seventh of eight children, Fields dreamed mostly of becoming a nun. When she put on her first McDonald's uniform in 1977, she had no intention of turning the job into a career; she just needed cash. She recalls finishing that first shift in tears, upset over all the rules about how to make french fries. The next night, she was switched to the cash register and fell in love with interacting with customers. After that, "I was happy everyday," she says. "I'm still happy 30 years later."
Before it's here, it's on the Bloomberg Terminal.
LEARN MORE