Investors Unimpressed by New Nissan Plan
The carmaker's stock price is unchanged in Tokyo trading after CEO Ghosn unveils a business plan far less ambitious than in the past
Ian Rowley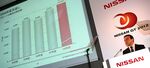 With raw material costs rising sharply, demand for cars in the major markets falling, and the yen riding high against the dollar, these are trying times for all of Japan's big automakers. Indeed, speaking in Tokyo on May 13, Nissan (NSANY) CEO Carlos Ghosn admitted that except for growth in emerging markets, there were few tailwinds in 2008. "It's going to be a tough year for the whole automotive industry," he told reporters at a press conference to announce the automaker's annual results and a new five-year business plan.
But if the charismatic CEO hoped that unveiling the new business plan, called GT 2012, would give Nissan's stock price an instant boost, it wasn't the case. By the close of Tokyo trading on May 14, the first since Ghosn revealed Nissan's plan, its stock price was unchanged. That was despite the Nikkei 225 benchmark index finishing up 1.2% at a four-month high.
What explains the lukewarm response to Nissan's latest mid-term plan? One problem, say analysts, is it's far less ambitious than previous plans. Sure, the new plan includes some challenging goals, such as increasing sales in key emerging markets 130% to 1.8 million, introducing 60 new models, and doubling sales of Nissan's luxury Infiniti brand to 300,000 vehicles. And, as is de rigueur among automakers these days, there are plenty of green-tinged goals, such as rolling out an electric vehicle in the U.S. and Japan in 2010. But GT 2012 (the G stands for "Growth" and the T for "Trust") lacks the challenging "commitments" of previous plans. Ghosn became a CEO superstar in Japan after he regularly beat these targets.
Dividend Hike for Next Three Years
For example, Nissan's last plan, called Value-Up, promised industry-beating operating margins, annual returns on investment of 20%, and a production increase of 24% (BusinessWeek.com, 4/27/05). The one before promised operating margins of 8%. But in GT 2012 headline-grabbing numerical commitments are limited to a 5% average increase in revenue between now and 2012 and a plan to raise the dividend each year for the next three years. "There's basically nothing new except for the dividend commitment," says Tatsuo Yoshida, an analyst at UBS (UBS) in Tokyo. "This plan will have a very limited impact on Nissan's stock price."
To an extent, Ghosn's seeming caution is understandable. For one thing, the current volatile business environment for automakers would make hitting earnings targets tough if circumstances were to worsen further. Moreover, given the media roasting Ghosn received after Nissan missed earnings targets last year (BusinessWeek.com, 4/24/07) for the first time since he joined the company in 1999, analysts say Ghosn doesn't want to get caught out again. More positively, analysts say the dividend hikes are welcome, while increased Infiniti and light commercial vehicle sales will help raise the company's margins.
Nevertheless, some parts of Nissan's new plan raise questions. Yoshida at UBS, for example, is worried how smoothly Nissan can execute bold growth plans in Brazil and India. In India, Nissan plans to increase sales from around 500 cars a year today to 200,000 by 2012. What's more, Nissan's $2,500 car for India, built in conjunction with Bajaj Auto and Renault, isn't set to debut until 2011; a factory in Chennai, a joint venture with Renault, won't start production until 2010.
A Push for Electric Vehicles
Ghosn's downbeat outlook for the U.S. and other mature economies is also a concern. This year, Nissan estimates that total vehicle sales in the U.S., which accounts for about half of Nissan's earnings, will slip (BusinessWeek.com, 4/29/08) to between 15 million and 15.5 million vehicles. Sales in Western Europe remain flat and sales in Japan touched 25-year lows last year.
Then there's Nissan's environmental plans. Promising leadership in "zero-emission vehicles," Ghosn is pushing electric vehicles. But they're unlikely to be big profit-earners for quite a while. And Nissan's hybrid offering still lags behind its biggest rivals. Nissan's only hybrid is the Altima sedan, which borrows Toyota's hybrid system. While it is developing new hybrid models, chances are slim of closing the gap on Toyota (TM), or Honda (HMC), which wants hybrids to account for 10% (BusinessWeek.com, 12/19/07) of its sales by 2010. "Part of the focus on the electric vehicles may be to draw attention from the lack of hybrids," says Andrew Phillips, an analyst at KBC Securities in Tokyo.
For all that, Ghosn's problems at Nissan need to be put into perspective. He was widely credited with rescuing Nissan from near-bankruptcy after his arrival from Renault in 1999. Today, Nissan remains highly profitable compared with other automakers outside Japan. Prior to announcing the new plan, Ghosn revealed Nissan's earnings for the financial year that ended in March. Operating earnings rose 7.4%, to $4.22 billion, while auto sales reached a record 3.77 million vehicles.
Before it's here, it's on the Bloomberg Terminal.
LEARN MORE