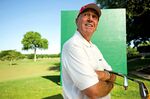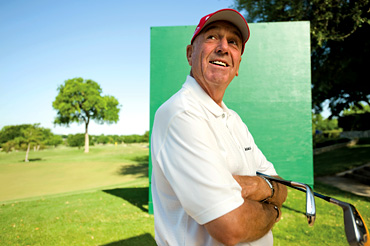 Barney Adams was the classic "overnight success" in the golf business. The entrepreneur bounced between Silicon Valley and West Texas—where he briefly ran short-game guru Dave Pelz's equipment company—before starting his own club business in 1987. In this edited excerpt of his forthcoming autobiography, The Wow Factor, "Barnyard" tells the story of Adams Golf (ADGF), from its start in Abilene to the infomercials that made his Tight Lies club a hit.
People ask me all the time: "How did you get into the golf business?" I had a long and distant affair with golf equipment. It started with my caddieing days at the Onondaga Golf & Country Club in Syracuse, N.Y., circa 1952. During my early years working as an engineer at Corning (GLW), I sent my résumé to the leading golf-equipment companies. I don't think they worked together, but the responses I received from each were almost identical: No—as in no experience, no job.
In the early '70s a friend told me about a guy I had to meet, Dave Pelz, whom he said was just as nutty as me. After we met, I thought he was just serious about equipment and that we were the normal ones. In 1982, I went to Abilene, spent an hour at Pelz's facility, and then agreed to join as president. I might have looked at some numbers, but I seriously doubt it. You could have renamed me Captain, because my ship had just arrived. This was the golf business, folks. My dream was coming true.
When I first arrived at Pelz Golf, I encountered situations that weren't taught at any of the finer business schools. The first was what I'll call negative sales: The UPS truck would arrive full of customer returns and leave empty. On my second or third day in the factory, I noticed a barrel of broken shafts. I asked the manufacturing manager about it, and the answer I received was something like: "Oh, yeah, we have a little problem." Only it wasn't so little. Stuffed in a drawer were letters from attorneys relating to cuts in customers' hands from shafts breaking in the grip.
I checked the financial situation and determined we had a few months, perhaps more if I cut back expenses. We desperately needed new product. Dave had a place called his "secrets room," where he could work on new ideas. We went there together, and he showed me his ideas for two new putters. One had a small face with three simulated golf balls behind the hitting surface serving as alignment aids, and behind the three balls was a wing. The other had a wide face, which looked like a T-shape and also featured the three balls.
At the PGA Merchandise Show in Orlando in 1985, customers stood in line to place orders. A man came into our booth and introduced himself as a representative of the U.S. Golf Assn.—and asked me if we had gone through the standard procedure of submitting samples for approval before bringing the new putters to market. This question hit me like a ton of bricks.
Suffice it to say that we came out on the short end of the final decision, and it was devastating. I bought as much time as I could, but finally the bank had enough. They ordered us to shut down, liquidate, and use all revenue to pay back loans. It was a tough time for me. Dave had an opportunity to expand his short-game schools and moved on. I was surrounded by my failure—broke and with no employment prospects at hand.
After a stint as an executive in Silicon Valley, Adams returned to Abilene to run his own equipment company, B.H. Golf, out of the same building Pelz had used:
My first job upon arrival in Abilene was to secure lodging. The Ramada Inn was an old friend from previous visits. The B.H. Golf corporate headquarters, a metal building, was only a few minutes away. I never had to check the weather, as the various critters that co-inhabited our building tipped me off. "Must be a rainstorm coming. The mice are really nervous today," I'd say.
Then, upon further observation, I'd see the armadillos moving and realize it was going to be more than that. "Probably a gully washer. We'd better get our desks away from the leak areas." I enjoyed the sounds of the metal building. I was now 100% on my own, in a business I loved, and if this description sounds euphoric, it's understated.
I remembered something I had read in a book by golf legend Gene Sarazen. He described how he thought a fairway wood should look. He wanted to see the top of the ball higher than the top of the clubface so it would appear easy to get airborne. I started sketching a head design. As I was roughing out the design, I wrote down the name Tight Lies, which came from the visualization of the golf ball lying on closely cut grass, known in golf terminology as a tight lie. I completed my sketch and faxed it to my supplier in Taiwan. When the heads arrived, I installed shafts and grips and headed to the ultimate test lab: the range. The first shot with this new design convinced me I was right. It performed exactly as I had planned.
I don't remember the moment the idea of an infomercial was raised. I tried my best not to involve myself in the thought process of figuring out what would happen if the infomercial failed. If this failed, I was done for good. And at age 57, without a penny to my name, the prospect of failure was traumatic, even more so than in the past because this time there was a victory that could be identified. The Tight Lies infomercial went on to be the highest-grossing golf-club infomercial in TV history. It transformed our business, changed my life, and in several ways it changed the golf industry.
Golf is funny. People hear about a hot club, and they want one immediately. Sean Connery called, and it took the girls in the office two days to settle down. Clint Eastwood stopped by at the PGA Show, and they went nuts again. We were a question on Jeopardy!, worked into TV shows like The King of Queens.
In about March, 1998, some half-dozen brokerage houses called us inquiring if we'd considered going public. In a way it was funny, because until the previous six to eight months, all I had ever considered was survival. Certainly our investors saw it as a way to capitalize on their investment, and I'd be a liar if I didn't consider the personal financial potential, as well as for those employees who held stock. But the biggest benefit as I saw it was the chance to fund the company for future growth without absorbing crippling debt. We decided to go public.
The first step in the process was an attempt to level the financial playing field. That's why we instituted stock options and performance bonuses to give everyone a chance for relative financial gain. I have to admit I've been surprised when old, conservative Barnyard has been accused of being some kind of New Age liberal: "Hey, you're giving them jobs. That's enough." Allow me to respectfully disagree. We had an office and an adjoining manufacturing area. Maybe those folks out there didn't all have degrees, but their performance was critical to our success, and I wanted to be sure that was universally understood.
Reprinted by permission of Skyhorse Publishing. Excerpted from The Wow Factor: How I Turned One Great Idea and My Unbridled Enthusiasm into a Golf Revolution by Barney Adams. Copyright © 2008 Barney Adams; All rights reserved.
Back to the Golf for Business and Life Table of Contents
Before it's here, it's on the Bloomberg Terminal.
LEARN MORE