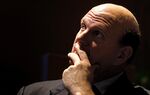 Microsoft introduced Vista, the latest version of its Windows operating system, in New York City in January, 2007, with dramatic fanfare. Performers hung from a seven-story building to unfurl a Microsoft banner. A rock band blared in the rented-out Times Square theater. The CEOs of Dell (DELL), Toshiba, and Advanced Micro Devices (AMD) joined Microsoft CEO Steve Ballmer on stage to celebrate what he called "the biggest launch in software history."
But now some high-profile corporate customers are taking a pass on Vista. In the most recent move, General Motors (GM) says it may take a detour around Vista because preliminary tests have turned up so many problems and complications. The automaker may wait for the next version of Windows, due in 2010 or 2011. "We're considering bypassing Vista and going straight to Windows 7," says Fred Killeen, chief systems and technology officer for GM.
Many of Killeen's corporate counterparts are similarly vexed by Vista. The operating system taxes all but the most modern PCs with its requirements for powerful microprocessors and muscular memory. It has compatibility issues, so certain kinds of software won't run smoothly with the operating system. And corporate tech buyers say Vista has few valuable new features for their employees. "There's no business value in us continuing to chase that upgrade cycle," says Robert Reeder, senior vice-president and chief information officer at Alaska Airlines (ALK), which plans to pass on Vista.
TIGHTER SECURITY
The troubles with Vista come as Microsoft is struggling to expand beyond its core software products. The behemoth made its $47 billion offer for Yahoo! (YHOO) as a way to boost its scale on the Net and improve its prospects in online advertising. But the deal fell apart after the two sides couldn't agree on price. Wall Street analysts still keep closest watch on the company's traditional products, and customers aren't buying Vista at the rate expected. "It's just not taking off," says Brent Thill, software research director at Citigroup (C).
Microsoft denies Vista is a disappointment. The company says it has sold 140 million copies as of Mar. 31, putting Vista on about the same percentage of desktops as the previous operating system, XP. Mike Nash, corporate vice-president, says it's common for some corporate users such as GM to skip releases of Windows. There are plenty of satisfied buyers, he says, including Bank of America (BAC), Cerner (CERN), and Royal Dutch Shell (RDS). Continental Airlines (CAL) has 4,000 PCs running Vista and has been particularly happy with power-saving features like the ability to put unused machines to sleep and start them up quickly when needed. "We're pretty sure we're going to save a decent chunk of money," says Eric Craig, managing director of technology.
As for consumers, they're warming to Vista for its tighter security and smoother operation of hot software such as Apple's (APPL) iTunes and Intuit's (INTU) QuickBooks. "We're seeing tremendous transition to Vista, particularly in the consumer space," Nash says.
Even as Vista catches on with some users, Microsoft acknowledges a key shift in the software business. More people are getting software for tasks like e-mail and word processing over the Net instead of loading it onto their PCs. As a result, users often don't need PCs loaded with the latest programs.
SAGGING SALES
Alaska Airlines is one example. The carrier may soon get so many of its business applications over the Net that it doesn't need Vista or other high-powered software. The Seattle-based airline is now buying new Dell PCs that come with Vista. But it then downgrades to XP to avoid the hassles of the new operating system. "We don't get any competitive advantage out of what we run on the desktop," says Reeder.
The lack of urgency in upgrading to Vista is starting to show up in Microsoft's financial results. After two quarters of strong growth, revenues in the desktop Windows group, the company's most profitable, fell 2%, to $4.03 billion, during the fiscal third quarter ended Mar. 31.
Microsoft is insulated in some ways from dissatisfaction with Vista. About 80% of desktop Windows revenues come from sales to PC makers, which won't get any new copies of XP after June 30. In addition, many companies pay for Microsoft's products through multiyear licensing fees. So the revenues come rolling in no matter which version of software customers decide to use.
Still, getting Vista adopted is important for a number of reasons. It helps persuade corporate customers to add Windows to long-term agreements with Microsoft, and it leads companies to buy other products such as the latest Microsoft Office. Yet just 65% of Windows copies sold in the third quarter were Vista, while about 35% were XP. The company told analysts the Vista figure wasn't at the 80% level it wanted because of software piracy in China and other factors. "Everyone's still scratching their heads, asking, 'Is there something else going on?'" says Citigroup's Thill.
There's plenty afoot at Microsoft headquarters. Developers are working on the next version of Windows, and Ballmer has sworn the company won't have a five-year gap between releases like it did between XP and Vista. Meanwhile, Microsoft is offering more of its software over the Net. On Apr. 22 it unveiled Live Mesh, which lets users create an online version of their desktop computer so they can access personal files from any PC—and eventually from mobile phones and Macs. "Live Mesh represents the company Microsoft is trying to become," says Rob Enderle, president of consultant Enderle Group. "My hope is with Windows we'll see a lot more of the company they want to become."
Before it's here, it's on the Bloomberg Terminal.
LEARN MORE