HP and EDS Try a Tieup
In its largest acquisition since it bought Compaq, Hewlett-Packard has agreed to buy Electronic Data Systems for $13.9 billion
by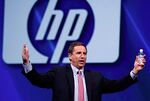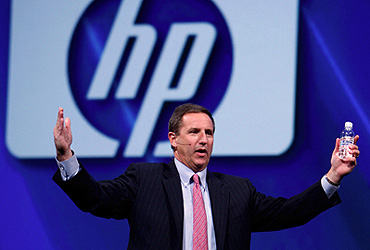 In a move aimed at reshaping the $750 billion global tech-services industry, Hewlett-Packard (HPQ) on May 13 announced an agreement to buy Electronic Data Systems (EDS) for $13.9 billion in cash. If the deal is consummated, EDS, the No. 2 player in tech services, and HP, No. 5, will be combined to create a $40 billion-a-year powerhouse with the potential to challenge market-leading IBM (IBM).
Pulling off such a combination won't be easy, though. This would be HP's largest acquisition since it bought Compaq in 2002 for $19 billion—a deal that caused HP serious indigestion and led to the fall of the deal's architect, former HP Chief Executive Carly Fiorina. EDS has more than 135,000 employees and has struggled in recent years to compete with industry leaders IBM and Accenture (ACN) and a handful of Indian challengers. "It's a big fish to swallow, but [HP CEO] Mark Hurd is a very good manager, very good at execution, so it makes sense," says Rebecca Segal, an analyst at market researcher IDC.
Word of the deal leaked out on May 12, when the The Wall Street Journal first reported the potential deal on its Web site, saying the price was expected to be between $12 billion and $13 billion. Within an hour of the posting, EDS's shares rose 28%, to 24 per share. A short time later, trading in both companies' stocks was halted on the New York Stock Exchange. HP's offer is for $25 per share. In pre-market trading on May 13, HP shares rose slightly less than 2%, to 46. EDS was up 1.4%, to 24.43.
HP said it plans on establishing a business group called EDS: an HP company, which will be headquartered at EDS's offices in Plano, Tex. The business, with approximately 210,000 employees, will be run by EDS Chief Executive Ronald Rittenmeyer, who will report to Hurd. HP said the transaction will be accretive to 2010 GAAP earnings, and it expects to achieve significant synergies as a result of the combination.
Compaq All Over Again?
The matchup would give HP a portfolio of services where it is now weak. While more than 50% of HP's $16.65 billion in services revenues last year came from providing support for its own computers, printers, and software, EDS has very large businesses in running corporations' computing operations and in writing new run-the-business software applications for them. "Blend them together, you get a much more balanced organization. It makes them look a little more like an IBM Global Services," says Lindy Hanson, analyst for Technology Business Research.
However, EDS in 2006 spun out its business consulting division, A.T. Kearney. So HP won't boost its capabilities at the high end of the business, where IBM and Accenture dominate.
An EDS acquisition would have some remarkable similarities to HP's purchase of Compaq. Both EDS and Compaq once were industry leaders that lost their way. Both acquisitions are consolidation moves, giving HP more heft to stand up to powerful rivals. There are some stark differences as well, though. There's not much overlap between EDS and HP, so it won't be as difficult to integrate them.
Late to the Offshore Party
But when you look closely at EDS, it's not such a pretty sight. The company racked up huge losses earlier in the decade. Although its business has stabilized since then, revenues only grew 3.4% last year, according to market researcher Gartner (IT). Its market share shrank slightly, to 3%. Meanwhile, IBM, with a 7.2% market share, saw its services revenues grow 12.2%, Gartner says.
EDS was late to respond to the challenge of low-cost offshore labor, but finally got serious about it last year. The company expects to have 45,000 employees in low-cost countries by the end of 2008. "We need to continue to right-size the workforce," EDS Chief Executive Ron Rittenmeyer commented late last year, a few months after he succeeded Michael Jordan at the top job. "We have clients who need work done in other parts of the world. If they can get the quality, they want it done in a cheaper place."
While an EDS acquisition would buy HP revenues and capabilities, it wouldn't necessarily deliver sizable profits. EDS made just $63 million in net income on more than $5 billion in revenues in its first quarter. IBM's business-services divisions saw their combined revenues grow 17%, to $14.5 billion, in the first quarter, and delivered $1.57 billion in operating profits.
Bigger Isn't Always Better
IBM wouldn't comment on the HP/EDS talks. But Virginia Rometty, head of IBM's business-services unit, said recently that the company's successes reflect in part its shift over the past few years to ever-higher-value work. In addition to moving a lot of work offshore, IBM has been automating services to make them less labor intensive and tapping the expertise of its research scientists to help revamp clients' computing operations. IBM's steadily improving margins "indicate that we're both operationally sound and able to create propositions that stand out for clients who are looking for higher-order capabilities that separate them from their competitors," Rometty said in an e-mail response.
While the EDS deal would broaden HP's services portfolio, the combined companies still wouldn't match IBM's capabilities. And, while IBM spent the last three years adapting to a rapidly changing business environment, HP and EDS are still far from the finish line—and a lengthy merger process could slow their progress even further. So this could be one of those cases where a lot bigger isn't necessarily much better.
Before it's here, it's on the Bloomberg Terminal.
LEARN MORE