Where Are Oil Prices Taking Stocks?
So far the stock market has mostly ignored the jump in crude oil prices, but high energy costs could eventually take their toll
by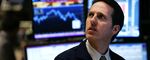 American consumers and companies have howled in agony at oil's 27% price surge in the last six weeks. But apparently—at least so far—stock investors could not care less.
As oil makes its record-breaking run, stocks have rallied, too. The broad Standard & Poor's 500-stock index is up more than 5% since the beginning of April.
If oil keeps hitting new highs, eventually stocks will feel the pain, market observers say. But at what point?
"There is surely a level where [high oil prices] hurt the economy," says Doug Peta, market strategist at J. & W. Seligman. "To this point, all predictions about that level have proved way wrong."
Oil hit another record of $126.20 a barrel on May 12 before backing off. Crude oil for June delivery ended up at $124.23, down $1.73 from the previous session's record close.
But a one-day break from rising prices is small comfort for commuters and companies seeing higher energy bills. Oil still is up 27.5% from the start of the year.
Delivering Bad News
On May 9 package-delivery giant FedEx (FDX) cut its profit predictions by about 13%, saying its fuel costs are up 7%, or $100 million, from previous estimates.
Higher costs at the gas pump surely have hurt U.S. consumers, who are already heavily in debt and stressed by the falling value of their homes and a slowing economy. "The consumer is in a tight spot right now," says Gary Wolfer of Univest Wealth Management & Trust (UVSP).
Americans are receiving federal government rebate checks, designed to stimulate the economy. But instead of spending the extra money at retail stores, consumers may see much of the extra cash eaten up by fuel price increases.
High oil prices are already hurting airlines and auto manufacturers, says Brian Gendreau, investment strategist at ING Investment Management (ING). There are signs Americans are cutting back on driving, and "consumer sentiment is way down," he says.
Despite all the trouble from high fuel costs, the stock market seems unruffled. In the past month, consumer discretionary stocks are up 3.25%, better than the broader market despite their sensitivity to the consumer's mood. Meanwhile, health care and consumer staples—sectors relatively unaffected by fuel cost concerns—are down about 1% each. What's going on?
First, both stocks and oil might be responding to signs that the U.S. and global economies are holding up better than expected.
Full Speed Ahead?
The main driver of oil prices these days is not supply constraints but a surge in demand, says Gendreau. The need for more and more oil is a sign that the world economy is not being derailed by the slowdown in the U.S. "Oil's persistent strength suggests the global economy is doing better than a lot of people expected," Peta says.
Second, stock investors might not believe all the doomsayers. Year after year, oil has hit new records, and the U.S. economy has held up pretty well. Over the past three years, the price of crude oil is up 160%. Unfazed, the S&P 500 rose more than 20% in the same time period.
Finally, maybe the market is just too distracted by other factors to be swayed by higher energy costs. Dan Genter, head of RNC Genter, says the market has "become a little immune" to oil's surge, because traders are focused on other factors such as corporate earnings and recent news from the financial sector.
No matter how one interprets the market's peculiar psychology, it's not at all clear that equities can keep ignoring oil's runup. After years of predicting that rising oil prices will seriously damage the economy, economists could finally be right.
Also, Genter worries that high fuel costs are pushing up inflation, which could prompt the Federal Reserve to hike interest rates quickly by the end of the year. Stocks could tumble on even the suspicion that the Fed is planning to raise rates soon.
Safe Bets
For those worried about high oil prices, Wolfer recommends "well-run American companies with global exposure," particularly those focused on infrastructure.
Genter suggests buying technology, health care, and financial stocks, which are less affected by energy costs. Energy firms have benefited from oil's strength, but Genter warns the cost of oil is a "two-edged sword" for large oil companies. Oil drillers and exploration firms prosper, but high prices hurt profit margins at refineries.
If oil prices remain sky-high, customers will seek other forms of energy, which should boost alternative energy providers like solar companies, Peta says. Wolfer thinks oil's runup should boost natural gas prices, which would help firms like ConocoPhillips (COP).
Those are all valid strategies, but investors who want to profit from the high price of oil should beware: The recent fluctuations of oil and stock prices have been anything but predictable.
Before it's here, it's on the Bloomberg Terminal.
LEARN MORE