Can China Take On Boeing and Airbus?
Despite the mainland's spotty record of building big jets, a new company has been launched to reduce Chinese reliance on Western planes
By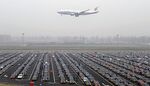 China hasn't had a good track record building big airplanes. The first Made-in-China big jet was the Shanghai Y-10, which had its maiden flight on Sept. 26, 1980. The 150-seat jet was as big as a Boeing 707 and bore a striking similarity to the American plane. The Y-10 flew 130 times, but the Chinese retired it in 1985 because local airlines refused to purchase it, preferring to buy the more fuel-efficient planes from Boeing (BA) and McDonnell Douglas instead.