Microsoft's Southeast Asia Boost
Who needs Yahoo? While hobnobbing with officials in Indonesia, outgoing Executive Chairman Bill Gates announces several e-government deals
by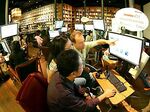 It's nice to play elder statesman. While Microsoft (MSFT) Chief Executive Officer Steve Ballmer is coping with the aftermath of his failed bid for Yahoo (YHOO) (BusinessWeek, 5/8/08), Bill Gates is far, far away and focusing on loftier subjects.
The outgoing Microsoft executive chairman is in Asia, where he met with South Korean President Lee Myung-bak on May 7 and then jetted down to Jakarta to hobnob with Indonesian President Susilo Bambang Yudhoyono and other top Southeast Asian officials at a Microsoft-sponsored conference on May 8 and 9. Dominating the agenda in Jakarta: noncontroversial talk about narrowing the digital divide and using information technology to improve education and government services in developing countries.
The goal of the Jakarta conference, explains Ralph Young, vice-president of public-sector policy for Microsoft, is "to bring private and public partnerships to the forefront with regard to the big challenges that governments face globally today." During the Gates trip, Microsoft announced several new partnerships with Asian governments and companies to develop e-government services as well as make computing with Microsoft software less expensive for people in developing countries.
A New Interest in Southeast Asia
While Gates, who will soon step down from the Microsoft chairmanship, is increasingly focusing on global problems that his foundation can address, Microsoft executives say there are solid business reasons for the company to be paying more attention to places like Indonesia. For years, multinationals looking at building sales in emerging markets have tended to overlook the country and the rest of Southeast Asia and instead concentrate on the BRICs—the four giant emerging markets of Brazil, Russia, India, and China. The four BRICs had the biggest markets and the fastest growth.
But at this point companies like Microsoft have had their BRIC strategies in place for years, and are now asking what's next. The answer, says Emilio Umeoka, the former head of Brazil for Microsoft who is now based in Singapore, is to look at the next tier of emerging markets (BusinessWeek.com, 10/31/08), countries such as Indonesia, Mexico, and South Africa.
The rewards may not be as immediate as the BRICs, but "you always need to think four years ahead," he says. "The new wave of growth could happen in those countries." Strengthening ties with governments in such countries could help Microsoft win sales and reduce the appeal of Linux for leaders who have been intrigued by the idea of nurturing the development of local open-source software developers to provide them with inexpensive alternatives to Microsoft Windows.
A Big Change from the Start of the Decade
Other American technology giants have similar strategies. Since Michael Dell's return as chief executive, for instance, Dell (DELL) has made boosting sales in emerging markets a higher priority, says Paul-Henri Ferrand, Singapore-based president of Asia (excluding Japan and China) for the computer maker. "We are seeing huge, huge growth coming from emerging markets," adds Serrand. Such countries are "a massive opportunity for us."
The Indonesian PC market isn't so big right now. Indonesians this year are likely to buy 1.4 million computers, says Ferrand. That's only 25% the size of India. But it still makes the island nation the fourth-largest market in Asia, behind China, Japan, and India. And the growth rate is 14%, he adds.
For Indonesians and others in Southeast Asia, this love from the multinationals is a big change from the beginning of the decade. Then, Southeast Asia was still staggering from the aftermath of the late-1990s financial crisis that sent the governments of Indonesia and Thailand hat in hand to the International Monetary Fund and prompted the government of Malaysia to impose currency controls. Meanwhile, China's economy was booming and the country was attracting tens of billions of dollars a year in foreign direct investment. And then came India and the idea of the BRICs as the countries that mattered.
Working with Internet Café Owners
Microsoft isn't about to give up on the BRICs, of course. But the company is paying more attention to Southeast Asia. Last year it chose Indonesia as one of the first places to launch Office Prepaid, an experimental program designed to make it easier for people to use its Office software by paying in installments based on the amount they used it. The company also started Office on Wheels, sending out technicians on motorbikes so users could get speedy service.
As part of the Jakarta conference, Microsoft announced it was teaming up with a local university to open a center to help train people to use Microsoft software, the fifth such center for the company in Indonesia. And since in Southeast Asia Internet cafés play an important role in providing Internet access to people who otherwise can't afford computers, Microsoft is cooperating with café operators in Thailand and the Philippines to provide them with Microsoft programs.
Before it's here, it's on the Bloomberg Terminal.
LEARN MORE