Rewiring Westinghouse
How a risk-averse builder of nuclear plants is getting its engineers to think differently
Brian Hindo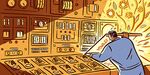 Risk is a four-letter word—a bad word—if you're a nuclear engineer. These folks inhabit a realm where precision is so crucial and safety so paramount that every calculation is double-checked by someone else. "We don't train people to take risks," says Stephen R. Tritch, chief executive of Westinghouse Electric, which builds and maintains nuclear power plants. "We train them not to."
That risk aversion, so crucial to ensuring that nuclear plants are efficient and safe, isn't so useful, it turns out, when your business is looking for new ways to make money. For the past few years, amid a resurgence of the nuclear power industry, Westinghouse's Engineering Services group has been furiously upgrading and refurbishing aging plants—and minting money along the way. Many of those jobs will soon be done, and now Westinghouse managers are asking their fastidious engineers to embrace the fuzzy, imperfect art of launching new businesses.
The challenge is a familiar one: A big, hidebound company wants to be more creative. But Westinghouse has taken a somewhat unusual route to transcend its limitations: using the very processes its engineers are comfortable with—metrics, Six Sigma—to get workers thinking differently while at the same time minimizing culture shock. The company has a long way to go. But already, Westinghouse has scored a few small victories, including moving into servicing a type of nuclear reactor it had previously left to the competition.
Much of the impetus is coming from Toshiba, which bought Westinghouse for $5.4 billion two years ago. Westinghouse, once a proud conglomerate with GE-size ambitions, has been stripped down to the nuclear power division (whose three units respectively service plants, build them, and provide fuel). Because of concerns about climate change, nuclear power is increasingly viewed as a more acceptable alternative to dirty coal-fired plants. And sales at the Engineering Services unit have tripled since 2003 as dozens of plants were refurbished.
Now, the unit that builds plants is poised for growth—while the company projects flat revenues for Engineering Services. But Toshiba has made it clear there's no time for laurels-resting, and CEO Tritch concedes that "there's more of an expectation for growth than [if we were] left to our own devices."
Often, a mandate to change a corporate culture involves people "ideating," clambering over rope courses, tossing around koosh balls—all techniques aimed at busting loose the calcifying sediments of inertia. Plenty of people find these motivational tricks unpalatable. But try getting an engineer to play along. It's not going to happen.
Instead, Nick Liparulo, who runs Engineering Services, has performed a clever bit of organizational jujitsu—luring skeptical engineers by tying the growth initiative to Six Sigma. "They are taking stuff that gets in the way [of growth] and are turning it to their advantage," says Jeanne M. Liedtka, a professor at the University of Virginia's Darden School of Business who is advising the unit.
GROWTH AND EFFICIENCY
Liparulo needed to send a strong signal that risk-taking wouldn't be a ticket out the door. At Liedtka's suggestion, he took nine of his best managers and made them "growth leaders." Their sole responsibilities would be to chase down new technologies and markets. That helped clear some institutional hurdles: One leader, Bruce Monty, says in the past a supervisor would have dumped a new initiative onto a manager's regular duties—ensuring it got short shrift. By contrast, says Monty, "we said, that's all you're going to do—see if you can kick-start a particular area."
Liparulo also tied the growth leaders' efforts to Westinghouse's efficiency program. Heavy on metrics and predictability, such programs usually do more to goose profits than sales. But at Westinghouse, pairing the two helped engineers take the efforts seriously. Growth leaders were teamed with Six Sigma experts, and funding for new initiatives had to pass specific tests that measure a product's potential.
So far the program has helped Westinghouse push into two new areas. Last fall the company won a contract to make repairs to Alloy 600, a metal that is found in old reactors. It had never done that before. Nor had it serviced a type of reactor that uses boiling, rather than pressurized, water to generate steam. Now it has a satellite office in San Jose, Calif., dedicated to such jobs.
Those anointed as growth leaders can't be the only ones focused on fresh ideas. To ensure the rank and file get in gear, managers are now being graded not just on the dollars they generate but also on how many customers they've spoken to and how many proposals they've sent out.
Despite those mandates, says Controller Kathy Kovacic, the old guard is still getting used to taking business risks. How can she tell? They are having trouble spending the money they have been allocated.
Before it's here, it's on the Bloomberg Terminal.
LEARN MORE