Big Drug R&D on Campus
With pipelines drying up, drugmakers are enlisting universities to help create new treatments
By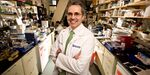 On a rainy Friday in early May, two scientists from vastly different worlds met at a bar near Boston's Fenway Park to talk business. One was Dr. Stephen Friend, a top cancer executive at struggling drugmaker Merck (MRK). The other was Dr. Ronald DePinho, a professor of medicine at Harvard University. The topic: a new alliance Merck and the Dana-Farber Cancer Institute, a Harvard affiliate hospital, have formed in the war against cancer. This is nothing like past partnerships between industry and academia, in which drugmakers helped fund discoveries at the university but relied on their own teams to come up with commercial products. In this case, Merck expects its Harvard allies to stay involved throughout the drug development process. "We're creating a larger discovery enterprise," says DePinho.
Plagued by product failures and research disappointments, the drug industry is going back to school—literally. In addition to the ongoing cancer collaboration, Merck and Harvard just signed an agreement to develop treatments for the bone disease osteoporosis. On Apr. 25 rival Pfizer (PFE) invested $14 million in an alliance with four universities to study diabetes and obesity.
Drugmakers are counting on these deals to solve a persistent problem: underperforming product pipelines. Merck, Pfizer, and others have been losing sales of one blockbuster drug after another as patents expire and competitors charge in with generics. Big drug companies have fought back by spending more on research, yet the number of new medicines approved each year is falling. In the last week of April alone, the U.S. Food & Drug Administration rejected two of Merck's experimental drugs, prompting the company to lay off 1,200 salespeople. Pfizer had to halt trials of a much-anticipated cholesterol drug last year because of safety issues. C. Preston Hensley, a senior director at Pfizer, thinks such debacles stem from a deficit of basic research skills, which only academia can provide. "We don't understand the biology of diseases well enough to pick the right drug targets," admits Hensley, who will manage Pfizer's new alliance.
There's no guarantee the partnerships will solve the drug drought. And there are many logistical hurdles. Past deals between industry and academia have been hampered by patent disputes and tussles over publication rights, as companies tried to thwart academics who want to share their discoveries with colleagues around the world. So now the companies have devised policies allowing their Ivory Tower partners to patent and publish their discoveries, even as they draw the professors more deeply into corporate affairs.
This may entail cultural adjustments—for the professors. The experiments a scientist must perform to get a paper published about a disease are nothing like the rigorous studies the FDA expects to see before it approves a drug. "Very few basic scientists know what it takes to get a product to market," says Gail K. Naughton, a former biotech entrepreneur who is now a dean at San Diego State University.
To become equal partners in drug development, universities have begun hiring refugees from the faltering drug industry. DePinho says Harvard has picked up about 40 scientists from large pharmaceutical companies so they can coach the academics on drug development. "It's very difficult," DePinho says. "But we have the chance to change the human condition."
Before it's here, it's on the Bloomberg Terminal.
LEARN MORE