Braving Brazil's 'Airline Graveyard'
Can JetBlue founder and former CEO David Neeleman find success with his latest venture, a domestic Brazilian airline dubbed Azul?
Jessie Scanlon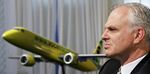 On May 6, David Neeleman, the 49-year-old founder and former CEO of JetBlue (JBLU), announced the name of his new Brazilian airline: Azul. The name—which means "blue" in Portugese—was one of 157,000 submitted and voted on by Brazilian consumers in an online competition. "We wanted to know what people thought," says Neeleman. "Though at the end of the day, I'm choosing the name." And as it happens, Azul actually came in second to "Samba" in the voting.
The name-picking process reflects Neeleman's belief in listening to customers—as CEO of JetBlue, he flew once a week, just to have the chance to talk to passengers—as well as his confidence in his own instincts, honed over decades in the business. But the airline industry in Brazil is significantly different from the U.S. market, and for Neeleman, who has already founded three successful airlines in North America, Azul is a chance to see whether an innovative JetBlue-like service might take off in this South American country.
When Neeleman stepped down as JetBlue CEO—fired by the board following the Valentine's Day, 2007, ice storm that caused thousands of flight cancellations throughout the Northeast—he wasn't immediately looking to start a new airline. As he told the Associated Press, the board's decision "was horrible, it was unexpected, it was really without warning." Although he had no interest in launching a U.S. airline in the current climate, he was intrigued by the market in his native Brazil. And, of course, that country's rapid economic growth bode well for the airline industry.
Courting Brazil's Business Travelers
Originally dubbed "JetBrazil" by the press, Azul borrows many of the innovations its founder implemented at JetBlue: leather seats, two to three more inches of legroom than you'd find on any Brazilian flight today, tray service rather than bulky carts, and, of course, the seat-back satellite TVs. "Brazilians are in love with television," says Neeleman. "But we'll be the first in Latin America to offer satellite TV at every seat." Azul is currently discussing potential programming with Globo, the country's leading broadcast network, and is working with LiveTV, the JetBlue-owned satellite service, to overcome a few technical hurdles.
Initially backed by $150 million in funding from Brazilian and U.S. investors and slated to begin service in January, 2009, Azul will offer direct flights—a relative rarity in the Brazilian travel industry—between some 25 Brazilian cities, allowing passengers to bypass congested hubs. (International service may be added later.) Azul will also focus on the business travel market, which accounts for 75% of air travel today.
"Brazil is a tough market," says Mike Boyd, president of the Boyd Group, an Evergreen (Colo.) consultancy. "But business traffic is where you're going to make your money, and it's been an underserved sector."
Competing with the Southwest of Brazil
Azul's main domestic competitor is GOL Linhas Aéreas Inteligentes (GOL), which Neeleman describes as a "no frills, point-to-point service in the tradition of Southwest (LUV)." GOL may bill itself as a low-cost airline, but because there's little competition in the Brazilian air travel industry, fares are still about 50% higher than they would be in the U.S. for a comparable distance. Azul aims to offer consumers an even more economical alternative. "On the low end, we'll be offering prices akin to bus fares, although bus tickets in Brazil aren't inexpensive," says Neeleman.
There's a good reason for Neeleman taking bus fares into account in setting his prices: Buses, which are a far more common means of transportation in Brazil, may represent Azul's biggest competition. "Less than 5% of the population travels by plane," says Neeleman.
"So part of our sell is: 'Why get on a bus and spend 14 hours if you could fly there in two?'"
To keep costs low—which will be key to Azul's success—Neeleman will use some of his JetBlue tricks, such as a simple and straightforward Web site where customers can make reservations. But not all of the innovations he implemented at JetBlue can be imported. Because of the inconsistent quality of the phone lines, for instance, he may not be able to use home-based customer-service agents and is looking into the possibility of a call center.
But Neeleman doesn't want to compete against GOL on cost alone. His goal has always been to make air travel simple and hassle-free. When he founded JetBlue, for instance, he decided to have assigned seating rather than Southwest's free-for-all. "One of the big frustrations I've had when traveling in Brazil is when something comes up it's harder to resolve it, because the people on the front lines don't have authority to make changes," says Neeleman. "We were traveling the other day and arrived at check-in 29 minutes before flight time, but they shut the flight at 30 minutes. The plane was right there, but they wouldn't let us on."
The Man for the Job
One of the challenges Azul faces in convincing travelers to go by air is widespread concern about air safety. There have been some spectacular crashes in Brazil recently, such as the 2006 collision of a GOL Boeing 737-800 and an Embraer Legacy 600 that killed 154 people. Azul can emphasize the state-of-the-art technology and safety features of its Embraer jets in its marketing, but it will have to be subtle: Messages about safety backfire if they end up reminding travelers about the possible dangers. Moreover, there's little Azul can do to improve the country's ancient air traffic control system.
"Brazil has been a graveyard for airlines," says Boyd. "It's a really tough place. You have air traffic control problems. There's a lot of territory to cover. There's less discretionary income that people can use for travel." Still, Boyd says he's cautiously optimistic. "If anyone can do it, Neeleman can."
For his part, Neeleman is focused on building a community of potential passengers through the Web site. With the name chosen, people will now have the chance to vote on Azul's uniforms. Next comes a blog that Neeleman will author. "We just want to get people involved," he says.
Join a debate about U.S. airlines.
Before it's here, it's on the Bloomberg Terminal.
LEARN MORE