Mia Farrow Takes Her Torch to Hong Kong
The actor and activist continues to press her Dream for Darfur cause along the Olympic relay to highlight the Sudan's grim situation
by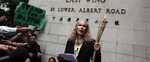 As the Olympic flame was passed from one runner to the next on the streets of Hong Kong, Mia Farrow did her best to upstage the relay. With a group, made up mostly of reporters, looking on, she stood in front of government offices and ignited a flame of her own.
Farrow, the 63-year-old actor and activist, chairs the advisory board of "Dream for Darfur." She had flown to Hong Kong for the final leg of the group's torch journey, a round-the-world campaign that began last fall. The star of film classics Rosemary's Baby and The Great Gatsby, Farrow has sought to use her own fame to highlight a grim statistic: As many as half a million people in Sudan have died from disease, hunger, and massacre since 2003, though as Farrow said, accurate numbers are impossible to obtain. Many have been killed by Arab militias known as the Janjaweed, which are backed by the Sudanese government in Khartoum.
Farrow's group has tried to bring international pressure to bear on China because it supplies arms to Sudan and is the African country's largest foreign investor. Beijing "is underwriting genocide in Darfur," Farrow said during a talk at the Foreign Correspondents Club in Hong Kong. She urged China to use its influence and persuade the Sudanese government to "stop attacking civilians and permit deployment of 26,000 U.N. peacekeepers" in Darfur.
Crusading Against "Silent Complicity"
Since last fall, the Dream for Darfur torch parade has toured Cambodia, Rwanda, Germany, and other countries where genocide has occurred. Hong Kong was the last stop, and immigration authorities had approved Farrow's entry only after she assured them she didn't intend to disrupt the Olympic torch ceremonies (BusinessWeek.com, 4/30/08). The location of her group's event was kept secret until minutes before she lit her own torch.
Beijing is not the only target of Farrow's criticism. Her New York-based nonprofit group has given failing grades to Olympic sponsors such as General Electric (GE), Volkswagen, Coca Cola (K) and Visa International for their alleged "silent complicity" in the Darfur genocide. She has urged those companies to raise the issue with China and has prodded government leaders to boycott the Olympic ceremonies (BusinessWeek.com, 2/13/08) unless Beijing acts.
Of the 19 companies rated, only three—Kodak (EK), Adidas and McDonald's (MCD)—have been given a passing grade, Farrow said. As for the rest, "history will note their silence," she said. "I am disgusted. They should take their billions elsewhere."
In Hong Kong, Most Cheer Torch
Farrow did, however, give Beijing some credit for taking constructive steps. One example: Last July, China chaired the U.N. Security Council when the body authorized the deployment of peacekeepers in Sudan, and China dispatched engineers and a special envoy to Darfur.
On the streets of Hong Kong, the official Olympic torch relay was for the most part festive. Tens of thousands of cheering people dressed in red T-shirts and waving Chinese flags (BusinessWeek.com, 4/24/08) lined the streets to catch the spectacle.
Police deployed more than 3,000 officers to maintain order, and 16 security guards, wearing shorts and black gloves, ran alongside the torch bearers to keep any would-be protesters at bay. Demonstrators were kept penned in designated areas. Eight protesters were detained by police for trying to hoist a Tibetan flag. In the runup to the event, eight activists had been denied entry into Hong Kong (BusinessWeek.com, 5/1/08).
Before it's here, it's on the Bloomberg Terminal.
LEARN MORE