What Spurred the Run on Rice
High food prices prompted producers to hoard, limiting supply. The rush to stockpile followed
Pallavi Gogoi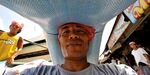 At the Costco (COST) in San Francisco, rice is all the rage. Not long after the 10 a.m. opening on Apr. 24, the warehouse club was well on its way to selling out the day's supply of Thai jasmine rice. Real estate broker Mary Jane Galviso managed to snap up two 50-pound bags—the limit imposed by this particular store. "This is very frightening," says Galviso, a Filipino-American who made the more than 200-mile trip from her hometown of Orosi, in California's Central Valley, where her local grocery was out of Thai rice.
Rice, a lowly staple, has suddenly turned into a hot commodity. Some Costco and Wal-Mart (WMT)-owned Sam's Club stores have begun limiting purchases of premium varieties, such as Thai jasmine and Indian basmati, in response to panic buying from individual shoppers and restaurant owners.
The rationing is but one manifestation of the global food crisis. Around the world, prices for rice are starting to hit record highs: Thai rice, the benchmark, is hovering at around $1,150 per metric ton, compared with about $320 at the end of last year. That's puzzling since worldwide rice production was up in 2007, with Vietnam, Thailand, and India all logging bumper crops.
What has actually sent rice prices spiking in recent months are artificial shortages. Countries such as India and Vietnam, the world's No. 2 and No. 3 rice exporters, have imposed limits or outright bans on rice shipments in order to shield their populations from the effects of soaring food costs. That in turn is hurting net importers of the grain, such as Iran and the Philippines. On Apr. 15, the Philippine government tried to buy 500,000 tons of rice in the global market but managed to get only 320,000 tons. The news sent shock waves through the wholesale markets.
With rice prices climbing ever higher, there's plenty of incentive for everyone from traders to millers to store owners to stockpile the stuff. "You've seen a lot of speculators coming into the market and making things even worse," says Chookiat Ophaswongse, president of the Thai Rice Exporters Assn.
At the Chicago Board of Trade, the traditionally sleepy market in rice futures has been jolted awake. Says Tim Hannagan, senior grain analyst at Alaron Trading in Chicago: "I've never seen a rice [futures] market until this year in my three decades of trading grains."
Before it's here, it's on the Bloomberg Terminal.
LEARN MORE