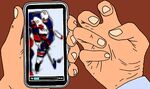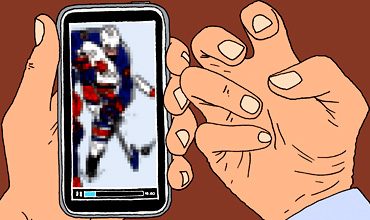 There's a sea of video available out there on the Web. And a growing number of wireless handsets, especially the smartphones with relatively big screens, do a surprisingly good job of bringing this content to life. But finding what you want on a mobile and getting it in a format you can play is so laborious that many people don't even try.
A free service called vTap, from startup Veveo, largely succeeds in solving two parts of the mobile video problem. It helps you find content from the multitude of sources on the Web and it converts the digital stream into something your handset can display. The vTap application is available for Windows Mobile, Nokia (NOK) N-series, and an assortments of handsets from Samsung, Sanyo, Motorola (MOT), Sony Ericsson (SNE), and LG. A special browser version works on the Apple (AAPL) iPhone and iPod Touch. (Veveo's profits will come, if ever, from licensing its technology to hardware companies and content providers.) The service will function, after a fashion, on any data connection. But if you want videos that will play without stuttering or pausing to wait for data, you'd better have either 3G wireless service or Wi-Fi.
Tackling the sorry state of video search was a stroke of genius. Google (GOOG), Yahoo! (YHOO), and Microsoft (MSFT) Live have special video search modes that let you look for TV clips and other content from your desktop. But it's a different world on your phone, where these specialized search tools aren't available. And even assuming you can find what you want to watch, it may not be in a video format your handset can handle. In fact, the odds are better than even that it won't be. A lot of Web video is formatted in Adobe 's (ADBE) Flash, which is not an option on most handsets, including BlackBerrys, the iPhone, and most Windows Mobile handsets. These limitations often force people to rely on the selection of videos supplied by their wireless carrier, such as Verizon V CAST or S TV. The choices aren't great—and you'll have to pay extra.
A Better Way
Even if you are willing to settle for just what is available from YouTube, the experience of browsing from a mobile is much worse than using a computer. The iPhone has a YouTube application that makes browsing and searching the site easy, but it only gives you access to a fraction of the videos available there.
The key to vTap is a process Veveo invented that takes video from the Web and converts, or "transcodes," it into a format that will work with the player you install on your handheld. To get vTap on your phone, you start by signing up on the Web site from your computer. Veveo then sends your mobile a text message containing a link. Click the link, and your handset downloads and installs the software.
Once vTap is loaded, you just enter a search term and get back a list of related videos. But you also have the option of turning any search into what vTap calls a "feed." If you do this, videos matching that search will automatically show up in a list of suggestions as they become available. For example, an NHL feed kept me supplied with fresh video clips from National Hockey League playoff games. There are also several preprogrammed channels, including news, sports, and entertainment content such as TV show clips and movie trailers.
Content Limitations
Because vTap has to reformat video, it cannot deliver programming from sites that block Veveo from transcoding its content. If, say, sites require you to install another proprietary player, the service won't work. This leaves vTap users without access to some of the most popular videos on the Web. For example, you cannot get any of the content from Hulu, the News Corp. (NWS)-NBC Universal joint venture that offers full episodes of The Simpsons, The Office, and other favorites. vTap can show brief clips from South Park but not the full episodes from South Park Studios.
Veveo hopes to see its technology embedded in Internet-connected TVs and other gadgets. We'll find out whether this will be a viable business. Meanwhile, if you have a yen for easier mobile video, vTap is worth a try.
Before it's here, it's on the Bloomberg Terminal.
LEARN MORE