Media Giant or Media Muddle?
Challenges abound as the newly formed Thomson Reuters tries to outflank Bloomberg
Stanley Reed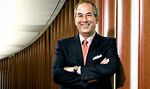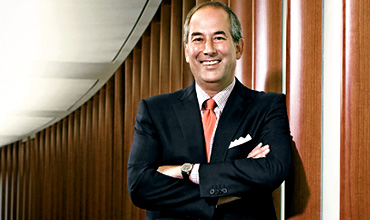 The giants of the digital age tend to be companies whose histories are counted in months and years, not decades or centuries. Yet Thomas H. Glocer aims to reinvent the future with Reuters Group, the 157-year-old news agency and financial data giant, and Thomson, a 78-year-old business information empire that started as a newspaper publisher. On Apr. 17, Glocer sold Reuters to Thomson for $15.6 billion, and took over as chief of Thomson Reuters (TRI).
His vision is simple: Turn the two graybeards into something neither could become alone. The new company is more than double the size of archrival Bloomberg, and offers a much wider array of data that stock traders, lawyers, and corporations use every day—and for which they're willing to pay top dollar. The $500 million in annual costs Glocer expects to cut by 2011 is just gravy. "I think this fulfills the potential, if we can execute it, of what Reuters always could have been," Glocer says in an interview at the company's headquarters, overlooking New York's Times Square. Reuters "just wasn't going to get there on its own."
A 21st Century Giant?
If the corporate world of the 20th century was noteworthy for the rise of industrial giants, Glocer insists, the 21st century will be dominated by "information majors." He contends that Thomson Reu­ters, with a market capitalization of about $28 billion and annual revenues of $13.4 billion, is uniquely positioned to join that club. Glocer expects to slash costs by combining Reuters' and Thomson's financial data businesses, computer systems, and executive offices. Later, he wants to supercharge revenues by marrying Thomson's U.S.-centric operations with Reuters' global savoir faire.
Reuters was founded in 1851 when Paul Julius Reuter started sending London stock prices to brokers in Paris via a new undersea telegraph cable. The company has long since branched out into all kinds of financial information and also operates a top trading platform for currency traders. Thomson, meanwhile, started with a single newspaper in Ontario in 1930, then grew into an international chain. But in the 1990s the Thomson family feared the declining profitability of newspapers and sold most of them, shifting instead to business information delivered electronically. Together, Glocer says, the two will become a 21st century media giant, able to deliver to your desktop or BlackBerry everything from a potential merger partner's litigation history to borrowing costs in Dubai to software for managing the company health plan—with no paper involved.
Sounds great, but skeptics abound. Traders have knocked 22% off the company's stock price since its Oct. 31 peak. It's easy to see why. With credit markets in deep freeze and banks firing thousands, a company that gets 60% of its revenues from the financial industry is likely to take a beating. And even if the financial information businesses of the two make a good fit, there's not a lot of other obvious similarity between Reuters and Thomson, with the latter's specialist databases of court cases, tax filings, research findings, and more for lawyers, accountants, doctors, and other professionals.
And in the narrow turf of information for banks and brokerages, Bloomberg is still a formidable foe. True, the rivals now each have about one-third of the financial data market and vast armies of journalists covering business. And Thomson Reuters has a broader portfolio of offerings, more capital, and may be better positioned to weather turbulent times thanks to its strength in emerging markets and foreign exchange, a booming business despite the downturn.
Bloomberg, though, has more cachet—every trader wants one of its terminals—and a sterling reputation for service. And customers say Thomson's financial offerings are a hodgepodge of acquisitions that don't always work together. "It is just a headache that Reuters has inherited," says the head of technology at a major bank in London. Last year, Bloomberg grew about twice as fast as Reuters and Thomson, says David Anderson, editor of Inside Market Data Reference, a market research publication. "Bloomberg has done better than Reuters and Thomson," he says. But Devin Wenig, a close collaborator of Glocer's who will run Reuters, shrugs off Bloomberg as yesterday's story. His real worries: Google (GOOG) or "some kid in Silicon Valley."
Dealmaker and Tech Geek
Glocer brings an unusual combination of skills to the challenge. The former associate at New York law firm Davis Polk & Wardwell is an experienced dealmaker and has long been fascinated by computers and the Net—a big plus for a CEO of a company that sees itself as tech-savvy. At Yale Law School in the 1980s, Glocer even designed an early computer game—which is still in use—to illustrate the rules of discovery. "He is a bit of a technology geek," says Reuters Chairman Niall FitzGerald, who will be a deputy chairman in the new company.
In his seven years in London, Glocer has come to relish the role of media heavyweight. He plays host to the likes of Tony Blair and Alan Greenspan. And his annual get-together during the World Economic Forum in Davos, Switzerland, is legendary. This year, the enthusiastic skier invited friends, Reuters staffers, and business associates to a lunch of grilled trout and lots of wine on the porch of a mid-mountain restaurant. "Tom has a nice way of connecting with people" that hasn't been spoiled by success, says Joseph C. Tortorici, a friend from Glocer's college days at Columbia University and now a Prague-based partner at law firm Weil, Gotshal & Manges.
The first American and the first nonjournalist to head Reuters, Glocer has had a wild ride since he became CEO in 2001. Reuters got more than 90% of its revenues from the financial industry, so the company found itself deep in the red after the market collapsed in 2001. Glocer slashed thousands of jobs and sold off peripheral assets such as electronic trading firm Instinet—taking a beating in the British press and making few friends around Reuters' newsrooms.
Reuters has come a long way since that near-death experience. For 2007 it reported a 14% increase in operating profits, to $595 million, on revenues of $5.2 billion, up 2%. But Reuters was still struggling to maintain market share against Bloomberg and remained overly dependent on the cyclical financial industry. Hard-nosed Thomson, meanwhile, routinely chalks up operating margins of close to 20%—well ahead of Reuters.
"Are You Sitting Down?"
The friendship Glocer has developed with Geoff Beattie may be key to the new operation's fortunes. Beattie is the CEO of Woodbridge, the holding company of Canada's Thomson family, which owned 70% of Thomson (and now has 53% of Thomson Reuters). Over the past 11 years, Beattie, 48, has been instrumental in transforming Thomson from a newspaper company into a high-margin purveyor of business information. When Reuters was plumbing the depths, Beattie called on then-Chairman Christopher Hogg and told him that Thomson would never make a hostile move but was there to help if needed. CEO Glocer thought it was a mistake to sell out when Reuters was on the ropes, but once it started to bounce back in 2005 he agreed to meet Beattie over dinner at The Brook, a tony private club on Manhattan's East Side.
Glocer made the first move, offering to buy Thomson's financial information business. That unit appeared doomed to remain in a distant third place globally, behind Bloomberg and Reuters. The two companies came close to striking an agreement, but the talks fell through. Then in autumn, 2006, Beattie called back. "Are you sitting down?" Beattie asked, before offering to buy Reuters. Beattie had come to the conclusion that Reuters was a good fit for Thomson's financial data business, and with Thomson CEO Richard J. Harrington nearing retirement, Beattie felt that Glocer, 48, was the right leader for the company's next phase.
Reuters Chairman FitzGerald handled the details. FitzGerald says Beattie was a tough negotiator, but that he also has a soft side and hit it off with FitzGerald's six-year-old daughter. In fact, the girl rescued the two men from a "serious standoff" during one session at FitzGerald's country house in Sussex, southwest of London. She burst in, saying, "Geoff, you promised to come with me to the swings." The Canadian couldn't refuse, and when he returned "the climate of discourse had changed," FitzGerald recalls.
Glocer has made major strides in putting the two organizations together, but he may come under pressure to speed things up because of the foundering financial industry. Glocer's mandate is to take the Thomson unit—which gets more than 80% of its revenues from North America—to Asia, the Middle East, and beyond to serve developing countries that are adopting more rigorous legal systems, building financial services, and pouring money into health and science. Glocer is "the right athlete for the event we are now in," says Beattie, who also serves as a deputy chairman of Thomson Reuters.
Putting It All Together
The real event will be linking the two companies' oceans of information in ways that better serve customers. One idea: use Reuters legal journalists to add news to the technical offerings of Thomson's market-leading legal research business, Westlaw. Another: combine Reuters data on Islamic bonds with Thomson's expertise on Sharia law to sew up the fast-growing Islamic finance market. Glocer thinks Thomson can piggyback on Reuters' sales force, which is strong in the red-hot Gulf region, to help put Thomson on the map there.
Thomson also brings top-notch technology to the ­equation. And it's easy to see at the company's sprawling complex in the Minneapolis suburb of Eagan. Inside the low-slung, 1.2 million-square-foot building, some 6,800 people, including 1,200 lawyers, spend their days reading legal cases and weaving in links to related material. A Texas Supreme Court decision on an asbestos dispute, for instance, not only links to case summaries and briefs but also supplies an illustrated article on lung disease, a list of medical experts, and their track records in producing judgments. There's even a tool for lawyers to use in rating the creditworthiness of potential clients, a feature added at the request of law firms.
Glocer knows that bridging the cultural gap between the two operations won't be easy. To get the word out to the troops—and the public—he maintains a blog where he weighs in on his vision for the company as well as topics as diverse as the loneliness of being an optimist in Britain, doubts about whether media companies should be listed on stock markets, and the importance of understanding the social networking phenomenon. "Unless one interacts with and plays with the leading technology of the age," he wrote in a post defending the time he spends on Facebook, "it is impossible to dream the big dreams, and difficult to create an environment in which creative individuals will feel at home."
Before it's here, it's on the Bloomberg Terminal.
LEARN MORE