Made in China: MRI Machines
Medical device makers are stepping up manufacturing on the mainland, raising safety concerns
By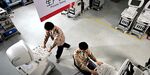 Even as Americans fret about the use of Chinese-made drugs such as the blood thinner Heparin, many medical device makers are strengthening their ties to China. Philips (PHG), General Electric (GE), Medtronic (MDT), Siemens (SI), and others are stepping up manufacturing on the mainland, both to cut costs on equipment sold in the U.S. and to open up the Chinese market. The industry "will start to see more companies moving their manufacturing to China," predicts David Jin, chief executive for Greater China at Philips Health Care.
Plenty have already done so. Philips on Apr. 11 bought a company in the southern city of Shenzhen that makes patient monitoring equipment, and has formed a joint venture in China that produces MRI, CT, ultrasound, and X-ray gear sold in the U.S. Siemens in September opened a medical research and manufacturing center in Shanghai that will likely grow to 1,000 employees this year. Medtronic in December paid $221 million for a 15% stake in Shandong Weigao, a medical-equipment manufacturer. The two plan to produce instruments used in spinal surgery. And GE's health-care division in August said it would work with Premier Diagnostic Health Services, a Vancouver company with a Hong Kong subsidiary, to sell and operate medical scanners in China.
Given the track record of Chinese companies in toys, food, and drugs, some medical experts wonder whether mainland manufacturers are reliable enough for sensitive medical equipment. "Many of these devices are life-sustaining, and it's critically important that they be manufactured to specification," says Dr. William H. Maisel, director of the Medical Device Safety Institute at Beth Israel Deaconess Medical Center in Boston. When products are made outside the U.S., "it's difficult for the FDA to monitor," Maisel adds. "I would have some concerns about products that are manufactured in unregulated areas."
The Food & Drug Administration is setting up offices in three Chinese cities, and U.S. officials in December signed an agreement with Chinese authorities to cooperate in improving the safety of drugs and medical devices. Congress is considering legislation calling for more inspections of foreign drug and device makers and requiring documentation of safety before products are accepted in the U.S. But FDA Commissioner Andrew C. von Eschenbach says the agency has difficulty keeping up with the flood of products from other countries, especially China. "The FDA is burdened with an enormous portfolio of responsibilities," he said at a conference in March. "The workforce is overextended, and we are working with inefficient tools."
Companies working in China insist operations are safe. "We are confident of our quality-control process," says Li Xiting, CEO at Mindray Medical International (MR), a New York Stock Exchange-listed company based in Shenzhen that on Mar. 11 paid $202 million for the patient monitoring division of a New Jersey company. Adds Jean-Luc Butel, president of Asia-Pacific for Medtronic: "There is absolutely no compromise."
Before it's here, it's on the Bloomberg Terminal.
LEARN MORE