Ghosn Hits the Accelerator
The Renault-Nissan CEO is fighting to keep pace in the U.S. and chasing Chinese and Indian customers
By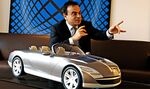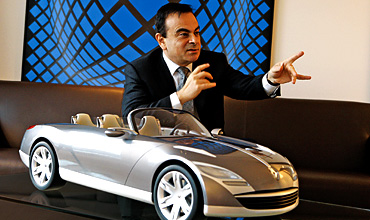 Carlos Ghosn, CEO of both Renault and Nissan Motor, faced some petulant shareholders at the French automaker's annual meeting on Apr. 29 in Paris. One complained that the stock was down more than 30% this year. What, he wanted to know, had happened to the Ghosn Effect?
Good question. The Ghosn Effect once referred to the galvanizing impact the CEO had on Nissan, when he was dispatched by Renault, Nissan's controlling shareholder, to turn around the foundering Japanese company almost a decade ago.
Today, Ghosn's critics use the phrase to describe a boss who they worry may be stretched so thin he cannot manage either Nissan or Renault as well as he could manage one company. He certainly has hit a boggy patch. Sales at Renault have flattened out. Profits last year slid 7.6% and won't do any better in 2008. And Nissan? Its stock is down 32% from its 12-month high on flat profits in 2007 and poor prospects for 2008.
Yet Ghosn, a.k.a. Le Cost Killer, Super Carlos, the Icebreaker, and probably a dozen other epithets, isn't ruffled by the critics. True, his schedule seems impossible for ordinary mortals to survive, let alone thrive on. On Saturday, Apr. 26, he was in Tokyo preparing for Nissan's May 13 annual meeting and announcement of a new five-year plan. Monday night it was New York to pick up an award (after lunch with BusinessWeek). Tuesday afternoon he was in Paris to meet those agitated shareholders.
And, says Ghosn, it's all worth it. If you look at car-company tie-ups, such as Daimler-Benz buying Chrysler or Ford Motor (F) buying Jaguar and Land Rover, "there is only one global alliance that has added value, and that is Nissan and Renault," he says, pointing out that the two are still earning billions even in a year of recession and slowdown. Renault's operating income hit $1.8 billion in 2007, while Nissan posted $3.1 billion in operating income for the first half of its current fiscal year.
Ghosn figures his dual-CEO role fits the times, when automakers must move fast to adapt to changing tastes and ever-tougher regulations. In 2007 he launched four major joint ventures involving Nissan and Renault: two electric car projects in Denmark and Israel, a combined factory in Morocco, and a project to design and build a $3,000 car in India. That's on top of winning a joint venture in Russia with AvtoVAZ, securing a deal to supply small cars to Chrysler, outsourcing Nissan's pickup-truck manufacturing in the U.S., and agreeing to build small pickups for Suzuki Motor. "You need one decision-maker for these things," says Ghosn, "so you get the bickering [that would result from having two CEOs] off the table."
The game for Ghosn is getting even more challenging than when he saved Nissan from bankruptcy. In his worldview, Nissan has to stay strong in the U.S. even though, he says, "the U.S. market is not going to be great again." A saturated America now has some 800 vehicles per 1,000 people, vs. fewer than 30 in China and India. Hence the dilemma: You have to stand your ground in the huge U.S. marketplace while racing to win the hearts and pocketbooks of first-time car buyers in China, Brazil, Russia, and elsewhere.
GUT FEELINGS
This is the kind of problem Ghosn the engineer relishes. Current and former colleagues say he doesn't tolerate a lot of dissent and often relies on instinct rather than worrying about building consensus. That trait makes for a faster pace, but mixed results. Ghosn in 2003 unilaterally overruled his U.S. managers who opposed the sale of Nissan Versa subcompacts in North America, figuring Americans would not cotton to a fuel-sipping, tiny car designed for China and Latin America. Score one for Ghosn: Nissan will sell more than 120,000 Versas this year in the U.S.
On the other hand, just four years after launching the Nissan Titan fullsize pickup and opening a plant in Mississippi to build it, he is throwing in the towel. Nissan is on track to sell just 60,000 Titans this year, compared with Toyota's (TM) 165,000 Tundras. At least Ghosn admitted his mistake fast, says George Magliano, director of North American auto industry analysis at Global Insight: "Getting out now is the smart thing to do." Ghosn is moving to make the factory profitable by cranking out light commercial trucks there.
Ghosn wants to bring such quick decision-making to emerging markets. Rather than developing global products for both brands to share, he figures Renault and Nissan should design for local tastes and have the flexibility to export a design fast to ride consumer trends elsewhere. That's what happened with the no-frills Logan. Developed by Renault for Eastern Europe and Latin America, it also caught on in France and other more developed markets.
More than anything, Ghosn wants to be prepared rather than try to predict: "We can't know what consumers will want 10 years out." But generally he is betting on smaller engines, smaller vehicles, and higher fuel economy due to the probable rise in gas prices. In green technology, he is stressing all-electric vehicles (EVs) more than gas-electric hybrids: "People used to think electric cars were ugly, hard to drive, and unsafe, but it's completely different now." The goal is to build a lineup of EVs starting in 2012.
Lowering the costs of technology and production is crucial to making both companies more profitable. That's where global cross-pollination comes in. When it built the Logan, Renault tapped India's Mahindra & Mahindra for ideas on inexpensive manufacturing. Now Nissan and Renault have teamed with Bajaj Auto on a $3,000 car for sale in the Indian market. Ghosn wants to infuse his companies with India's low-cost- design thinking: "They understand frugal engineering, which is something we aren't as good at in Europe or Japan." Linking India to the rest of the empire: a new reason for the hyperdriven Ghosn to keep moving.
To watch a video interview with Carlos Ghosn, go to businessweek.com/go/tv/ghosn
Before it's here, it's on the Bloomberg Terminal.
LEARN MORE