Wrigley: Grand Plans That Didn't Stick
Bill Wrigley tried to do big things but never had a breakthrough. Now the company is going to rival Mars, with Warren Buffett serving as banker
Pallavi Gogoi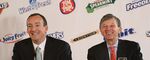 In 1999, when William Wrigley Jr. took over the reins of the century-old company that bears his name, he aspired to take Wrigley (WWY) beyond chewing gum to greater heights. He made a bold bid in 2002 to acquire Hershey Foods (HSY) for $12 billion, and hired scores of food scientists, chemists, and engineers for an innovation center he opened in 2005 on a 7.6-acre Chicago site that he hoped would yield the next greatest thing since chewing gum.
The same year, he bought Life Savers and Altoids, the "curiously strong" mints, from Kraft Foods (KFT) for $1.5 billion. "Bill dreamed of building a confectionary powerhouse," says Jim Burns, president of Syracuse (N.Y.)-based investment firm J.W. Burns & Co., which owns 125,000 Wrigley shares.
For all his efforts, Wrigley, 45, hasn't been able to realize any of those ambitions. The Hershey board rejected his takeover offer. The innovation center hasn't really had a breakthrough product. And Wall Street analysts now say Wrigley overpaid for Altoids. The onetime powerhouse mints line saw its sales drop by 7% last year, following a 17% decline the year before. In 2006, Wrigley gave up his CEO job to former Nike (NKE) chief William Perez. He remained chairman and continued to run annual shareholders' meetings. But last year, British rival Cadbury Schweppes (CSG) grabbed market share from Wrigley with its Trident and Dentyne gum brands, and Wall Street was expecting Wrigley's sales to slow in 2008.
"Wrigley has been feeling the heat" from Cadbury, says David Morris, research director for food and beverage at research firm Mintel in Chicago.
"The Best Possible Outcome"
Thus William Wrigley was in no position to spurn the rich offer he got on Apr. 11, while sitting at the McLean (Va.) kitchen table of Paul Michaels, the CEO of privately held Mars. On Apr. 28, after two weeks of intense negotiations, Wrigley agreed to be bought for $23 billion in cash. The deal gives Mars—maker of such iconic candy brands as M&M's and Snickers bars—combined annual sales of $27.4 billion. It should enable Wrigley to fend off hard-charging Cadbury, which earlier in April spun off its U.S. drinks division (BusinessWeek.com, 4/11/08). And at $80 a share, the Wrigley purchase price represents a 28% premium over Wrigley's stock price.
"It was a compelling offer and after numerous board meetings, we decided that this was the best possible outcome," Wrigley said in an interview with BusinessWeek.
Some shareholders are also hopeful the much larger Mars will be able to leverage Wrigley's brands in ways the smaller company was never able to pull off. "The two together will be more powerful at placing their brands at the checkout counter," says Morris. "Besides, Mars has proved to be extremely innovating and cutting-edge with introducing new flavors, which Wrigley could benefit from."
Buffet Weighs In
Because of current tight credit conditions, Mars reached out to legendary investor Warren Buffett for additional capital to complete the deal. The purchase will be financed with $11 billion from Mars, $4.4 billion from Buffett's investment company Berkshire Hathaway (BRKA), and $5.7 billion from Goldman Sachs (GS). Once the purchase is completed, Berkshire will also buy a $2.1 billion stake in the Wrigley division.
Wrigley stock rose 23%, or 14.46, to close the day at 76.91. "The valuation looks extremely rich," wrote Alexia Howard, senior research analyst at Sanford C. Bernstein & Co. in a report, which noted that because there is little geographic overlap between the two companies, the opportunities for cost cutting are limited.
With the sale, the storied gum company—which has resided in a turret-like landmark Chicago building for almost a century—will become a subsidiary of Mars. Wrigley was founded in 1891 by the current chairman's great-great grandfather, William Wrigley Jr., who started out selling soap and gave away baking powder. Soon he switched to selling baking powder and gave away two free packets of chewing gum. Ultimately, he began selling that, too, introducing Juicy Fruit and Wrigley's Spearmint in 1893.
Lagging Legacy to Largest Confectioner
Since then, a succession of Wrigleys have built a global empire around gum—one that had sales last year of $5.4 billion. Clearly, with such a legacy on his shoulders, it must not have been easy for William Wrigley Jr. to sell. But, even though he controls 40% of the company, it is still a public entity and experts say he had little choice. "Bill's looking at long-term prospects and sees opportunity," says Michael Krauss, founder and principal of Market Strategy Group, a Chicago-based consulting firm specializing in growth strategies for major organizations. "You can't fault him."
It's not like Wrigley didn't look for new ways to brand out. In 2006, he funded 10 research studies to show gum could help in weight management, stress relief, increased alertness, and concentration. The roaring success of the Red Bull caffeinated drink line made it clear there was a market for those types of products.
Also, sales were booming in teeth-whitening products: Dental-whitening gum purchases increased 285% the previous year. However, Cadbury seemed to be one step ahead. Last year, Cadbury grabbed three percentage points of gum share from Wrigley, with soaring sales of brands that offer whitening or dental health such as Trident and Dentyne.
In the end, William Wrigley seemed to have been long on ambitions but short on ideas. It might not be what he really wanted, but Wrigley is now part of the world's largest confectionary powerhouse.
Before it's here, it's on the Bloomberg Terminal.
LEARN MORE