Matsushita: Defying the Skeptics
The company is relying on developing markets, and especially BRIC, to meet its ambitious targets for sales of plasma and LCD TVs
Kenji Hall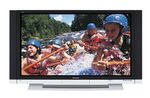 With the global economic outlook looking none too promising, is Matsushita Electric Industrial's TV business in need of a reality check? Japan's largest consumer-electronics company has big plans to boost revenue, increase overseas sales, and sharpen its profile globally by changing its name to that of its most recognized brand Panasonic (BusinessWeek, 1/10/08). In recent weeks, some pessimistic analysts have alerted investors that the company couldn't possibly keep up its torrid pace of expansion.
But on Apr. 28, Matsushita (the name change won't take effect till later this year) said that it's not rethinking its massive TV buildup this year. In the year through Mar. 31 the company sold 4.25 million plasma display TVs and 3.25 million liquid-crystal-display sets. Although those plasma numbers fell short of Matsushita's 5 million target, the company offset the shortfall—and assuaged some market worries—by churning out more LCD sets than initially planned.
Next year's forecasts are even more ambitious: Matsushita plans on selling 6 million plasma sets and an additional 5 million LCD TVs. Overall, those numbers would signify a whopping 47% gain and they would raise the company's market share of the plasma TVs globally to more than 40%, from about a third now.
Planning for Tough Economic Times
Matsushita's earnings are looking just as strong. This year, the company is predicting a 7.8% operating profit rise to $5.4 billion and a 1% sales uptick to $88.4 billion. That follows last year's 13% jump in operating profit to a 22-year high of $5 billion, despite a 0.4% decline in sales to $87.2 billion. Contrast those results to rival TV maker Sharp, which last week reported its first annual profit fall in six years.
The ambitious targets from Matsushita beg the question: Where does it expect to sell so many TVs? Developing markets, the company answers. Double-digit growth in the BRIC countries (Brazil, Russia, India, China) plus Vietnam has helped power Matsushita's overseas sales gains, says President Fumio Ohtsubo. "We face tough economic times ahead," he says. "But even if there is a slowdown in [BRIC plus Vietnam], their growth rates will still remain strong." And now that the company has broadened its TV offering by adding small- to midsize LCD TVs and even bigger plasma TVs for the European and North American markets, Ohtsubo thinks there are more gains to be had there as well. "We expect overseas sales, on balance, to post double-digit gains this year," Ohtsubo says.
Matsushita appears to be benefiting from an industry reshuffling among Japanese TV makers. One example: the recently announced alliance with Pioneer in plasma TV panels. Matsushita, which has loads of energy-saving technologies, will absorb Pioneer's engineers and technological know-how in areas such as extra-bright, super-thin displays. Matsushita will supply panels for Pioneer TVs. The first sets to emerge from their combined efforts are slated for 2009. There were also rumors and news reports that Matsushita might invest in Sanyo Electric but Ohtsubo flatly denied he was even considering an investments.
Outperforming Its Peers
But while a chunk of Matsushita's business comes from TVs, its appliances (air conditioners, washing machines) and electronic components (chips, cell-phone parts, airplane electronics) divisions are helping out. In fact, analysts say those businesses could save Matsushita from the kind of pain that other more vulnerable tech rivals may experience in the coming months.
Matsushita investors are wary, although the company has been outperforming its peers. In Tokyo trading on Apr. 28, Matsushita's shares rose 0.7%, outstripping the Tokyo bourse's electrical machinery subindex, which rose 0.3%. (The market was closed Apr. 29 for a holiday.) For the year, the company's shares are down 8%, better than the 11% decline for the electronics industry benchmark.
Before it's here, it's on the Bloomberg Terminal.
LEARN MORE