Nintendo Down, But Not Out
In spite of record earnings and the continued popularity of the Wii, the console maker's shares were down 2%. Most think the dip is temporary
Kenji Hall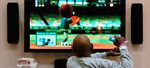 Nintendo (NTDOY) President Satoru Iwata didn't have much time to savor his success. On Apr. 25, a day after the Japanese video game maker reported its best-ever earnings and forecast another impressive year ahead, the company's shares were down more than 2%. And in Tokyo, several hundred kilometers north of the company's Kyoto headquarters, Iwata was being grilled by financial analysts and journalists who seemed skeptical that the good times could last for long.
Nintendo's record would appear unassailable. In the fiscal year through March, the Kyoto company's operating income more than doubled to $4.7 billion, thanks to the popularity of the Wii gaming console and its multitude of software titles, which helped to boost sales a whopping 73%, to $16 billion. Even net profit, which took an $880 million hit from the yen's recent surge, rose 52%, to nearly $2.5 billion. This year's numbers are expected to be even better, with new record highs across the board.
So why the doubts about Nintendo? For starters, it foresees modest earnings gains this year. Operating profit is expected to grow just 8.8% on a 7.6% sales gain. What's more, its portable DS console, which has topped 70 million units globally, is starting to show its age after four years on the market, and DS game software sales are likely to be flat.
Temporary Dip?
In Japan, even sales of the Wii living-room console have tapered off a bit. From January to mid-April, Nintendo sold roughly 1.19 million Wii machines in Japan, 4.6% fewer than in the same period last year, according to Tokyo market researcher Media Create. "Nintendo is doing extremely well overseas, and that's fine for the short- to medium-term outlook," says KBC Securities' Hiroshi Kamide. "But in Japan, things are tailing off at the moment, and this country is often a leading indicator for what happens overseas."
Many analysts think the dip will be temporary. But it's a concern, nonetheless. This summer, Nintendo plans to ramp up Wii production to meet its target this fiscal year of 25 million units globally. The 24.5 million it has sold since the Wii's launch in November, 2006, already put it ahead of both Sony's (SNE) PlayStation 3 and Microsoft's (MSFT) Xbox 360. But some say it's only a matter of time before the PS3 starts to narrow the gap after Sony rolls out a new video download service and an online 3-D world dubbed 'Home' for chatting and finding partners and opponents for multiplayer games later this year.
The impact of an economic slowdown is harder to judge. Traditionally, diehard gamers have reacted to tough times by eating out less and taking fewer trips, but not by cutting back on game purchases. These 18- to 34-year-old males have viewed the average $50 to $60 per game as a small price to pay for hours of entertainment. "Do I think games are recession-proof? Proof is a strong word, but essentially yes," says Wedbush Morgan Securities' analyst Michael Pachter.
If this were Nintendo's only audience it might have little to worry about. But Nintendo's gaming machines have been a hit because they have attracted a following among kids, women, and the elderly with the DS's easy-to-use touchscreen and the Wii's pick-up-and-play motion-sensing controller, which can be swung like a baseball bat or pointed at the screen and shot like a gun. If these so-called casual gamers are worried about a recession, they might hold onto the extra cash rather than splurge on the new Mario Kart game.
One Hit Game Can Change Everything
Iwata disagrees. In the U.S. and Europe, Nintendo's Wii consoles and games have been selling at a blistering pace so far this year, he says. In the U.S. during March, Nintendo sold more than twice as many Wiis as Sony and Microsoft sold PlayStations and Xboxes, after brisk sales in January and February, according to NPD. And retailers are already getting pre-orders for Nintendo's Mario Kart Wii racing game, slated for release this month, and the Wii Fit in the U.S. and Europe, for the coming weeks. "Historically, video game sales haven't been influenced much by economic trends," Iwata says, adding: "We look at the sales figures from week to week and haven't seen anything to indicate that the economy is affecting our products."
Iwata says he faced this kind of skepticism before. Five years ago when he and other Nintendo top executives began talking about their strategy of reaching a gaming audience "ages 5 to 95.…Industry insiders told us it was impossible," he says. Nintendo proved them wrong twice—first with the DS and later the Wii.
As for the DS's shrinking sales in Japan, Iwata doesn't think he'll have to retire the console anytime soon. "Just because the life cycle for the last portable console was four or five years doesn't mean that will hold true this time," he says. To illustrate his point, he shows a slide with a year-by-year sales graph comparing the portable Game Boy Advance console, released in 2001, to the DS. By its fourth year, the Game Boy Advance's sales had dropped off. The DS, now in its fourth year, is not far off its peak. "In our business, one hit game can change everything," he says. To keep DS hardware and software sales firm, Nintendo has several ideas in the works, including one for later this year that will be aimed at giving DS users a place to congregate—in public.
Before it's here, it's on the Bloomberg Terminal.
LEARN MORE